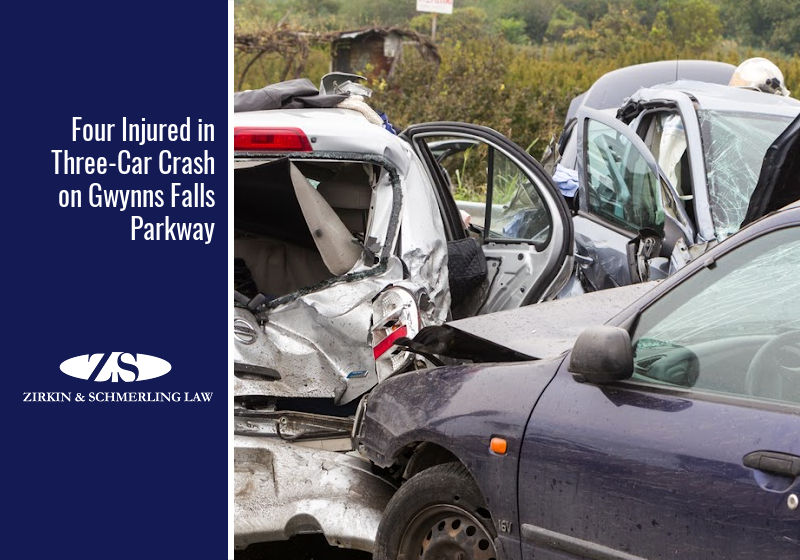 Imagine driving down Baltimore's busy Gwynns Falls Parkway on a sunny spring morning. Suddenly, everything changes, and your car is now spinning into a dangerous chain-reaction collision.
That's what happened in a three-vehicle accident on Gwynns Falls Parkway on April 16. Just before the crash, two silver sedans and a red sedan were traveling on the parkway at North Warwick Avenue in northwest Baltimore near Frederick Douglass High School.
A Catastrophic and Confusing Crash
According to the police report, it's unclear what triggered the collision and exactly how the three vehicles impacted one another in the multi-car crash. Maryland State Police have been unable to reconstruct the accident or locate an eyewitness who could shed light on what happened.
In total, four people who had been riding in the three cars were injured in the crash and needed urgent medical care. Three of them went to the hospital in serious condition with severe bodily injuries and one had minor non-life-threatening injuries, according to the Baltimore Fire Department.
The collision happened in heavy traffic and resulted in long closures and delays while road crews cleared extensive debris from the scene. The incident remains under investigation and any witnesses to the accident should contact the Maryland state police at 410-653-4200.
One of Baltimore's Most Dangerous Places to Drive
Did you know Gwynns Falls Parkway is among Baltimore's most dangerous roads? It's been the site of numerous horrific traffic accidents over the years.
The parkway is a hotspot for multiple-car crashes where vehicles smash into each other in chain-reaction collisions. All it takes is a distracted driver or someone failing to check their blind spot, and one vehicle is slamming into the next, and then the next, whirling across the roadway.
Multiple-vehicle crashes are among the most deadly on Maryland's roads and account for 40% of all road fatalities. These are also expensive accidents that leave victims with huge medical bills, wrecked vehicles, and disrupted lives.
Causes of Maryland Chain Reaction Accidents
It can be extremely difficult to determine cause and liability in a complex accident like this. Even the driver who set off the crash might have a hard time explaining what happened. Plus, they might not want to admit they did something to trigger the crash.
Here at Zirkin & Schmerling Law, we've heard of crashes that were set off by something as simple as someone adjusting their sunglasses or eating a cheeseburger while driving. That might sound innocent enough, but it's actually negligent driving.
Something small can lead to a gigantic crash, especially when big rig drivers are distracted. A trucker traveling at highway speed can cover the length of a football field in less than 5 seconds and hit another vehicle with ten tons of destructive force.
Another common culprit in Maryland chain reaction crashes is texting and driving, which is not only dangerous but also a crime. If you suspect someone in your multi-car crash was texting or otherwise distracted, talk to your car accident lawyer about gathering evidence that supports your case.
What to Do After a Multi-Car Crash in Maryland
After a chain reaction crash, move to safety immediately and assess yourself for injuries. Call 911 and focus on speaking to the ambulance workers and police, without getting into an argument with the other drivers in the crash.
Follow up with the police and get a copy of their report. Gather as much evidence as possible from the scene of the accident, including photos and videos. Don't discuss fault, admit liability, or give a statement to the insurance company until you contact a Maryland traffic accident lawyer.
Chain-reaction crashes are among the most complex accidents on our roads, so choose an experienced lawyer who can help you protect the value of your claim. Here at Zirkin & Schmerling, we have decades of experience with challenging Maryland traffic accident cases and we can help you secure the compensation you deserve.
Have a Legal Question About a Chain Reaction Crash in Baltimore? We Have Answers.
If you have suffered injury from a multi-car crash, the attorneys at Zirkin and Schmerling Law are experts at answering all your questions and guiding you through the challenging process of Maryland auto accident claims. We will review your case, assess the strength of your claim, and advise you on the best path forward. Contact us or call us at 410-753-4611 to set up an appointment with one of our auto accident attorneys today.