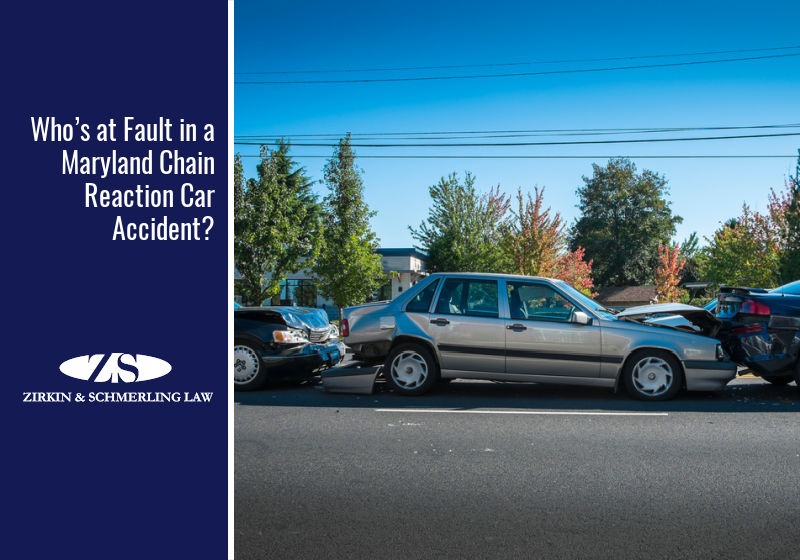 It's terrifying to be part of a multi-car pileup. One after another, vehicles crash into each other as you hear the sickening crunch of metal on metal.
Sometimes these crashes happen at slow speeds, like in a shopping plaza in a Baltimore suburb. More often they happen at high speeds on Maryland's highways, which are consistently ranked among some of the most dangerous around. Baltimore's I-695 is known as one of the top 15 most dangerous highways in America.
What would you do if you were in a catastrophic chain-reaction collision? How would you cope with your injuries while figuring out who's to blame and how to seek adequate compensation for your medical bills, car repairs, and lost days of work?
Facts About Maryland Chain Reaction Vehicle Crashes
Multi-vehicle crashes are among the worst on the road – especially if they involve high speeds and heavy vehicles like semi-trucks. It's rare that a passenger car survives a chain-reaction crash without extensive body damage.
Unfortunately, these crashes also cause bodily injuries for the drivers and passengers who are caught inside when collisions happen. A regular car accident is bad enough; a chain-reaction crash can involve numerous powerful impacts from multiple directions. That's why occupant fatalities in multiple-vehicle crashes account for 40% of all fatalities on the road.
It would be an understatement to say these wrecks are complicated. Although the simplest form of a chain-reaction crash occurs when a line of cars rear-ends each other, many of these crashes include sideswipes, sliding across lanes, head-on collisions, and collisions with stationary objects.
Here's something important to know: More than one driver can be at fault in a chain-reaction crash. Just because a certain driver triggered the pileup, it doesn't mean every other driver will be totally blameless. For example, maybe another driver was following too closely or didn't have their eyes on the road.
Denser traffic usually leads to more severe and expensive collisions. This is especially true near construction zones, where traffic congestion frequently occurs. When you're in a cluster of stationary or slow-moving cars and a big rig is about to smash into you, there's virtually nothing you can do to avoid it. You may not even realize what's happening until the damage is done.
After the Collision Ends, the Blame Game Begins
When everyone comes to a stop, it's time to call 911 and request assistance for anyone who is injured. In addition to emergency responders, police and accident investigators will usually arrive to determine what happened according to their official record.
In many cases, the driver who set off the initial collision may be held 100% liable for anything that happened next, like car damage, injuries, and even deaths. But it's also possible that just one or two drivers will be held liable. It depends on the situation.
Maryland is one of only seven states that has joint and several liability. This means that you can file your claim against all of the parties at fault. All of the parties at fault are responsible for the entire amount of damages regardless of their amount of responsibility. This means that if you have three cars at fault, but only one that has insurance. The car with insurance can be forced to pay for the entire damages caused by all three at fault vehicles.
Chain Reaction Car Accidents Have Chaos and Confusion
You might be surprised to discover that the police won't always give a clear answer about who's to blame for an accident. Although an officer may include details in the police report like, "vehicle 1 hit vehicle 2," their focus is primarily to document what happened and determine if any criminal charges may be involved.
Determining liability usually involves civil action in the period following the accident. With the help of a car accident lawyer, you can investigate what happened, gather records, review evidence, and start an insurance claim or legal action.
Because chain-reaction crashes involve multiple drivers, there were various situations occurring at the moment of the accident. Maybe someone was drunk or on drugs. A driver could have been distracted by rowdy passengers or talking on their cell phone. You may need to track down someone who fled the scene of the accident because they were an uninsured driver.
A Maryland car accident attorney helps you sort it all out and get to the bottom of the liability issues involved. Plus, they'll explain the value of your claim and gather the evidence you need to back it up.
These can be some of the most challenging cases auto attorneys ever face, so choose your car accident lawyer wisely! Contact the experienced car accident team at Zirkin & Schmerling Law now to discuss your chain-reaction crash and your options for securing full and fair compensation.
Have a Legal Question? We Have Answers
When you need to learn more about your rights, the attorneys at Zirkin & Schmerling Law can help. Contact us or call us at (410) 753-4611 to set up an appointment with one of our experienced accident lawyers today.