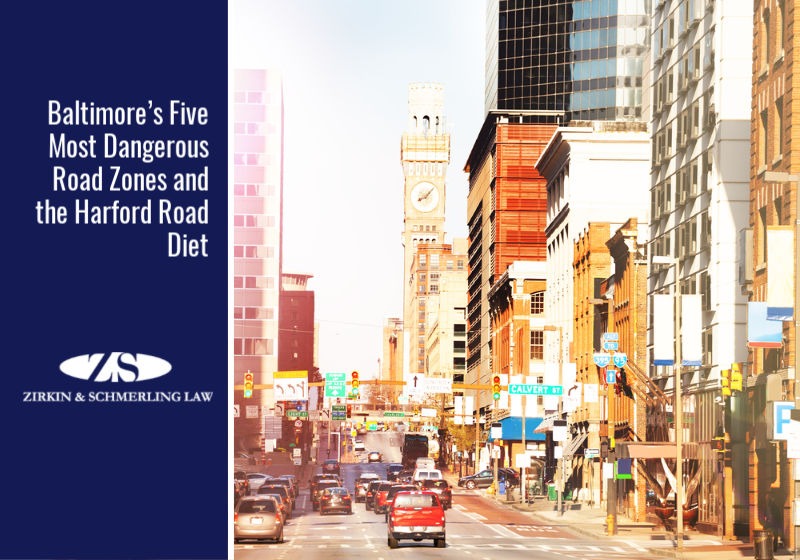 In May 2019, Baltimore made a controversial change to one of its most accident-prone roads, Harford Road between Echodale Avenue and White Avenue.
A busy thoroughfare with four lanes of traffic was cut down to just two, with the others converted to bike lanes and more room for pedestrians and scooters.
This slim-down is known as a "road diet" and not everyone is a fan. Critics of the change say it has created enormous congestion on Harford Road and pushes overflow traffic onto nearby streets that weren't designed to handle the volume. During peak traffic hours, some drivers now avoid Harford altogether and take other routes as it is one of the most dangerous roads in Maryland.
New floating bus stops are also receiving mixed reviews. Now that each direction of Harford Road holds only one lane of traffic, city buses halt the flow each time they stop at these special raised platforms. The floating stops are designed to prevent accidents, just like the rest of the safety features built into this unusual stretch of road.
Innovative Solutions for Busy Roads and Some of The Most Dangerous Roads in Maryland
There's no question that Harford Road is one of the most dangerous areas of Baltimore in terms of auto accidents. Over a period of several years studied by the City of Baltimore and an organization called Livable Streets, there was a much higher rate of accidents along Harford Road than almost all other Baltimore streets.
Harford Road also puts people in danger due to its mixed-use nature. Pedestrians pop in and out of shops. Buses, scooters and bicyclists travel up and down Harford all day and night. There are quiet residential neighborhoods nearby, yet Harford is also a major thoroughfare for Baltimore's northeast side city traffic.
The good news is car crashes are down on Harford Road after its redesign and there have been fewer pedestrian-involved incidents, too. The combination of lower speeds, more frequent stops and innovative traffic calming features seems to be working – even if it is frequently mocked on social media as the Harford "parking lot."
Beware These 5 Dangerous Baltimore Zones
Baltimore is home to some of the east coast's most dangerous roads. The National Highway Travel Safety Administration has highlighted the following five roads as the most dangerous in Baltimore. Together, they account for about 160 of our city's major traffic accidents every year.
Gwynns Falls Parkway/Reisterstown Road. Speed changes and long traffic signals create driver impatience and chaos here. This is Maryland's number one most dangerous intersection with more than 45 crashes per year.
Jones Falls Expressway/Northern Parkway. High speeds at an intersection of two major highways make this Baltimore's second-most dangerous intersection, with about 35 vehicle crashes per year.
Jones Falls Expressway/West Cold Spring Lane. This is a congested area, especially during rush hour, and side-swipes are common here. It's common to have more than 30 annual accidents.
Orleans/Gay/Ensor Streets. Several streets split here, causing confusion for drivers. More than 30 accidents occur here in a typical year.
South Monroe Street/Washington Boulevard. There are four lights and five lanes of traffic arriving from four directions all at once here, causing about 20 accidents each year.
What You Can do About Avoiding Accidents on Dangerous Roads
When you live in the Harford Road area or near any of Baltimore's most dangerous roads, it's impossible to avoid them completely. All you can do is take care while traveling in these areas and watch out for unsafe drivers.
If you're injured in a car or pedestrian accident, you can take charge of the situation immediately by contacting a Maryland personal injury lawyer who understands the nature of Baltimore's dangerous roads. Your attorney will help you seek compensation for your injuries and place the responsibility where it belongs – squarely on the shoulders of unsafe drivers who don't take local road dangers seriously.
Have a Legal Question About Car Crashes on Some of The Most Dangerous Roads in Maryland? We Have Answers.
If you have suffered an injury in an auto accident, the accident lawyers at Zirkin and Schmerling Law can answer all of your questions and help you understand Maryland's personal injury laws. We can help you hold the right person responsible for your injuries and file suit for damages. Call us at 410-753-4611 to set up an appointment with one of our car accident attorneys today.