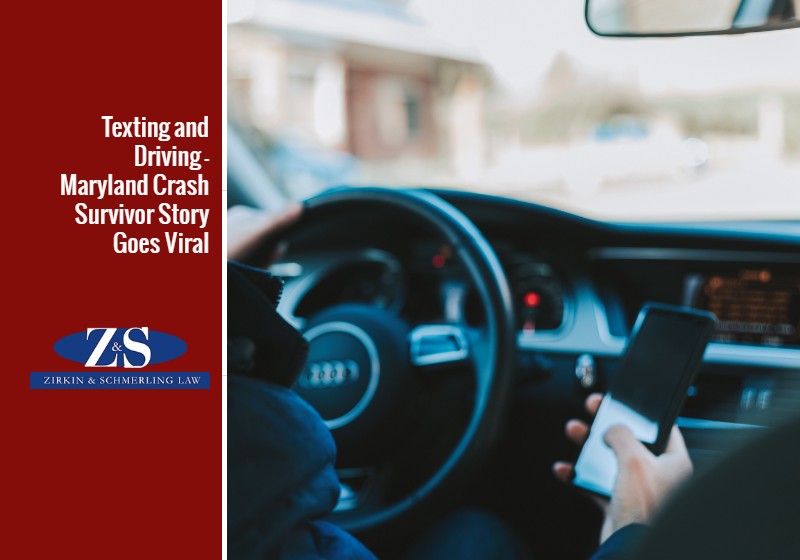 Do drivers in Maryland realize it's illegal to use a handheld device while driving? Even if you're aware of this, plenty of Baltimore's citizens still drive distracted, which can and does cause crashes on our roads and highways.
We think we're pretty lucky to have the nation's first and only integrated trauma center so nearby to help treat people who suffer injury in auto accidents. The University of Maryland Medical R. Adams Cowley Shock Trauma Center has cared for more than 200,000 critically-injured people, 38% of which were hurt in motor vehicle collisions. These days, so many of these injuries are the horrific results of texting and driving.
It brings to mind a deeply powerful news story about a Maryland car crash survivor. You may remember it because the story went viral on social media recently.
Seventeen-year-old Liz Marks was driving in St. Michaels, Maryland when she received a text message on her cell phone – a message that changed her life.
While bending down quickly to grab the phone, she failed to see a tow truck ahead of her and hit it at full speed. The truck smashed into her windshield and directly into her face.
Now, seven years later, Liz and her mom tour the U.S. speaking about the dangers of texting and driving. Liz tells audiences about the lasting effects of her accident, including losing an eye along with her senses of sight, hearing and smell.
Although the doctors at our Shock Trauma Center saved her life, nothing is the same for Liz as it used to be. She says she often feels lonely and sad, although she has found new purpose in campaigning for April 7 to be named Distracted Driving Day and by making a powerful video for the National Highway Traffic Safety Administration.
Here's the part of her story that especially pulls at the heartstrings: The message that triggered the collision was a one-word reply from Liz's mom that simply said, "OK."
One text. One word. One moment Liz surely wishes she remembered not to text and drive.
The Facts About Distracted Driving in Maryland
A five-year study of distracted driving crashes in Maryland finds there are about 56,000 incidents per year. Of these, about 18,600 have injuries that are serious enough to require medical care.
Although we're relieved to say that distracted driving accidents are on the decline overall in Maryland, they still make up 45% of all crashes. And 85% of distracted driving crashes happen in the metropolitan areas of Baltimore and Washington, D.C. If there's anything to take away from crash statistics that measure distracted driving, here it is: Pay particularly close attention to your driving -and that of other drivers- in heavy traffic.
Keep in mind distracted driving can involve many, many other things beyond using a cell phone.
Maryland's MVA Highway Safety Program highlights that distracted driving can be any distraction that is visual, auditory, manual or cognitive. In addition to texting, all of the following also contribute to distracted driving:
using navigation/GPS
looking at something on the internet
playing with an iPad
chatting with passengers
grooming and applying makeup
watching a video
adjusting the music
eating and drinking
Let's repeat this one: "chatting with passengers." That's right – just talking to the passengers in your car can be considered distracted driving if it's enough to create a hazard or contribute to an accident.
Both "eating and drinking" are on the list. So think twice before grabbing a burger at a drive-through and trying to enjoy it while driving. This simple choice could cause a very serious and traumatic collision you may regret for the rest of your life.
Have a Legal Question About Texting and Driving in Baltimore? We Have Answers.
If you have suffered injury from a distracted driving incident, the attorneys at Zirkin and Schmerling Law are experts at answering all your questions and guiding you through the challenging process of Maryland auto accident and texting-and-driving laws. We will review your case, assess the strength of your claim and advise you on the best path forward. Contact us or call us at 410-753-4611 to set up an appointment with one of our auto accident attorneys today.