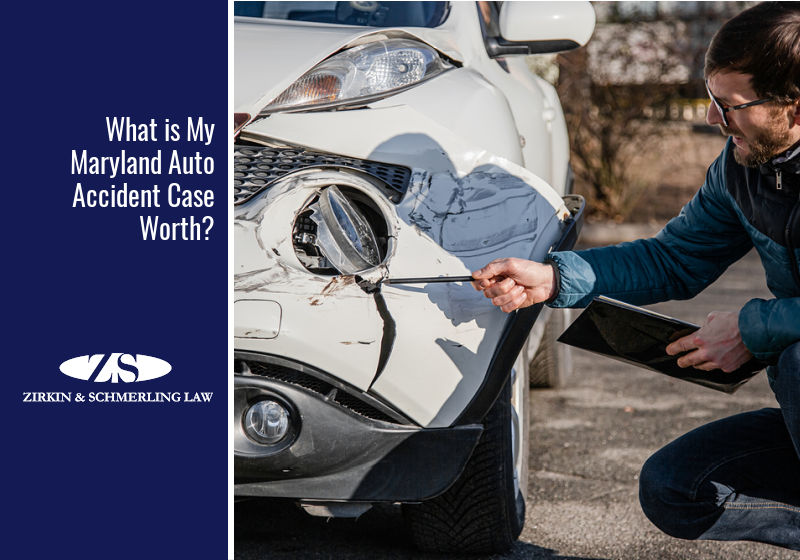 After being injured in an auto accident your immediate focus is on getting better and trying to heal from your injuries. That is, until the bills start rolling in. Suddenly you have the worries of medical costs dragging you down, plus the hassle of auto repairs and everything else.
Now you can't help but wonder how much your auto accident case is worth. Will insurance cover the cost of your crushed car? Who will pay your medical bills? What about all your lost wages?
With the help of a Maryland car accident lawyer, you can explore how much your auto accident case might be worth and decide how to move forward. This gives a source of hope during a difficult time.
Your Injuries are the Basis of Your Case Value
In most cases, the best predictor of your overall case value is the injuries you suffered. What types of injuries do you have, how severe are they, and what will your treatment cost? This forms the basis of your case.
Severe car accident injuries often include:
Back injuries – Your spine, vertebrae and discs can be damaged by a sudden impact like a rear-end collision or t-bone collision. Car accidents are a leading cause of sprained backs, strained backs, spinal fractures, and other back injuries.
Shoulder injuries These injuries are common in side-impact collisions, rear-end collisions, and head-on collisions. Severe auto accident survivors sometimes experience a torn rotator cuff, where the tendons in the arm are separated from the joint and socket of the shoulder in an extremely painful injury.
Complex bone fractures – Shattering bone fractures can arise from the primary impact, but they can also occur due to safety devices such as airbags or seat belts. You may live through the accident but suffer months of healing time from your bone damage.
Neck injuries – Although whiplash is one of the most commonly-known injuries from a car accident, other neck injuries can be severe and life-threatening. You can even lose the use of part of your body through paraplegia or quadriplegia.
Brain injuries – Among the most extreme injuries from a car accident is a brain injury. You may experience blunt force trauma to the head with permanent brain damage. These cases tend to result in high-value awards for victims due to the life-changing bodily damage and astronomical medical bills.
Don't Take a Quick Payout From an Insurance Company
Often an insurance company will try contacting you within a couple days after the crash. The insurance company will try to act as if they care about you and your injuries and they will offer you some quick cash to try and settle your case. They know that right after a crash you might not be thinking clearly and that you might be willing to accept a quick payout. Once you cash their check the case you have is usually over at that point and the insurance company has settled your case for pennies on the dollar. Never settle a car accident case without speaking to an attorney ahead of time.
Whether you ultimately make an insurance claim, come to a settlement, or have to go to court, your medical bills, injuries, lost wages, and pain and suffering support your claim and also support the extent of your financial need. When you can prove your injuries are significant, you have a much better case for high-value compensation.
This also protects you in the future. If one of your doctors is recommending additional physical therapy sessions or psychological counseling, you may be able to wrap these future medical costs into the value of your case. Also if a doctor states that you have a permanent injury or a permanent work restriction this is incredibly important to have documented by a medical professional.
As you can see, it's a bad idea to accept a fast, lowball offer from an insurance company. They may want to cut you a quick check so you'll agree not to pursue it further. Beware! This will not be fair value for your case. Over the years Zirkin and Schmerling Law has been able to take cases that had very low offers below $2,000 and turn them into six figure settlements.
The first offer from the insurance company often undervalues the total case value. It may not place a high enough value on the cost of your injuries and it might not even take into consideration any of your other damages. Keep in mind that an insurance company has one goal and that is to make a profit and keep their shareholders. You are not their focus or priority. To an insurance company you are just a number and the lower the number, meaning the lower the amount of money they can give you the more profit they keep. At Zirkin and Schmerling Law you are our only priority. We have a fiduciary responsibility to have your best interest in mind. In addition, since we only get paid when you get paid our interests are aligned to get you as much money as possible for your injuries. We don't have any shareholders that we need to keep happy. Our only responsibility is to keep the client happy and make sure they are treated fairly by these large insurance companies.
Here's Why Every Case Has a Unique Valuation
Every auto accident is a unique situation and every auto accident case is also unique. The value of your case comes from a careful calculation that takes into account a wide variety of factors.
In Maryland, your possible damages awarded may include:
Medical expenses – In Maryland, the collateral source rule allows those who have been injured in auto accidents to recover damages for medical expenses, even if insurance covers them. If you have been injured, you may be able to recover damages for past and future medical expenses from the accident.
Property damage – You may be able to recover the cost of your vehicle or its repairs, and possibly other property that was destroyed inside the vehicle at the time of the collision.
Lost income -In some cases, you can secure compensation for lost income – for example, if you are a business owner who was unable to run a business and make income for the duration of your recovery from the accident.
Pain and suffering – After an accident, damages for pain and suffering can arise from your physical and mental suffering, plus the lost life enjoyment you are experiencing. Your relationship with your spouse and family may never be the same.
Other factors – In addition to the damages described above, you may have other factors that impact your case. Perhaps it involves a defective car seat that caused your child to be injured, which means you may have a claim against the car seat manufacturer. Or maybe your accident involved an Uber driver, which may mean Uber and their insurance partners are part of the claim.
Talk to Us to Determine the Value of Your Case
At Zirkin & Schmerling Law, we're here to help you understand your options, get your bills paid, and secure a level of compensation that meets your needs. Before you accept a low offer from anyone, talk to us about pursuing a high-dollar claim that truly values the worth of your case.
Have a Legal Question? We Have Answers
When you need to learn more about your rights, the attorneys at Zirkin & Schmerling Law can help. Contact us or call us at (410) 753-4611 to set up an appointment with one of our experienced car accident lawyers today.