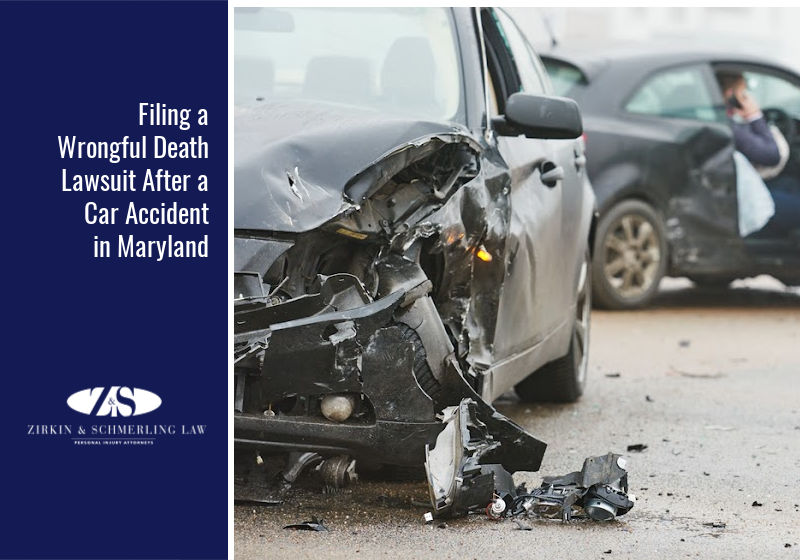 Wrongful death is a devastating event that can leave a family struggling to cope with losing a loved one. In the case of a car accident, the loss can be even more difficult to bear if another driver's negligence caused the crash. If you live in Maryland and have lost a loved one in a wrongful death car accident, you may wonder if you can sue for wrongful death.
A wrongful death lawsuit seeks to hold the responsible party accountable for the death of your loved one, and it's important to understand the elements of a successful claim. This blog will discuss the legal requirements and steps involved in filing a wrongful death lawsuit in Maryland.
What Is Wrongful Death?
Wrongful death is defined as a death that is caused by the negligence or intentional actions of another person. In the case of a car accident, this could include driving under the influence of drugs or alcohol, texting while driving, or disregarding traffic laws.
Who Can File a Wrongful Death Lawsuit in Maryland?
The state of Maryland recognizes the importance of seeking a wrongful death car accident settlement in cases where a death has resulted from another party's negligence or misconduct. According to Maryland Code § 3-901, a wrongful death action may be brought forward when the death directly results from another party's wrongdoing. The critical aspect of these cases is determining whether the deceased would have been entitled to compensation had they survived the incident. If so, the eligible surviving family members or the personal representative of the deceased's estate can move forward with the lawsuit.
In Maryland, eligible family members include the deceased's spouse, children, and parents. If there are no surviving relatives, the personal representative of the deceased's estate can file the lawsuit on behalf of the estate.
What Damages Can Be Recovered in a Wrongful Death Lawsuit?
In a wrongful death lawsuit, the surviving family members can seek damages for a variety of losses, including:
Funeral and burial expenses
Loss of income and benefits
Loss of companionship and support
Pain and suffering of the deceased
Medical expenses incurred before death
Wrongful death cases are each unique, and the amount of compensation that can be recovered will vary based on the case's specific circumstances. That is why it is critical to work with an attorney specializing in these types of lawsuits. With their expertise, they can help you understand the potential damages and navigate the complexities of the legal process, ensuring that your rights and interests are protected every step of the way.
What Is the Statute of Limitations for Wrongful Death Lawsuits in Maryland?
In Maryland, the statute of limitations for wrongful death lawsuits is three years from the date of the person's death. You will likely be barred from pursuing a lawsuit if you do not file within this time frame.
How Do I Prove Negligence in a Wrongful Death Lawsuit?
Proving wrongful death can be challenging. To prove negligence in any wrongful death lawsuit, you must show that the defendant had a duty of care to the deceased and that this duty of care was breached. You must also show that this breach of duty directly caused the death of the deceased.
In a car accident case, this could involve showing that the defendant was driving irresponsibly. This includes anything from being under the influence of drugs or alcohol, texting while driving, or just general disregard for traffic laws. To prove these elements, you will need to present evidence in court. This could include police reports, eyewitness testimony, and expert testimony. An experienced wrongful death attorney can help you gather and present the necessary evidence to support your claim.
The Role of a Maryland Personal Injury Attorney
Navigating the legal system after the death of a loved one can be overwhelming, which is why it's crucial to have an experienced attorney on your side. An attorney can help you understand the legal requirements for a wrongful death lawsuit in Maryland and guide you through the process. They can also help you build a strong case, gather evidence, and represent you in court.
If you have lost a loved one in a car accident in Maryland, you may be able to file a wrongful death lawsuit to seek compensation for your losses. At Zirkin & Schmerling Law, our team of compassionate lawyers has the knowledge and experience necessary to help you navigate the complex legal process of a wrongful death lawsuit in Maryland. To learn more about your rights and options, we invite you to visit our website and read our informative blog post on fatal car accident claims in Maryland. Contact us today for a free consultation, and let us help you and your family seek the justice and compensation you deserve.