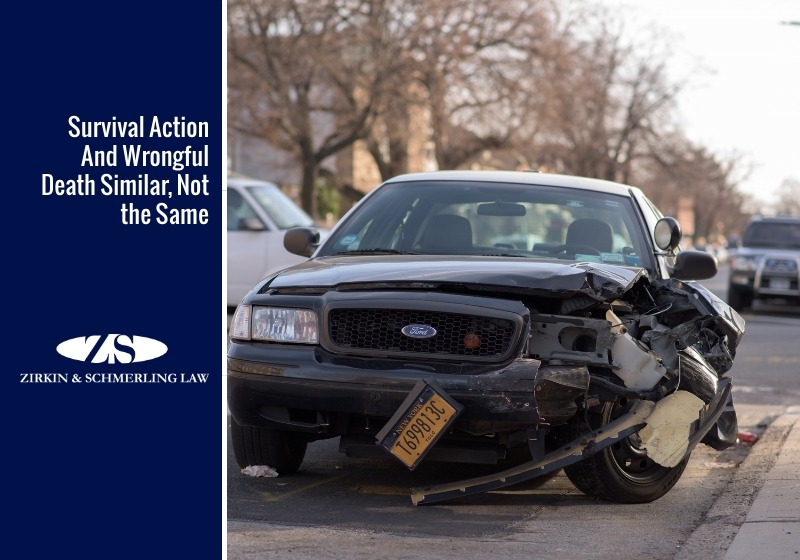 When someone dies due to someone else's negligence, the survivors are left to pick up the pieces.
The circumstances can be unimaginable – your loved one perishes from a catastrophic car crash or as a result of a tragic pedestrian accident while simply walking on the sidewalk. To cope with the aftermath, which can include the burial, property damage, loss of your loved one's wages and a dramatically altered quality of life, the family often turns to a wrongful death attorney for help.
At Zirkin & Schmerling Law, we often help survivor families with assistance in seeking compensation for the loss of life and livelihood. We also know it can be confusing for family members to know whether you need to pursue a survival action or a wrongful death case. We examine both options, so you can determine which may apply to your situation.
A Survival Action Gives the Deceased a Voice
A survival action addresses the suffering of the deceased person themselves due to someone else's actions, rather than those left behind. During your loved one's final moments, they may have endured pain and loss that is difficult for us to assess.
In a survival action, your deceased loved one is given a voice in the legal system through a designated representative who stands in for them. This person is usually noted in the will and can act as an agent to file a lawsuit.
Think of a survival action as similar to a personal injury lawsuit, except any damages go to the estate. Survival actions can request compensation that includes:
The cost of the funeral and burial
Property damage that may have occurred, like vehicle damage
Lost wages and other economic damages
Non-economic damages, like pain and suffering
A survival action commonly follows a car crash or other accident where your loved one does not die immediately. Perhaps they lingered for days or even months, spending their final moments in a hospital due to someone else's negligence. They endured extensive losses, including the ending of their life. They deserve compensation for it.
Wrongful Death Suits Compensate Grieving Families
A wrongful death lawsuit provides compensation to family members who are left behind after their loved one's death. While it's impossible to take away your grieving, it helps to cover the emotional and financial costs of a situation that happens due to someone else's actions.
To bring a wrongful death lawsuit, you must have legal standing to do so. In Maryland, the spouse, child or parent of a deceased person may recover lost financial support. If there is no spouse, child or parent, the law says "any person who is related by blood or marriage to the victim and who was substantially dependent upon the victim" may bring an action, with some exceptions.
Wrongful death lawsuits can recover monetary values like:
Funeral and burial expenses
The deceased person's income and health benefits
Medical costs incurred due to the injury and/or death
Punitive damages, if there was gross negligence, malice or intent to harm
It can also address non-financial costs like the loss of:
Companionship and comfort
Emotional stability
Quality of life
How to Pursue a Survival Action or Wrongful Death Claim
If a loved one has died and you believe it is due to the actions of someone else, don't wait to discuss your concerns with a Maryland wrongful death attorney. Maryland law generally places a statute of limitations of three years on this type of case, and the timer starts running at the moment of the accident. Miss this window and a judge will usually throw out your case without considering it.
At Zirkin & Schmerling, we commonly encounter at least 15 different types of wrongful death claims, which we have outlined in detail on our wrongful death/survivor action site. These claims include a wide variety of situations involving negligence, from industrial worksite accidents and swimming pool drownings to nursing home deaths.
Speak to your attorney about the specific situation that led to the accident and who exactly is involved. We can help you hold the right person responsible so you can move forward from this difficult time in your life.
Have a Legal Question About Survivor Actions in Baltimore? We Have Answers.
If you and your loved one have suffered losses due to someone else's negligence in Maryland, the attorneys at Zirkin and Schmerling Law can help. We can answer all of your questions and guide you through the challenging process of pursuing survival actions and wrongful death claims. Contact us or call us at 410-753-4611 to set up an appointment with one of our wrongful death attorneys today.