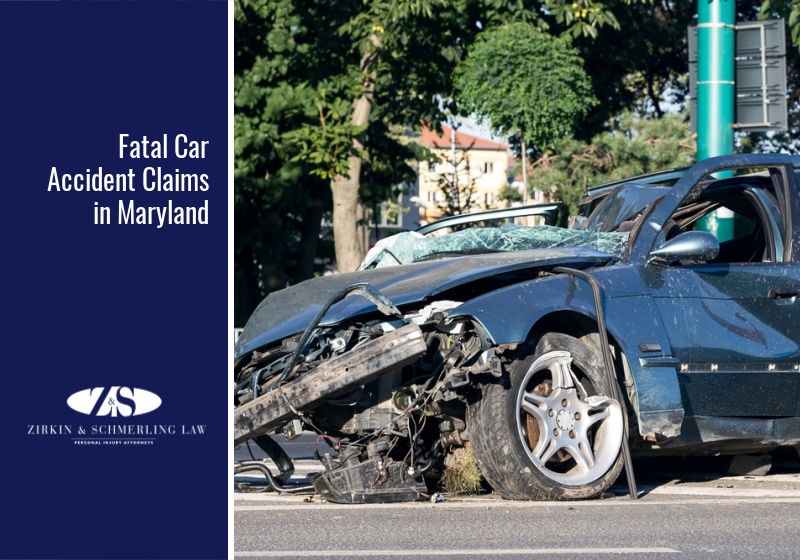 Losing someone you love in a fatal car accident can be devastating. Unfortunately, these tragic accidents are all too common.
In 2020, there were over 35,000 fatal car accidents that resulted in over 38,000 deaths. In Maryland there were over 500 fatal crashes and around 567 deaths.
Whether you were injured in a fatal car accident yourself or lost someone you love, it's important to understand your rights and what to do. If you lost a loved one, for example, you may be entitled to file a Maryland wrongful death claim to recover compensation.
Read on to learn more about fatal car accident claims in Maryland. And if you have further questions or concerns, please reach out to our legal team for assistance. At Zirkin & Schmerling Law, we have years of experience handling Maryland car accident cases, including those involving fatalities and the death of a loved one.
Causes of Fatal Car Accidents in Maryland
Fatal car accidents can occur for many reasons. Most often, it is due to another driver's negligence, which can include:
Speeding
Driving while fatigued
Driving under the influence of drugs or alcohol
Running red lights or stop signs
Failing to yield the right-of-way
Talking or texting on the phone while driving
Road rage and aggressive driving
Swerving in and out of traffic
Tailgating
Cutting off others
What Are My Options After a Fatal Car Accident?
When someone is killed in a fatal car accident in Maryland, their loved ones, such as family and dependents, have the legal right to take action and seek compensation. A claim or lawsuit can be filed against the guilty party to hold them accountable for their negligent actions.
In Maryland, there are two types of claims that can be filed when a loved one dies in a car accident:
Wrongful Death Claims
If a loved one dies as a result of someone else's negligence, the surviving family can file a wrongful death claim to recover compensation for their emotional and financial losses. This can include medical and funeral expenses, property damage, lost income, pain and suffering, and loss of consortium or comfort.
Survival Action Claims
The other option for recovering compensation after a person dies in a fatal car accident is a survival action claim. This is a claim that can be filed by someone who is the personal representative of the deceased's estate. Damages awarded for a survival action claim will depend on the amount of pain and suffering and the economic loss the deceased suffered before they died.
Things to Keep in Mind When You File a Fatal Car Accident Claim in Maryland
Losing a loved one is devastating, and you deserve to be fairly compensated for your suffering and losses. However, though you may have the legal right to file a claim, it's important to understand that many things can affect your claim.
Just because you deserve a certain amount of compensation does not mean you will get that amount if mistakes are made or if you don't work with an attorney who can help you fully understand the process and what to do.
Insurance
Insurance companies, for example, are a major issue when it comes to filing fatal car accident claims. Insurers will fight hard to avoid having to pay more money than they would like. As such, you will need to work with an attorney who knows how to stand up against insurance companies to ensure they are awarding you the full amount you deserve.
Statute of Limitations
When you file a claim for a car accident, there is generally a time limit—known as a statute of limitations—that you must adhere to in order to be eligible for compensation. In Maryland, a wrongful death claim must be filed within three years of the date of the death caused by the accident.
Damages
When you lose a loved one as a result of someone else's negligent actions, it's understandable that you might want them to be punished for their actions by having to pay you a higher award. However, this type of compensation, known as punitive damages, is typically not available in fatal accident cases. Punitive damages are only awarded when the negligent person, such as another driver, purposely meant to cause harm, which is rare in Maryland fatal car accident cases.
Liability
Maryland abides by contributory negligence laws. This means that if someone contributed to the accident in any way, even just one percent, they are barred from filing a claim to recover damages. And this does apply to the victim who was injured or killed. So, even if your loved one died and someone else was 98% at fault for the accident, if your loved one was 2% at fault, it could affect your ability to recover compensation.
Have a Legal Question? We Have Answers.
Fatal car accident cases are not only devastating, but they can be challenging to navigate and understand, especially if you are grieving. Let us help you. We will answer all your questions and handle your claim for you so you can get the compensation you deserve and move on as best as possible.
At Zirkin and Schmerling Law., we will do everything we can to ensure the best possible outcome. We are dedicated to helping our clients get the full and fair compensation they deserve. Contact us or call us at 410-753-4611 to set up an appointment with one of our personal injury attorneys today.