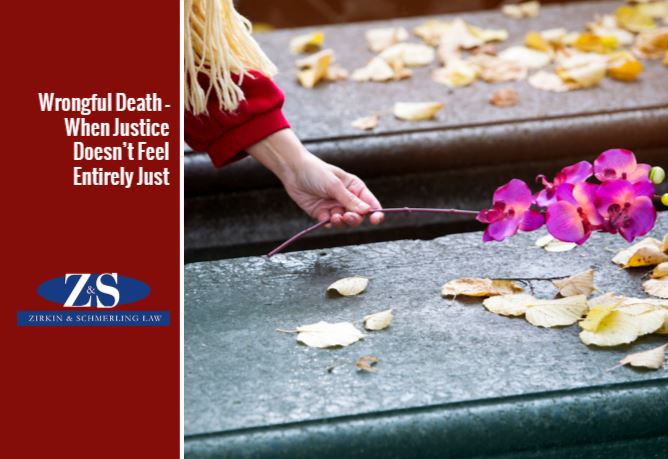 When we hear someone's death is the result of someone else's negligence, we take pause.
In June 2016, Janet Stomps, the mother of three and grandmother of three, with a fourth on the way, was killed after her car was struck by a 19-ton trash truck on Ritchie Highway in Glen Bernie. The driver of the truck, Robert Peter Neal, on his way to a drug testing facility, was unconscious behind the wheel as he came off the ramp from Route 100.
Why was Mr. Neal on his way to a drug testing facility … in a trash truck?
According to the Capital Gazette, his employer, Baltimore-based Bay Area Disposal, ordered him to get a drug test. Rather than providing him with transportation to the drug testing facility, they let him take one of their trash trucks that he smashed into Janet Stomps, taking her life. A year later, he plead guilty to two counts of negligent manslaughter.
Even though Mr. Neal acknowledged his negligence, Janet's husband Scott said at the time, "When someone can take a life and they're only looking at nothing to two years, that's ridiculous. A couple traffic tickets isn't going to do it."
The family of Janet Stomps filed a lawsuit seeking more than $75,000 in a survival claim and more than $75,000 in a wrongful death claim from Mr. Neal and Bay Area Disposal, claiming Mr. Neal was "incompetent" to operate a motor vehicle and was "impaired by medication" at the time of the accident.
Two months prior to the accident, the driver from Abington had been hospitalized and diagnosed with severe depression. He was prescribed Abilify, Zoloft and Atarax, serious medications that could cause drowsiness and come with warnings not to operate a vehicle or heavy equipment. His employer continued to allow him to drive and he was involved in another accident before the Glen Bernie crash. That's when Bay Area Disposal ordered his drug test.
In April 2019, the family of Janet Stomps was awarded $1.9 million, one of the largest judgmentsin neighboring Anne Arundel County. The jury decided on near-maximum compensation because of the perceived severity of negligence exhibited by Bay Area Disposal.
Putting a Number on Wrongful Death
In Maryland, wrongful death cases are intended to compensate the estate and immediate family members if a loved one's death is caused by the negligence of others. Wrongful death cases can be thought of as personal injury cases where the injury is death, so the claim is filed by the survivors. If the defendant, either a person or a company, is found accountable by a court of law, those bringing the claim can be awarded a monetary settlement or judgment for their losses or the losses to the estate of the deceased.
The State of Maryland categorizes wrongful death cases in two ways:
Wrongful death actions are brought on behalf of the survivors of a loved one's death and compensate for losses due to the untimely death such as lost wages, support and companionship.
Survival actions are brought on behalf of the estate and compensate for losses due to the death, such as funeral costs and medical expenses, as well as losses incurred by the deceased person, such as pain and suffering.
Explanation of Beneficiaries
Primary beneficiaries are direct family members, such as a spouse, parents or children. Typically, primary beneficiaries file the claim and receive any awards and compensation.
Secondary beneficiaries include surviving siblings, cousins, nieces, nephews and other relatives. In cases where no primary beneficiaries wish to file a claim, a secondary beneficiary may file on behalf of both themselves and primary beneficiaries.
Generally, primary beneficiaries file a wrongful death action for their personal losses, while either primary or secondary beneficiaries file a survival action on behalf of the estate.
Wrongful death filings are subject to a statute of limitations in Maryland.
Cases must be filed within three years of the date of the loved one's death. Claims filed after three years can be thrown out by the court without a hearing.

Monetary Awards for Wrongful Death
The specific amounts of money awarded in wrongful death cases depend on whether the claim filed is a wrongful death or a survival action.
With a survival action, monetary compensation is awarded for losses suffered by the estate. They include funeral and burial expenses, medical bills for the deceased person's final illness or injury as well as damages for the deceased person's pain and suffering and the cost of lost property.
With a wrongful death action, compensation is awarded for losses suffered by the deceased person's surviving family members. They include lost wages and other compensation, as well as the loss of the deceased person's care, companionship and guidance.
According to the Code of Maryland 3-2A-09, limits have been established as to the amount of compensation that can be awarded for non-economic damages; those which cannot be measured in terms of bills and receipts, such as pain and suffering and loss of companionship. As of 2014, non-economic damages for wrongful death claims are capped at $2 million.
Have a Legal Question Wrongful Death in Baltimore? We Have Answers.
The attorneys at Zirkin and Schmerling Law are experts at answering all your questions and guiding you through challenging process of Maryland wrongful death law. Contact us or call us at 410-753-4611 to set up an appointment with one of our wrongful death attorneys today.