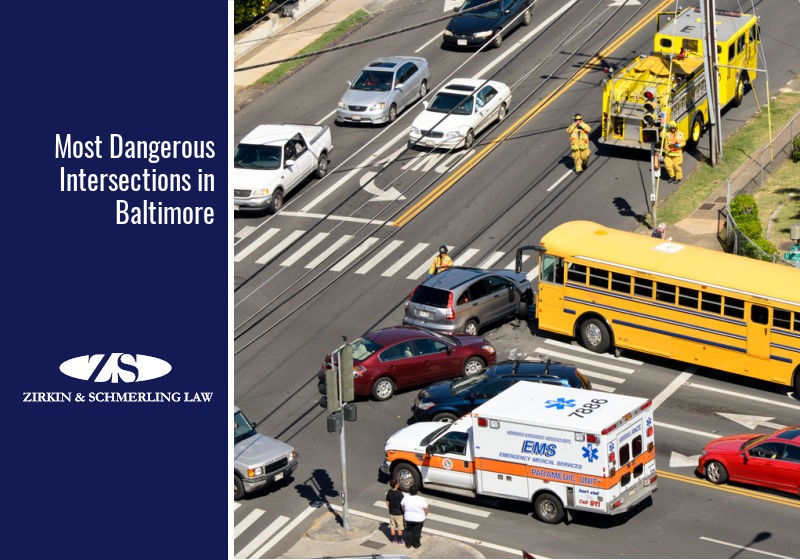 Driving is dangerous in Baltimore. We have some of the country's biggest traffic jams, most dangerous expressways, and highest rates of severe and fatal accidents.
The overwhelming majority of people in Baltimore drive rather than walking, bicycling, or taking public transportation. Baltimore's commuting times are among the nation's longest and have only become worse in the past decade.
What is truly devastating is that more than 500 Maryland people lose their lives in traffic accidents every year. Baltimore roads are so dangerous, the National Highway Transportation Safety Administration (NHTSA) has given the City of Baltimore the goal of reducing road fatalities by at least 50% by 2030.
Why are Certain Intersections and Baltimore Roads so Dangerous?
Baltimore is a busy city with numerous high-speed expressways. It's a place where getting there fast is a priority, sometimes at the expense of safety.
Plus, the wait times at Baltimore's busiest traffic lights can be excruciatingly long and drivers often spend long periods sitting still in traffic. Maybe this is why Baltimore has had numerous road rage incidents and frequently ends up on lists of the nation's worst drivers.
Bad drivers add to road dangers with behaviors like speeding, aggressive driving, distracted driving, drunk driving, drugged driving, and drowsy driving. They make already-dangerous Baltimore roads even riskier for everyone on the road.
Common characteristics of Baltimore's most dangerous roads include:
Round-the-clock heavy traffic
Rush hour road congestion
Road design issues like curves, hills, and poor lighting
Weather-related visibility issues
Traffic jams around construction zones
Unclear signage
Poorly-marked lanes
No-turn lanes and dangerous left turns
Lack of crosswalks
Watch Out for These Dangerous Intersections and Baltimore Roads
Contribute to road safety by taking extra caution around Baltimore's most dangerous intersections. These are the areas with the highest rates of severe crashes.
Gwynns Falls Parkway Intersections
At the top of the list is Gwynns Falls Parkway. Specifically, watch out for the intersection at Reisterstown Road, which is the state of Maryland's #1 most dangerous intersection according to the NHTSA.
In a single year, there were more than 45 significant crashes at this intersection – almost one per week, all within the same 150-foot area. Heavy congestion and long wait times at the traffic signal seem to create a lot of driver impatience and chaos here.
Gwynns Falls Parkway also has high rates of crashes at Auchentoroly Terrace, Denison Street, Garrison Boulevard, Dukeland Street, and Warwick Avenue. Together, these intersections are the sites of a high proportion of crashes in Baltimore.
Jones Falls Expressway Intersections
Another place to be on the alert is on the Jones Falls Expressway (JFX), otherwise known as I-83 South. In particular, watch out for the JFX at Northern Parkway (83 South) and the JFX (83 South) at West Cold Spring Lane.
The JFX has join points for two major highways, bringing high-speed traffic together from other directions and increasing the risk of catastrophic crashes. For example, in an average year, there are about 35 crashes at the intersection of 83 South and Northern Parkway.
West Northern Parkway at Falls Road
Here's yet another parkway intersection that poses dangers: West Northern Parkway at Falls Road. Although this intersection seems calm at times, when it's crammed with rush hour traffic, the risk of severe accidents rises.
This is an example of how the intersection of a four-lane road and a multi-lane divided parkway can be confusing and frustrating for drivers. Plus, there are gas stations on the corners of the intersection that add extra traffic trying to enter and exit the road. In an average year, there are about 25 accidents here.
I-95 Merge Points, Entrances, and Exits
Despite numerous road improvement projects since the 1960s, I-95 remains a dangerous place to drive. This interstate is the result of a long-term plan to create a fast path through Baltimore, but its speed is part of its danger.
Watch out for these three areas in particular: Northbound I-95 through the Fort McHenry Tunnel, the area where I-95 meets I-395, and "Between the Beltway," which is the southern stretch between I-495 and I-695 that handles a high flow of traffic to and from Washington, D.C.
Other Dangerous Intersections and Roads in Baltimore
Here are some additional Baltimore-area roadways that can be dangerous.
Orleans Street at Gay and Ensor Streets
South Monroe Street at Washington Boulevard
South Martin Luther King Jr. Boulevard
Washington Boulevard
West Patapsco Avenue
Hollins Ferry Road
If you're ever injured in an accident on a dangerous Baltimore road, a Maryland car accident attorney can help you determine who could be liable. The team at Zirkin & Schmerling Law is here to help you understand the value of your claim and get you on the road to securing compensation.
Have a Legal Question? We Have Answers
When you need to learn more about your rights, the attorneys at Zirkin & Schmerling Law can help. Contact us or call us at (410) 753-4611 to set up an appointment with one of our experienced Baltimore car accident lawyers today.