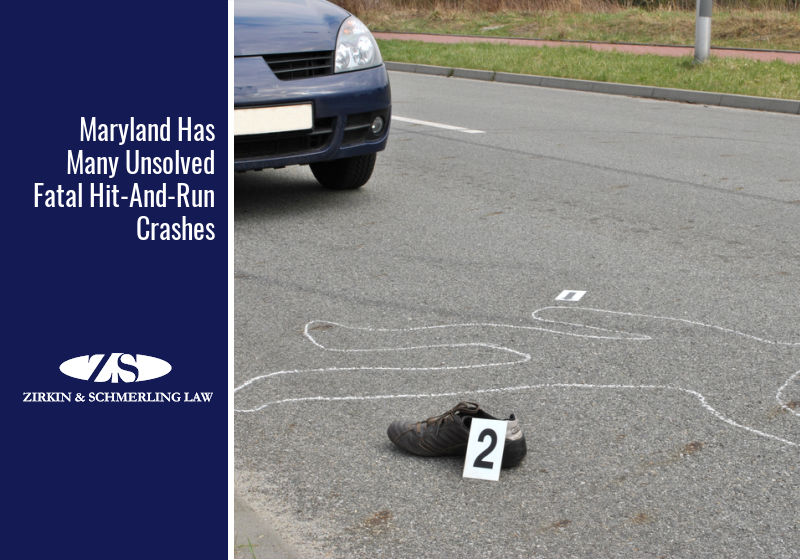 Maryland State Police are actively seeking your help tracking down four hit-and-run drivers. These are just a few among many hit-and-run crashes in Maryland, and unfortunately they all resulted in severe injuries and fatalities.
Between February 29, 2020 and September 27, 2020, four hit-and-runs happened in Prince George's, Baltimore, and Howard counties. Police don't believe the cases are connected, but they are hoping the public can provide insight into who the hit-and-run drivers might be.
Let's look at how these crashes happened and what you could do if you ever find yourself injured by a hit-and-run driver.
Pedestrian Hit-and-Run in College Park
The first hit-and-run happened along I-495 near I-95 in College Park on February 29, 2020. Just before 5:30 a.m., a 911 caller reported seeing a person lying on the ground between the inner loop of I-495 and the ramp for northbound I-95.
The 60-year-old victim, who was walking when he was struck, died at the scene. According to information from state troopers, the driver who hit him and fled was in a silver 2018 or 2019 Nissan Altima.
Hit-and-Run Fatality in Forestville
Another hit-and-run fatality happened just days later in Forestville on southbound Route 4 near Old Marlboro Pike. On March 1, 2020 just after 8:30 p.m., someone called 911 to report seeing a pedestrian struck by one or possibly two vehicles.
When police arrived, they found the victim lying in the grass beyond the right shoulder of the roadway. The 74-year-old man was pronounced dead at the scene. In this case, the driver or drivers who hit the victim are unknown and there are no vehicle descriptions available.
Fatality and Injuries in Baltimore County Hit-and-Run
Early in the morning of August 12, 2020, one person was injured and one was killed in a hit-and-run crash in Baltimore County. A call from a bystander came into the police station shortly after 4:20 a.m. about a disabled vehicle on the inner loop of I-695 near I-95 and Philadelphia Roadin Rosedale.
When police arrived to investigate, they discovered that there were two injured people at the scene near the disabled car, a grey Ford Taurus. A 17-year-old was declared deceased at the scene and an 18-year-old was rushed to a nearby hospital for emergency treatment.
The police investigation revealed that they had been standing in front of their disabled Ford Taurus when another driver attempted to swerve around them and struck them. The suspect, who was driving a dark grey Infiniti G37, Infinity G25, or Infiniti Q40, fled the scene.
Multiple-Car Hit-and-Run in Howard County
On the evening of September 27, 2020, a hit-and-run river struck three people who had just been in two other crashes moments before. This complex multi-vehicle crash happened on southbound I-95 near Route 100 in Howard County.
According to the police report, the crash started when a Nissan Armada struck a deer and hit the guardrail on the left road shoulder. Because a portion of the vehicle was still in I-95's fast lane, its driver turned on the vehicle's hazard lights and walked to stand outside the roadway.
Next, a Chrysler Pacifica struck the disabled Nissan that was in the roadway, then its driver pulled over to the left shoulder and stopped. As the three occupants of the Nissan and Chrysler stood near their vehicles, an unknown vehicle traveling southbound struck all three of them and fled the scene.
The three victims were severely injured and one died of their injuries. Police are still searching for the unidentified hit-and-run driver.
If you have any information about the cases described above, please contact the Maryland State Police at (410) 486-3101. You can provide information anonymously.
After a Hit-and-Run Accident, You Can Take Action
What if you were injured by a hit-and-run driver? First, call 911 and get emergency medical assistance. Next, take action by contacting Zirkin & Schmerling Law.
Hit-and-run injuries can be extremely severe and life-changing. They often include head injuries, neck injuries, broken bones, organ damage, and deep lacerations that require extensive surgery and ongoing treatment. Your healing process could take months or even years.
As the injured victim, you may feel helpless and hopeless about being hurt by a hit-and-run driver. Who will pay your expensive medical bills? What about your lost days of work? How will you possibly recover from this financially, physically, and emotionally? It's an overwhelming experience.
Don't give up after a hit-and-run accident. The lawyers at Zirkin & Schmerling Law are here to help you. Your lawyer can start a personal injury investigation to search for who hit you and get to the bottom of what happened.
We know how to track down hit-and-run drivers through police information, witness accounts, nearby camera footage, and much more. We can help you hold the right person responsible for the immense pain and losses you've suffered. Let's start the road to your recovery today.
Have a Legal Question? We Have Answers
When you need to learn more about your rights, the attorneys at Zirkin & Schmerling Law can help. Contact us or call us at (410) 753-4611 to set up an appointment with one of our experienced accident lawyers today.