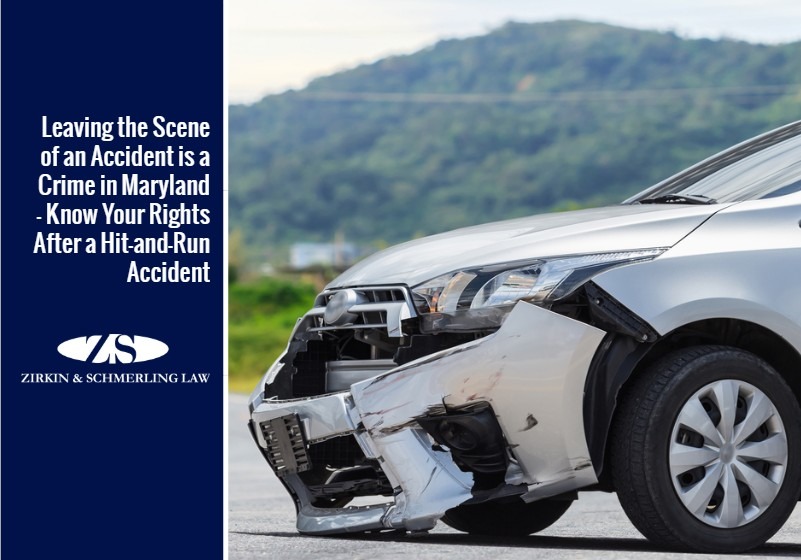 Hit-and-run drivers make most people in our whole community angry.
A Maryland hit and run car crash could be as minor as a small scrape to someone's vehicle or as major as hitting a person and causing serious personal injury or death. Either way, it is important to hold the responsible party accountable for their actions.
Local law enforcement and legal authorities take hit-and-run incidents very seriously, putting massive resources toward tracking down the worst hit-and-run assailants. We've seen some of the recent Baltimore news stories about hit-and-run drivers who leave the scene after striking and killing one of our citizens.
Changing a Tire on the Side of the Road Leads to Death
Fortunately, local police already have suspects in custody for two of the most recent Maryland hit-and-runs. The community is understandably eager for the right people to be held accountable.
In August 2019, 19-year-old Keshon Nowlin from Owings Mills was killed in south Baltimore while changing a tire on his vehicle. A driver in a silver sedan struck Mr. Nowlin and three of his friends as they worked on the flat tire. Although his friends survived, Mr. Nolan died at the University of Maryland Shock Trauma Center.
What's odd about this incident is the driver of the silver sedan actually got out of her car and spoke to the injured, then returned to her car and drove away. Baltimore police now say they have a suspect in custody, although the person's identity has not yet been released.
A month prior to Mr. Nowlin's death, Baltimore resident Stuart A. R. Johnson was struck by a hit-and-run driver on Route 295 in Anne Arundel County and died on impact. Mr. Johnson, who worked for a roadside assistance company, had been changing a flat tire on a bus that had no passengers at the time.
Luckily, another driver saw what happened and followed the hit-and-run driver, who abandoned their car by the side of the road and fled into the woods. Within one day of the incident, police had 23-year-old Hanover resident Brittany L. Walton in custody. Ms. Walton was already wanted on two warrants for animal cruelty and fourth-degree burglary.
Maryland Hit and Run Laws Punish Behavior
Although the common term for these cases is hit-and-run-driving, the actual laws involved are Maryland Transportation Code 27-113 and 20-104, which forbid leaving the scene of an accident and require a driver to render reasonable assistance to any injured person.
This means if you are involved in any type of traffic accident with injuries in Maryland, the law requires you to stop, stay at the scene, call 9-1-1 for anyone who requires medical attention, provide personal information including your name, address and vehicle details, and show your ID to police officers.
When someone fails to follow the law, they could face some or all of the following penalties:
For property damage only, leaving the scene of an accident brings a $500 fine and up to 60 days in jail.
For an accident with injuries, leaving the scene is a felony punishable by a fine of up to $5,000 and 5 years in prison.
If the accident causes a death, the maximum penalty for leaving the scene is a $10,000 fine and 10 years in prison.
Why do people run away after a hit-and-run, especially if they've hurt someone, or worse?
Hit-and-run drivers leave the scene for various reasons, at least in their own minds. One of the most common excuses is they are currently wanted for other legal warrants, like Brittany L. Walton. Knowing she was already wanted on other charges, she tried to evade police.
Sometimes people flee because they are drunk or under the influence of drugs. They don't want to be caught with these substances running through their veins and they hope to escape responsibility for hurting someone.
In other cases, there's no clear reason why the person fled the scene. Maybe they were scared. Maybe they panicked. Regardless, it's a crime to leave the scene of an accident in Maryland.
Personal Injury Claims Can Compensate for Hit-and-Run Injuries
Hopefully, hit-and-run drivers will pay the price in the criminal justice system. Another way to seek justice is through a personal injury lawsuit.
If you're ever on the unlucky side of a hit-and-run crash, you can seek compensation for the pain, cost and emotional trauma you've experienced with a personal injury lawsuit. Your car accident attorney helps you demand what you deserve from the hit-and-run driver who has caused so much harm. You may receive compensation for:
Past and future medical expenses, even if your health insurance is covering them
Property damage to your vehicle and possibly its contents
Past and future lost income you experienced due to the accident
Pain and suffering that comes from physical and mental harm
We hope you never have to struggle through the experience of being struck by a hit-and-run driver. But if it happens, we're here to help you hold the right person responsible.
Have a Legal Question About Hit-and-Runs in Maryland? We Have Answers.
If you or a loved one suffered injury or death from a hit-and-run driver, the attorneys at Zirkin & Schmerling Law can help you understand Maryland's personal injury laws and seek compensation. We can help you hold the right person responsible for your injuries and file suit for damages. Call us at 410-753-4611 to set up an appointment with one of our car accident attorneys today.