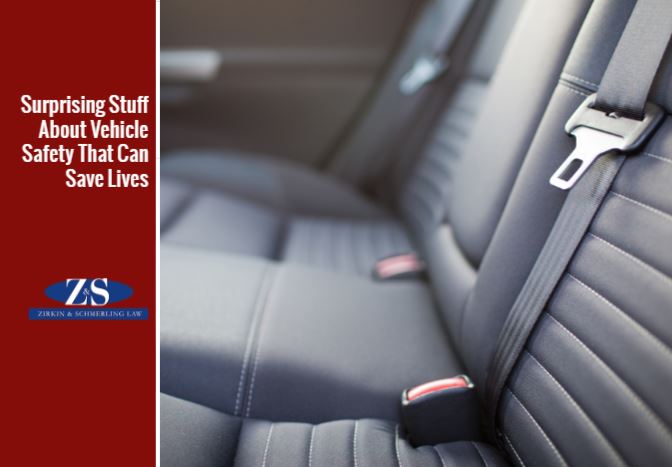 You are out driving on the streets of Baltimore with your children in the car. Without warning, you're struck by another vehicle. If you're fortunate, it's just an inconvenience. If you're not, well, you can imagine the rest.
We all want to avoid such a possibly devastating, life-threatening and potentially expensive event like an accident on the road.
When it comes to protecting yourself, your passengers and your children from injury or death in a vehicle,seat belts are still the most effective and controllable safety measure.
Every state in the United States except New Hampshire has enforceable laws that require adult drivers to wear safety belts while operating a motor vehicle. All 50 states have additional child restraint laws. It's a good thing, too – since the risk for serious injury is eight times greater when a passenger is not wearing a seat belt. Seat belt use in Maryland is 92.1%, even higher than the national average of 89.7%, according to a 2018 report from the National Highway Traffic Safety Administration (NHTSA).
Do you know the safest place to sit in a car?
Interesting question. With a good-to-know answer. There is a seat considered to be safer than other seats, even though it may depend on the age of your passenger and the age of your vehicle. We'll tell you where it is.
The Safest Seat for Children
The middle of the backseat is safest for children under the age of 13. The NHTSA and the American Academy of Pediatrics (AAP) both have determined this. In fact, mounting research, such as studies by the University of Buffalo and the Children's Hospital of Philadelphia, finds that children under the age of eight have the lowest risk of death when sitting in the rear seat. That risk increases slightly for children between the ages of nine and 12.
Why would the back-middle seat be safest for kids? This seat places passengers the greatest distance away from the "crumple zone" of most collisions. Outer seats take the brunt of the collision, while the middle seat is more insulated from impact.
The middle seat is also most recommended for children's car seat* placement. AAP research finds children sitting in a car seat and riding in the rear middle seat have a 43% lower rate of injury than children in car seats riding in the window seat.
One caveat: current research focuses on newer cars with full three-point seat belts in the back.If your car is an older model without full three-point seat belts, then your children are better off riding in a back window seat.

The Safest Seat for Older Adults
For adults over the age of 55, research indicates that the front seat is safer than any seat in the back – due to advancements in technology for the front seat passengers.
"That doesn't mean that the rear seat in newer vehicles is less safe than in older model vehicles," Anne McCartt, senior vice president of research with the Insurance Institute for Highway Safety/Highway Loss Data Institute, says. "The risk of fatal injury for rear occupants is similar across all of the model years we examined. Instead, the disparity reflects the fact that the front seat is getting safer."
What Technology Is Doing For Front Seat Safety
Airbags, crumple zones and seatbelts that absorb the force of impact during a collision have all helped increase the safety of cars during an accident. While more modern technology is providing systems such as collision detection to help reduce the number of accidents and increase driver awareness, accidents still happen. Currently, more research and technology has been devoted to the front seat of vehicles.
"We don't have crash dummies in the rear. So things are improving in the front, but the back seat hasn't kept up," says Jessica Jermakian, a senior research scientist at the Insurance Institute for Highway Safety, or IIHS. "For adult occupants, we wouldn't necessarily say it's safer [in the rear] anymore."
Do you know Maryland's seat belt laws?
Here's a short rundown:
all drivers and passengers must wear seat belts
all children under the age of eight must ride in a safety car seat unless they are 4 feet 9 inches or taller
children between the ages of eight and 16 must wear a seat belt, regardless of where they are sitting in the car
laws apply to residents of Maryland and people passing through Maryland
each passenger, including the driver, can receive a separate ticket of up to $50
for passengers under 16 not wearing seat belts, the driver receives both tickets
people who cannot wear a seat belt due to medical issues must present a physician's statement
children can ride in the front seat with one exception: front-seat riding for rear-facing car seats in cars with airbags is strictly prohibited
Have a Legal Question About Car Crashes in Maryland? We Have Answers.
If you or a loved one are injured in an auto accident, Zirkin & Schmerling Law is an expert at answering all your questions and guiding you through this challenging process of Maryland auto accident law. We can help you find out if you can hold a third party responsible for your injuries and file suit for damages. Contact us or call us at 410-753-4611 to set up an appointment with one of our auto accident attorneys today.
*If you can't purchase a safety car seat, contact the Maryland's Kids in Safety Seats (KISS) program by calling 800-370-SEAT. KISS also offers free inspections and other resources.