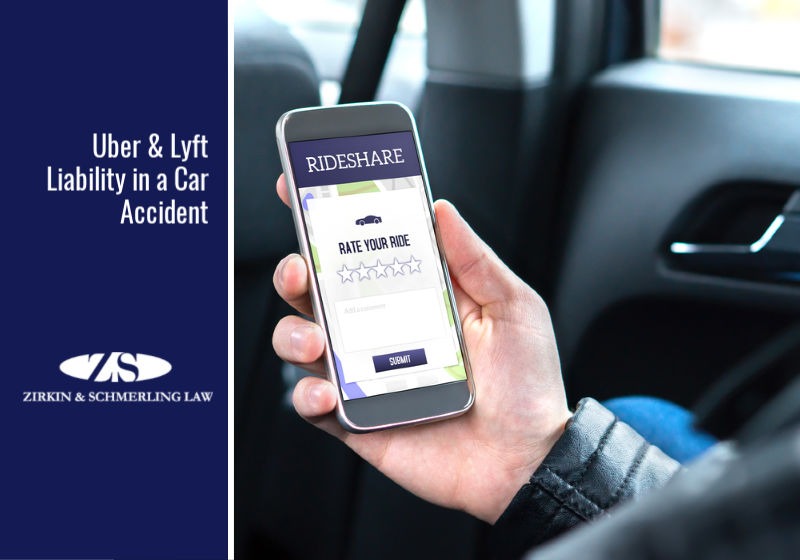 About 36% of all U.S. residents now use rideshare services, mostly Uber and Lyft. Ridesharing has created a massive change in our country's transportation network, with about 2 million rideshare drivers and 65 million active customers on our roads.
Driving around, you wouldn't notice all of these rideshare vehicles at first glance. They're regular passenger vehicles, not bright yellow taxis or big city buses. Rideshare drivers use their own personal vehicles to drive customers to their destinations, connecting through an app that matches a person in need of a ride with a nearby driver.
It's a handy and popular service, but what happens when a car accident occurs? Who takes the blame? There are numerous people and entities involved in these situations, including the rideshare driver, their passenger, the other vehicle's driver, and everyone's insurance companies.
The Liability of Uber and Lyft After Car Accidents
After an accident where the other driver is a rideshare driver – or after one where you are a passenger in the rideshare vehicle – it's unlikely that the rideshare driver's personal auto insurance will cover it. Most insurance policies have a non-commercial clause, meaning insurance won't cover an accident that happens while the person is working as a rideshare driver.
So if the accident isn't your fault, you'll need to hold the rideshare company responsible for the costs. You'll have to reach out to Uber, Lyft, or whichever rideshare company is involved, and tell them that you're planning to file a claim with their insurance carrier. Now, here's where things get a bit more confusing.
Both Uber and Lyft provide $1 million in liability insurance for their drivers, which sounds like a lot until you understand how it actually breaks down in real-world situations. If the driver had a rideshare passenger or was on the way to pick one up, the $1 million in coverage applies, assuming the rideshare driver was at fault. But if the driver was logged into the app and hadn't yet accepted a customer, their coverage through Uber/Lyft reduces to $50,000 per person and $100,000 total liability per accident.
If the rideshare driver wasn't logged into the app, technically they weren't working. So their personal auto insurance should kick in – although you should be warned that insurance company is fairly likely to fight the claim. This brings up another very confusing aspect of rideshare accidents: being "on the clock." Read on to learn why this matters.
Here's Why Being "On the Clock" Matters
Rideshare drivers use their personal vehicles for work, so the timing becomes critically important when it comes to an accident. If the rideshare driver was just driving around for personal reasons, Uber/Lyft's insurance company won't cover the accident. From their perspective, it simply didn't happen while their driver was working.
And here's something else many people don't realize about rideshare insurance: It usually only covers the costs of the accident if it wasn't your fault. For example, a Tennessee rideshare driver sued Uber after she rear-ended another car in traffic while on the way to pick up a passenger. Although Uber covered the costs of the driver who was rear-ended, they refused to cover the costs incurred by their own driver because she caused the accident.
Rideshare passengers often find themselves in a grey area after accidents. If you're injured during an Uber ride, how do you get compensation for your medical bills? It becomes a complex and frustrating situation where you're chasing after various insurance companies trying to see who's willing to cover your costs.
After an Accident, Stand Up for Your Rights
Don't let the insurance company or rideshare company bully you around after an accident. Contact a car accident attorney who has experience dealing with rideshare collisions and knows all the tricks these companies use to try to avoid responsibility.
You can use the power of the law to hold the right party responsible. Connect with a car accident attorney and ask about their rideshare cases and whether they got positive results for their clients. A good attorney has a long list of past cases where they helped their clients get the compensation they deserved.
Have a Legal Question About Road Safety? We Have Answers
If you're injured on the road, the attorneys at Zirkin and Schmerling Law can help. Contact us or call us at 410-753-4611 to set up an appointment with one of our injury attorneys today.