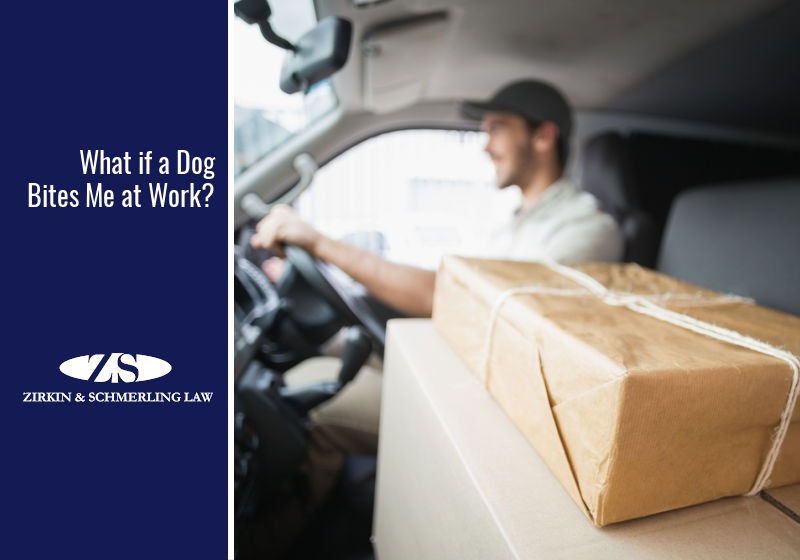 When you head to work, you don't expect your day to end with a severe dog bite. But it happens to thousands of working people every year.
A dog bite at work is even more complicated than one at home or out in your neighborhood. Work-related dog bites often involve company investigations and paperwork, health insurance, workers' compensation claims, and missed days of work – not to mention difficult interactions with the dog's owner.
We'd like to share some important information about how to handle a dog bite at work. If you've suffered a dog bite, we strongly advise you to seek the input of a Maryland dog bite lawyer who can answer specific questions about your case.
Dog Bites at Work are More Common Than You Might Think
About 2% of all dog bites happen at work, and before you think that doesn't sound like much, consider that more than 4.5 million dog bites per year happen in the U.S. This number has been on the rise for decades, likely because dog ownership in the U.S. has also been rising.
The United States Postal Service has been tracking how often dogs bite their employees since the 1990s. Unfortunately, Baltimore is #15 on the USPS's list of the worst cities for postal worker dog bites.
Other types of delivery workers are at high risk of dog bites too, like pizza delivery drivers, grocery delivery workers, and drivers for Amazon, UPS, FedEx, Shipt, Instacart, and more. There are also plenty of other people injured by dogs, like landscapers, installers, repair technicians, contractors, in-home health aides, and child care providers.
Some of these workers are employees and some are independent contractors. The latter may have a much tougher time getting the company to pay for their medical bills and other costs.
What About Workers' Compensation?
Workers' compensation is commonly used for workplace injuriessuch as an accidental injury or occupational disease.. But it usually also applies to dog bites, as long as they happen on the job.
Workers' compensation generally applies to situations where an employee is injured by an accident or disease acquired in the course of their work. It covers the cost of medical bills, lost wages, and disability and death benefits, depending on the situation.
To use workers' compensation, you may be required to prove that you were working and that your injury arose from the dog bite. In some cases, employers pressure workers to accept workers' compensation quickly and without questioning it too much.
Speak to a dog bite lawyer before making any snap decision. In some cases, you may be giving up rights by accepting workers' compensation and it's important to make a decision that's in your best interests.
If You're Bitten on the Job, Here's What to Do Next
If a dog bites you while you're working, here are some steps you can take to protect your workers' compensation claim as well as a potential personal injury case.
Notify your employer immediately.
Request a full, written injury report.
.
See a doctor as soon as possible and follow the doctor's orders.
Let your employer know if the dog bite injury will prevent you from working.
Talk to a dog bite lawyer about a personal injury case and worker's compensation claim.
Dog bites can be extremely expensive to treat and often require physical therapy or mental health counseling. Workers' compensation can help pay those bills as you receive your medical treatment. If you have a permanent injury you can also be awarded a sum of money from the workers' compensation commission. In addition, your injury will have an additional value against the owner of the dog. In some cases, you want to go after both the workers' compensation and the at fault individual. Sometimes you don't want to go after both pockets of money for strategic reasons. Zirkin and Schmerling Law can help you navigate this complex strategy. At the end of the day, you should receive full compensation for your injuries.
You can take action after a dog bite injury by contacting an experienced Maryland dog bite lawyer at Zirkin & Schmerling Law. We'll help you seek compensation for your bills, therapy, lost wages, and pain and suffering. We have extensive experience with dog bite cases.
Have a Legal Question? We Have Answers
When you need to learn more about your rights, the attorneys at Zirkin & Schmerling Law can help. Contact us or call us at (410) 753-4611 to set up an appointment with one of our experienced dog bite lawyers today.