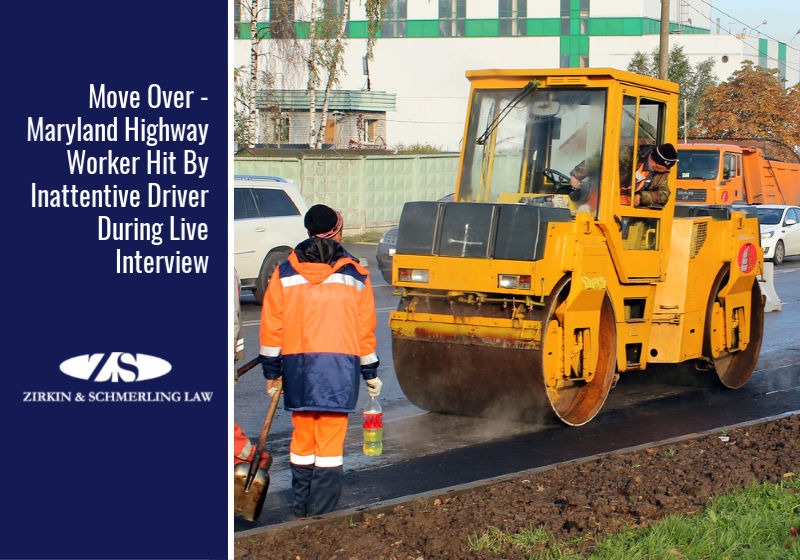 The Maryland State Highway Administration (SHA) reports one of the most dangerous jobs in Maryland is providing roadside assistance because the risk of injury or death posed by inattentive drivers is so great. Recently, an SHA worker was hit by a motorist on the Capital Beltway's outer loop while the worker's own boss, Greg Slater, was about to give a live interview about the dangers of drivers ignoring Maryland's move over law. Although the worker wasn't seriously injured, it is an immediate reminder that these incidents are happening every day on Maryland's roads – accidents, injuries and deaths that are entirely preventable. In that interview, Mr. Slater emphasized the only way we'll make progress is by spreading the word about the importance of the law and enforcing it.
Maryland's expanded move over law is making news again – as Maryland State Police are
seeing more violations, not fewer, and issuing citations and warnings to motorists who are not moving over or slowing down for stopped vehicles on Maryland roads. In light of apparent public apathy, lawmakers are considering an additional bill in 2020 that would allow automated video cameras on emergency vehicles to help catch lawbreakers.
After more than 3,400 people were hurt or killed between 2014 and 2018 in Maryland work zone accidents, the law was enacted to help save lives. However, state troopers issued 1,347 citations and 4,979 warnings for move over violations in the first 10 months of 2019, according to the Baltimore Sun – which may indicate Maryland drivers just don't know they're required to slow down or move over for stopped service vehicles.
What Maryland's Move Over Law Requires Of Motorists
The move over law is intended to improve safety in construction zones, near police and emergency vehicles, for tow truck drivers and roadside assistance workers, and in other situations where vehicles -and people- are stopped on the side of the road, such as after an auto accident. The language of the law requires motorists who are approaching a stopped vehicle to change lanes, or if that's impossible they must slow down to a prudent speed.
Theoretically, Maryland drivers would provide ample room for any vehicle stopped by the side of the road or at least pass them slowly and with caution. Highway safety research indicates that when drivers slow down and exercise caution near stopped vehicles, they are far less likely to hit, injure or kill someone.
What's especially concerning is the number of people nationwide who say they have never heard of move over laws, even though almost every state has enacted one – roughly three-fourths of Americans are unaware of their state's requirement to move over or slow down for stopped vehicles on the road, according to one study.
Know the Law and Stand Up for Your Rights
A violation of Maryland's move over law comes with a fine of $110 and 1 point on your license. If you don't follow the move over rule and thereby contribute to a traffic crash, the fine is $150 and 3 points, and if a death or serious injury occurs, you'll be fined $750 and get 3 points.
For those who suffer injury or death, these penalties probably don't seem too severe. A fine of just $750 for hurting or killing someone with careless driving? This is something much more powerful you can do.
By filing a personal injury lawsuit, you put the blame where it belongs. You may be able to recover compensation for your past and future medical bills, whether insurance covers them or not. You can request the work income you lost while staying home to recover from the accident and future wages if you can't return to work. In addition, you can include pain and suffering as part of your claim.
Please help us spread the word about the move over law so we can all work together to make Maryland's roads safer. And if you're ever injured by someone who's not following the law, contact a personal injury attorney who will fight for your rights and hold the right person responsible.
Have a Legal Question About the Move Over Law in Maryland? We Have Answers.
If you or a loved one suffered injury or death due to a move over law violation, the attorneys at Zirkin & Schmerling Law can answer all of your questions and guide you through the challenging process of an auto accident claim. We can help you hold the right person responsible for your injuries and file suit for damages. We can also answer your questions about traffic ticket law. Call us at 410-753-4611 to set up an appointment with one of our car accident attorneys today.