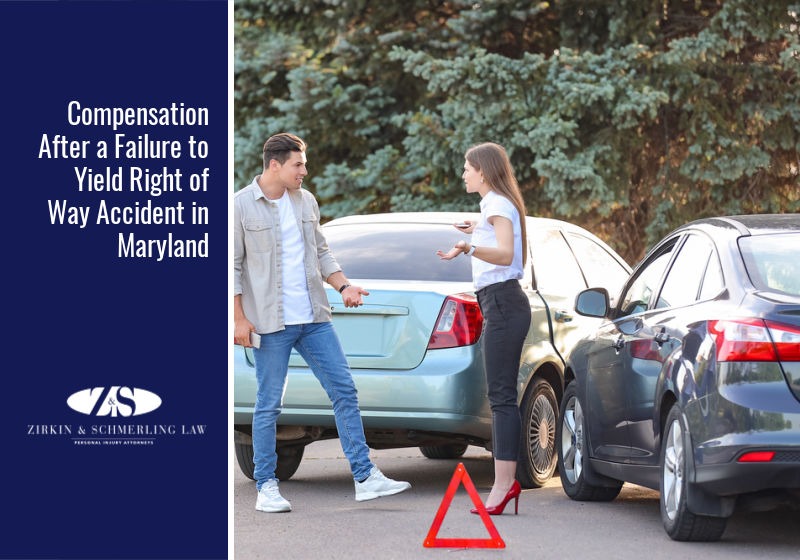 If you are injured in a failure to yield right of way accident, you may be entitled to compensation. This compensation comes from filing an insurance claim or a lawsuit, which can allow you to recover money for the damages you have suffered as a result of the accident, such as medical expenses for injuries.
However, if you intend to file a claim against another person or that person's insurance, you must be able to prove that they were the one responsible for causing the failure to yield accident, which is not always easy. In many cases, it can be difficult with failure to yield accidents to determine which driver or party was the one who failed to yield the right of way.
As such, it is often necessary to work with a Maryland car accident attorney. Your attorney can help you gather evidence and protect your rights, ensuring that the right party is held accountable and that you receive the compensation you deserve.
What Does "Failure to Yield" Mean?
Failure to yield is one of the top causes of car accidents every year. Although everyone learns about yielding the right of way when they learn to drive and get their license, many people forget these rules of the road over time, or they purposely ignore them.
So, what does failure to yield mean exactly?
There are laws that govern when a car has the legal right of way and when they don't. Or, in other words, laws that dictate when someone can "go" and when someone else must "yield" or let the other person pass. When a person does not yield when it is someone else's legal right to go or move, that person is failing to yield the right of way.
For example, if two cars pull up to stop signs across from one another at an intersection, the driver that reached the stop sign first has the legal right of way to proceed.
Additional right of way laws exist concerning the following:
Yielding the right of way when making a left turn or a U-turn
Yielding the right of way at a "T" intersection without a traffic control device
Yielding the right of way when entering or exiting the highway
Yielding the right of way to pedestrians or bicyclists
Yielding the right of way to emergency vehicles
What are the Penalties for Failure to Yield Right of Way in Maryland?
When a person disobeys right of way laws, they may be subject to a fine, penalty, or failure to yield ticket.
In Maryland, if a person violates right of way laws, they may receive a ticket and be required to pay a fine of up to $1,000, depending on the specifics of the violation. For example, failure to yield accidents that result in a serious injury or death may result in a higher fine than an accident that results in only a minor injury or no injuries at all.
The fine and penalty can also depend on the vehicles involved. Failure to yield to an emergency vehicle, for instance, will result in a more serious penalty and a higher fine.
Drivers may also have their license suspended for a number of days for committing a failure to yield violation in Maryland.
Recovering Compensation After a Failure to Yield Accident
Maryland is an at-fault state, meaning drivers can file a claim against the at-fault party to recover compensation. However, you must still provide sufficient evidence to prove that another party was at fault before you will be awarded compensation for damages.
You can file a claim with your insurance if you choose to pay for no-fault, Personal Injury Protection (PIP) coverage, as this will provide you with benefits no matter who was at fault. However, this coverage is often limited. If you don't have PIP coverage or if the coverage is not enough, filing a claim against another party who was at fault can help you recover the compensation you need.
If you do intend to file a third-party claim, you will need to work with an attorney if you want to get the full settlement value you deserve. A lawyer can help you gather evidence, protect your rights, ensure the right party is held liable, and make sure the insurance company pays you the full and fair compensation you need for the damages you have suffered.
Such damages that can play a role in how much compensation you receive can include:
Medical expenses
Lost income
Emotional distress
Property damage
Have a Legal Question About a Failure to Yield Right of Way Accident? We Have Answers.
If you sustain an injury from a failure to yield right of way accident in Maryland, the team at Zirkin & Schmerling can help you navigate your claim. Our team has experience handling a wide variety of Maryland car accident cases, and we are dedicated to ensuring every one of our clients gets the full and fair settlement they deserve.
Contact us or call us at 410-753-4611 to set up an appointment with one of our personal injury attorneys today.