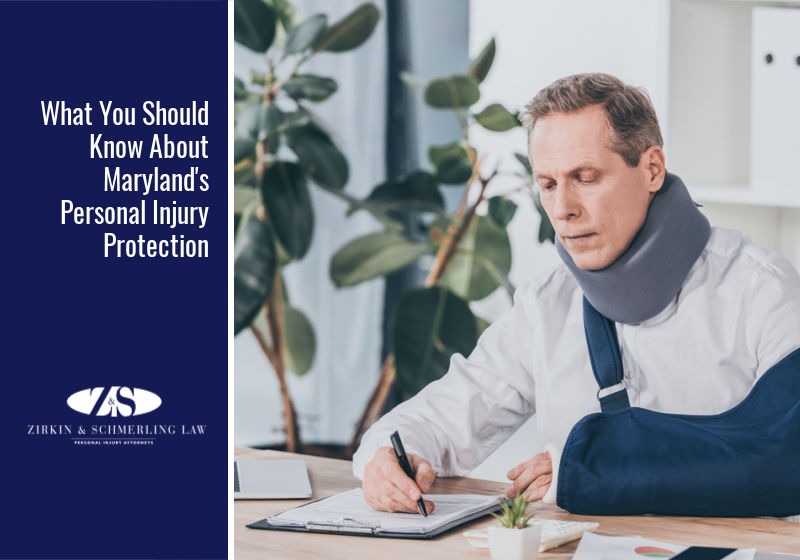 How you recover damages after an accident can sometimes depend on the type of fault laws that a state follows. For example, in an at-fault state, the driver who is responsible for causing the accident is the one held liable for damages. This means you would go after the guilty party's insurance for compensation.
However, some states offer additional insurance benefits to help drivers get the compensation they need after a collision. Maryland is one of those states. So while Maryland is an at-fault state, they do offer what is called Personal Injury Protection (PIP) coverage.
If you are involved in a car accident in Maryland and have further questions about PIP insurance and how it will affect your case, you can contact our team at Zirkin & Schmerling Law for assistance.
What Is Personal Injury Protection Insurance?
Personal Injury Protection (PIP) is a type of no-fault insurance coverage that can help drivers get compensation for medical bills, lost wages, and other out-of-pocket expenses. Because this is a no-fault benefit, it provides compensation no matter who was at fault for the accident.
Because Maryland is an at-fault state, this means you can file a claim with your own insurance for PIP benefits, and you can file a claim against the guilty driver for additional compensation. For example, if you have $15,000 in medical bills from the accident and your PIP insurance only covers $10,000, you could file a claim against the at-fault party for the extra $5,000. You can also file a claim against the at-fault driver even if your PIP insurance covers everything because there are some damages that are not covered by PIP.
Expenses covered by Maryland Personal Injury Protection Insurance include:
Medical bills
Lost wages
Hospital stays
Funeral expenses
Child care and other substitute services for regular duties you cannot provide while injured, such as cleaning and maintenance
Examples of damages not covered by PIP but that are covered when you file a claim against the guilty party include:
Physical pain and suffering
Property damage
Loss of consortium
Maryland Personal Injury Protection Coverage
Personal Injury Protection coverage is not mandatory in Maryland. This means drivers have the option to sign up for limited coverage, or they can sign a waiver stating that they are rejecting coverage if they do not want to pay for full coverage.
Full PIP Coverage
The minimum coverage for PIP in Maryland is $2,500, and it covers you and members of your family that live with you who are injured in any car accident. It also covers anyone injured while riding in your car, as well as pedestrians injured by your vehicle.
Limited PIP Coverage
Drivers also have the option to waive a portion of PIP benefits for themselves, other drivers on their policy, and members of their household who are 16 years of age and older. However, this limited coverage does still cover pedestrians and minors.
Waiving PIP Coverage Entirely
Maryland does allow you to waive PIP insurance entirely, but you must sign a waiver that indicates your intention of rejection. Simply not paying for PIP is not a legal indication that you have waived coverage. It must be an official form that shows you signed the waiver either electronically or in writing.
Deadlines for Maryland Personal Injury Protection Coverage
It's important to note that even if you pay for PIP insurance coverage, you can still run into situations where you are not able to collect these benefits—primarily when you fail to file your claim on time.
Every state has a statute of limitations for personal injury claims after a car accident. In Maryland, you have one year from the date of the accident to file a claim. If you file after 12 months, you will likely be ineligible to recover PIP benefits, and you will also likely be ineligible to file a claim against the at-fault party's insurance.
Have a Legal Question About PIP Coverage and a Personal Injury Case? We Have Answers.
At Zirkin and Schmerling Law, our team of Maryland personal injury attorneys is dedicated to helping injured victims get the compensation they deserve. We have experience handling various kinds of civil law cases, like car accidents. We know what it takes to ensure our clients get the full and fair settlement they deserve, including coverage from Personal Injury Protection benefits.
Contact us or call us at 410-753-4611 to set up an appointment with one of our personal injury attorneys today.