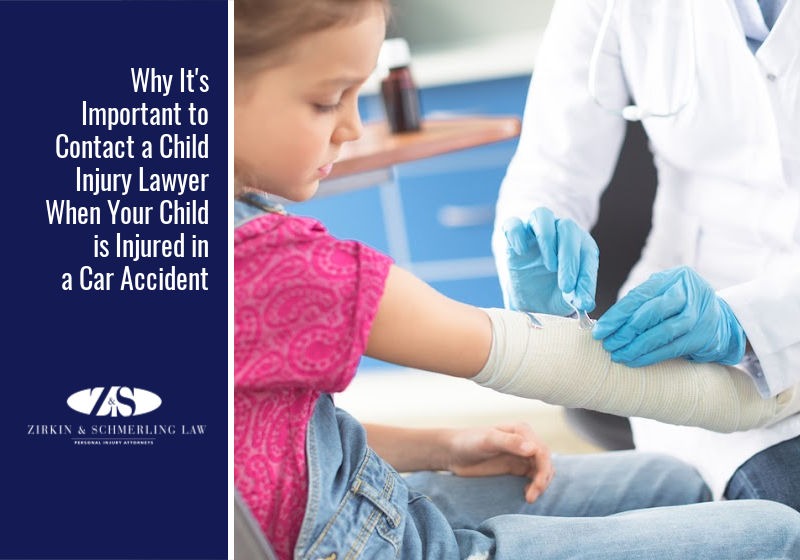 The only thing worse than being injured in a car accident is having a loved one injured, especially if it's a child. No parent or guardian wants to see their child suffer. We all want what is best for our kids. Unfortunately, accidents still happen. And no matter what you do to protect your child, it is still possible that they will get hurt. When that happens, your only focus should be your child and getting them the care they need, which is why you need to call a child injury lawyer and let them do the work for you.
The problem is that you may not have the money to pay your child's medical bills, or you may not understand your child's rights when it comes to filing a personal injury claim, which can make the entire situation so much more stressful. This is why working with a child injury lawyer is so important when your child is injured in a car accident.
At Zirkin & Schmerling, we understand how stressful and even traumatizing it can be to deal with a Maryland car accident claim while also trying to care for your child. Our compassionate team of attorneys has experience handling these delicate situations. We can handle all of the complex legal matters of filing a child injury claim or a child injury lawsuit so you can focus on your child and give them the love and care they need.
Filing a Child Injury Lawsuit
When you are injured as an adult in a car accident, you have the right to pursue legal action against the at-fault party to recover compensation for your injuries and other damages. However, when the injured victim is the child, the law does not expect the child to be the one to pursue legal action themselves.
Instead, under Maryland Rule 2-202, the parent or guardian of the child can file a claim or lawsuit for them, which is also called a "next friend" lawsuit. This will then allow the parent or guardian to then recover compensation which can be used to pay for the child's medical expenses or other damages, such as pain & suffering or emotional distress.
Once the claim or child injury lawsuit is filed, things will proceed similarly to how they would if you were the injured victim filing on your own behalf. However, there are some minor differences based on Maryland law that are worth noting, as they will play a role in the case.
Maryland Law and Child Injury Claims
Age and Statute of Limitations
First, the "next friend" lawsuit ruling only applies to children who are considered a minor. This means that a parent or guardian can only file a lawsuit on behalf of the child until they have reached the age of majority, which is 18 years old. This is important because it also plays a role in the statute of limitations for child injury claims.
Traditionally, car accident victims only have three years from the date of the accident to file a claim before they become ineligible to recover compensation. However, with a child injury, the clock doesn't start running until the child reaches 18. Once the child turns 18, they then have until they turn 21 years old to file a claim.
So, if the child was in an accident at the age of 11, they technically would have ten more years until they become ineligible to file a claim and recover compensation. This means that at any time between the age of 11 and 18, the parent or guardian can file a claim for them.
Who Can File on Behalf of the Child?
Under Maryland law, the person who has sole custody of the child has exclusive rights to sue on the child's behalf. So, let's say the child's parents are divorced; the parent that has sole custody is the one with the right to file the claim.
However, if the child does not have parents or if the parent does not decide to file a lawsuit, any other person with an interest in the child can sue on the child's behalf—so long as the custodial parent is notified of the intent to do so.
Distribution of Compensation
To protect minors from financial exploitation, there are also laws in Maryland that ensure the funds from the lawsuit go to the right person and are not squandered.
If you are the only living parent, you can accept the settlement on your own, but if another parent is living, you must get their approval to accept the settlement on the child's behalf. If there is no surviving parent, the person suing on behalf of the child must get approval from the court.
If the settlement funds are less than $5,000, they can be deposited into the parent or guardian's account and used for the benefit of the child. If the settlement is more than $5,000, the money must be placed into a trust account with the child named as beneficiary. Once the child turns 18, they will then have access to the funds.
Why You Need a Child Injury Lawyer
Child injury lawsuits can be complex situations. And understandably, the last thing you likely want to be dealing with when your child is hurt is a lawsuit. With the help of a child injury lawyer, you can rest assured knowing that the legal matters will be dealt with for you, so you can focus as much of your time and energy as possible on your child and getting them the medical care they need.
Have a Legal Question About a Personal Injury? We Have Answers.
Let the compassionate team of Maryland child injury attorneys at Zirkin & Schmerling help you during this trying time. We will help you file your claim and handle the majority of the legal matters for you. We'll make sure the right party is held accountable, handle paperwork and negotiations, and make sure you win the full and fair settlement your child deserves for all they have suffered.
Contact us or call us at 410-753-4611 to set up an appointment with one of our child injury attorneys today.