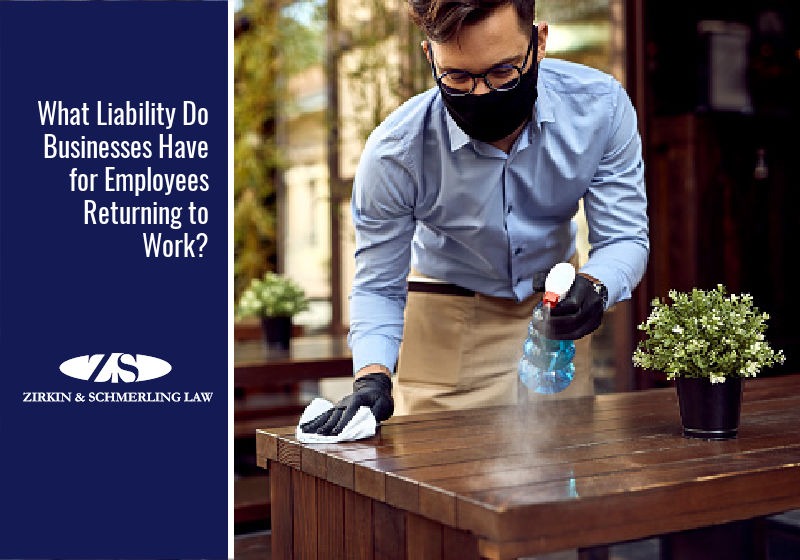 The State of Maryland's Roadmap to Recovery has hit phase two and we've "flattened the curve" by limiting COVID-19's impact on the state. Many types of businesses are now at least partially open to the public, including restaurants, amusement parks, gyms, casinos, malls, manufacturing, professional services, retail outlets, and more.
So what does this mean if you work at one of these newly-reopened businesses? If you get sick, can you sue your employer? Business owners across Maryland are wondering what kind of liability they may face.
As an Employer, How Do I Protect People and Protect My Company?
Business owners and managers should pay close attention to all government guidance provided at both the local and national level. Guidelines may change over time, so it is important to stay up to date.
In Maryland, this includes being familiar with the state's Roadmap to Recovery Back to Business plan, which advises businesses to stay safe by doing the following things:
Review the latest recommendations about face coverings and follow them.
Abide by Maryland's guidelines for contract tracing after a COVID-19 exposure.
Stay up to date on the best practices from the CDC.
Continue following executive orders and health orders from the state of Maryland.
Display a signed Back to Business pledge in your business.
In addition, develop and distribute a company policy regarding social distancing guidelines, rules about mask-wearing, general hygiene requirements, and what employees should do in the event of COVID-19 exposure. Now's a good time to review your insurance policy and touch base with your company attorney, too.
What Happens if Someone Gets COVID-19 from Work?
In terms of an employer's liability for someone catching COVID-19 at work, much will depend on the employee's ability to prove and track their exposure. Of particular importance will be whether the person was actively working and benefiting the employer when they were exposed.
Healthcare workers, first responders, and other front-line workers may be granted the presumption that the virus was contracted in the course of their employment. If an employee can show that they were most likely exposed to COVID-19 at work, it might be considered an accidental personal injury or a compensable occupational disease.
Of course, not all employers are following safety guidelines themselves. Take a look at a recent case in Pennsylvania involving a meatpacking worker's fatal case of COVID-19. His family claims it was due to unsafe working conditions at the plant.
The meatpacking plant had no COVID-19 plan in place at the time and didn't provide personal protective equipment for employees. Even when numerous cases of the virus came to light, the plant failed to take action to protect its workers, according to the family. They're suing for wrongful death.
How Does an Employee Hold Their Employer Responsible?
As an employee, you would need to prove that your exposure occurred at work and that your health was damaged due to COVID-19. For a worker's compensation claim, you will not have to prove that the employer was negligent. Instead, you will need to show that the injury was either an accidental injury or occupational disease that occurred during the course of work.
Here's the bottom line: COVID-19 doesn't excuse businesses from maintaining safety standards and protecting the public. If you or someone you love has contracted COVID-19 from work, call Zirkin & Schmerling Law to discuss your case.
Have a Legal Question About Returning to Work? We Have Answers
When you need to learn more about your rights, the attorneys at Zirkin and Schmerling Law can help. Contact us or call us at 410-753-4611 to set up an appointment with one of our experienced personal injury lawyers today.