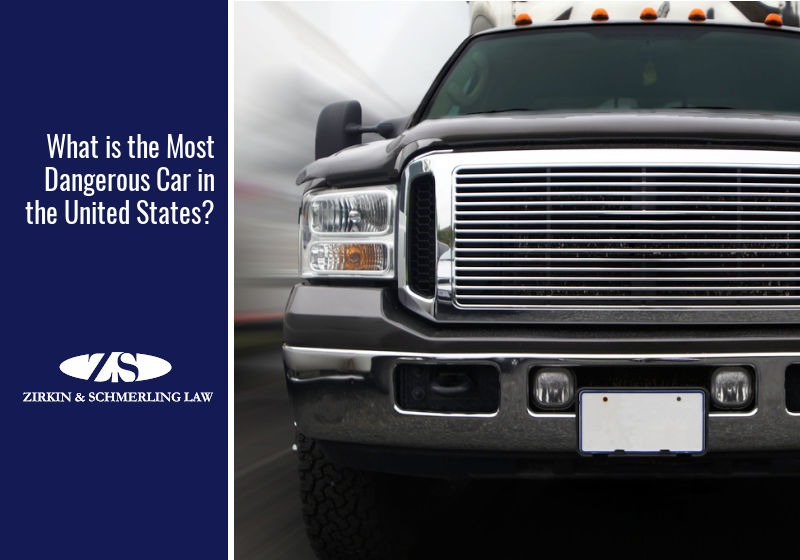 You could be driving the country's most dangerous car and not even know it. Auto manufacturers, dealerships, and repair shops aren't required to tell you, so we're here to share the truth about America's most dangerous cars.
First, let's look at the characteristics that put a vehicle in the category of dangerous vehicles. According to auto insurance industry research, the top factors that impact the calculation of the country's most dangerous vehicles include:
Vehicle age
Vehicle size
How well occupants are protected in a crash
The rate of crashes with injuries
The rate of crashes with fatalities
Vehicle safety ratings
Data from the insurance industry
Data from the National Highway Traffic Safety Administration
The Most Dangerous Car Isn't a Car
With the above factors in mind, the nation's #1 most dangerous car might surprise you. First of all, it's not a car at all. It's the Ford F-Series pickup truck.
That's unsettling because trucks and SUVs are generally regarded as some of the safest vehicles on our roads. Highway safety research shows that you are typically safer in a big vehicle than you are in a compact passenger car because small cars tend to be crushed in forceful impacts.
However, Ford F-Series pickup trucks have dismal safety rankings. They were involved in more than 10,800 fatal crashes during the five-year time researchers studied, which was more than any other type of car, SUV, or truck.
The Ford F-Series' design and safety features shouldn't get all the blame for its ranking as the most dangerous vehicle, though. A three-year study by AutoInsurance.org found that factors like speeding, location, and road conditions make significant impacts on nationwide car rankings.
For example, people who frequently drive through numerous dangerous intersections are at a higher risk of being killed in auto accidents because intersections are the top locations of fatal crashes. Speeding is also a major factor in crash-related fatalities.
The Most Dangerous Vehicles in America
Many vehicles get the dubious honor of being America's most dangerous to drive. Certain vehicles make the list due to their stubbornly high rates of fatal accidents.
The top five deadliest vehicles according to Value Penguin are:
Ford F-Series
Chevrolet Silverado
Honda Accord
Toyota Camry
Chrysler Ram Pickups
It's no coincidence that some of the nation's most popular vehicles are also listed among the most deadly. The Honda Accord and Toyota Camry are two of the most-purchased sedans in the country, so their high rates of deadly crashes are due in part to their high levels of ownership.
AutoInsurance.org also does a ranking of dangerous vehicles by auto manufacturer. Here's how their list looks.
Ford
Chevrolet
Toyota
Honda
Dodge
Nissan
General Motors Corporation
Jeep
Hyundai
Kia
Did a Dangerous Car Contribute to Your Crash?
After a severe traffic accident, people sometimes wonder whether the auto manufacturer holds any blame. In some cases, people have successfully sued automakers over poorly designed cars and safety features that failed to perform correctly in a crash.
But the best insurance you can get is quite literally insurance. Before a crash ever happens, make sure your vehicle is fully covered with an appropriate car insurance policy.
By filing an insurance claim after a crash, you can get your bills paid and ease the stress of the accident. An experienced car accident attorney will look at the circumstances of your accident and determine the best route to recovering your damages.
An accident with a dangerous car shouldn't ruin your life! At Zirkin & Schmerling Law, we'll work hard to maximize the value of your claim and minimize an accident's impact on your future.
Have a Legal Question? We Have Answers
When you need to learn more about your rights, the attorneys at Zirkin & Schmerling Law can help. Contact us or call us at 410-356-4455 to set up an appointment with one of our experienced accident lawyers today.