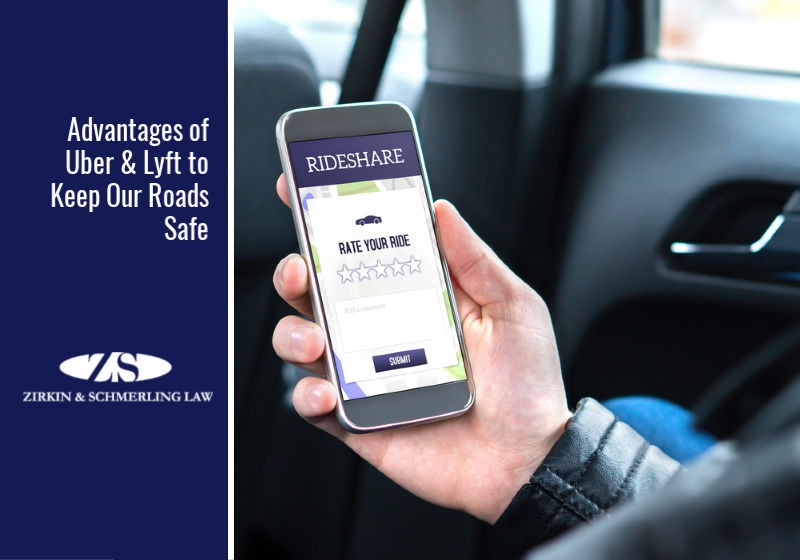 Ten years ago, few people had ever heard of ridesharing. Then came Uber and Lyft. Today, 25% of Americans take an Uber at least once per month, and 36% have used a rideshare company at some point in the past.
Can you guess the #1 reason why someone calls an Uber? Here's the answer: to avoid drunk driving. A study found that 43% of people who call Ubers do so because they need to get to or from a party/dinner where alcohol might be served.
This means Uber, Lyft, and other rideshare services are creating new options for people to stay safe on the road. And it's not just about drunk driving. Rideshare services are also contributing to safety in other ways.
Studies Show Safety Benefits of Ridesharing
A study by sociologists found that Ubering reduces serious road injuries by 9%. The researchers studied traffic issues in the U.S., U.K, and Italy, and found a decrease in fractures and internal injuries in rideshare accidents compared to other accidents – although the percentage of fatalities was the same.
Some safety experts speculate that ridesharing helps keep rude and aggressive drivers off the road. For one thing, it's often easier for people to take an Uber than it is for them to focus on driving, especially if they are angry or drunk. In addition, the drivers themselves are constantly screened for driving crimes and dissatisfaction among riders. If they don't follow the rules of the road, they lose their jobs.
Environmentalists point to ridesharing as an opportunity to ease traffic congestion and pollution. While the exact environmental impact is still up for debate, ridesharing certainly allows people in urban and suburban areas to avoid buying cars and just pay for rides instead.
When it Comes to Driving, Experience Matters
One big safety benefit of the rideshare industry is that it encourages its drivers to be more responsible than the average person might be. Uber and Lyft hold their drivers to certain safety standards, including not having citations for speeding, failure to use safety belts, and other violations. Rideshare drivers are usually required to have 1 year of driving experience or 3 years' experience if they are under age 23.
By driving for a rideshare company, a driver quickly gains additional experience on the road while their likely-young passengers ride instead of driving. People between the ages of 16 and 24 are some of Uber's most frequent customers, accounting for 37% of all active users.
The insurance industry and the Centers for Disease Control (CDC) are very clear on this point: Younger drivers are more dangerous on the road. Motor vehicle crashes are the #1 cause of death for U.S. teenagers and people age 16 to 19 are three times more likely than any other age group to die in a vehicle crash.
It comes down to driving experience and decision-making. People who have recently received a driver's license are more likely to cause accidents on the road. Plus, brain science shows us that teenagers don't yet have the impulse control and decision-making skills that older people have had time to develop.
Is Your Uber Safer Than Your Own Car?
When safety concerns arise, Uber and Lyft are quick to point out that in some respects, using their service is inherently safer than driving your own car. Here's why:
Both companies require drivers to use cars that are less than 15 years old, which is newer than many cars on the road.
Newer cars are more likely to have built-in safety features that protect passengers in the event of a crash.
Rideshare companies use safety-focused apps that help riders report crimes and safety concerns immediately.
Uber and Lyft require all of their drivers and customers to enable location services/GPS to allow constant monitoring.
What do you think? Are rideshare companies making our roads safer? You might say "No way!" if you've been injured in a car accident while ridesharing. Unfortunately, accidents still happen and rideshare drivers sometimes don't want to take responsibility for their actions.
After a rideshare accident, contact a car accident attorney and ask about your options. Many people have sued Uber and Lyft, along with local drivers. A lawsuit helps you handle the financial impact of the accident while you take the time you need to recover – and perhaps reconsider the safety of ridesharing.
Have a Legal Question About Road Safety? We Have Answers
If you're injured on the road, the attorneys at Zirkin and Schmerling Law can help. Contact us or call us at 410-753-4611 to set up an appointment with one of our injury attorneys today.