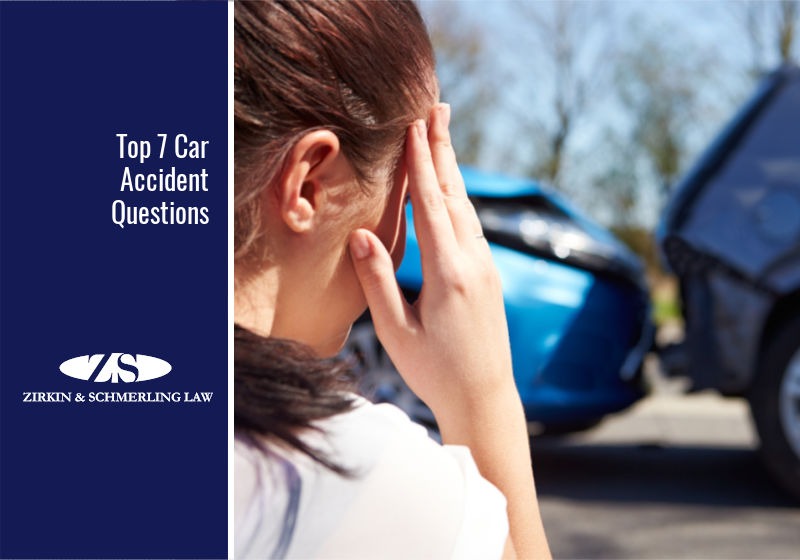 At Zirkin & Schmerling Law, our clients have lots of questions about their car accidents, including how to build a case and how the insurance claims process works. Below, we'll answer the 7 most common questions we hear and if you need advice about your specific situation, please contact us for a case consultation.
1. Should I accept a car accident settlement and how much should it be?
After a car accident, it's common for the other driver or their insurance company to offer you a quick settlement in the form of cash or a check. But the truth is, it's probably a bad deal for you. They're hoping you'll take a small amount of money and go away.
Before accepting a settlement, do a detailed calculation of all types of damages, including medical expenses, property damage, lost income, and your pain and suffering. Ensure that the settlement would truly cover all of these costs. Don't let your accident ruin your finances and your future.
2. How much money can I get in a car accident lawsuit?
Although Maryland does not have a cap on economic damages, it does have a maximum dollar amount you can receive for non-economic damages, which is more commonly known as pain and suffering. The cap for pain and suffering is currently $860,000 for a car accident and $1,290,500 if there is a wrongful death involved. These caps move up by a small percentage each year.
But to be clear, you could be awarded millions of dollars in total, depending on your situation. If you have enormous medical bills, you can sue to recover the total value of these bills because they are considered economic damages. There is no limit on the amount of economic damages you can be awarded. You can also sue to recover lost wages. Once again, since these are also considered economic damages and there is no limit in terms of what a judge or jury can award for lost wages.
3. Do I need to get a second opinion about my car accident?
You have the right to get a second opinion about your medical diagnosis.
When choosing an attorney make sure to ask how often they go to court. Many lawyers claim to do personal injury work and car accidents but never take a case to court. The insurance companies know the lawyers that file lawsuits and take it all the way to trial. If you have a lawyer that doesn't have that reputation the insurance company knows that they can try to settle your case for less money. Make sure that when you hire your attorney that you find out about the last couple of trials you attorney has completed and the results.
4. How is pain and suffering calculated?
There's no hard-and-fast formula for calculating your pain and suffering. As you can imagine, it's very difficult to put a dollar figure on your personal anguish, embarrassment, disfigurement, and the loss of enjoyment of your life.
Two different juries that are presented with the same case would likely come up with two very different results. This is just a reality of our legal system, and it highlights the need for a skilled attorney to help you prove the high value of your pain and suffering.
5. Can I sue an Uber or Lyft driver after a car accident?
Yes, you can absolutely make a claim against a rideshare driver, rideshare company like Uber or Lyft, and/or their insurance company. Rideshare companies maintain large insurance policies and require their drivers to carry insurance for exactly this reason. You may be able to secure high-value compensation after your accident.
6. What if my claim is more expensive than the insurance policy limit?
Sometimes the economic and non-economic costs of a car accident claim exceed what is covered by the auto insurance policy. If this happens, you can try to collect against your own insurance company under your underinsured motorist policy. This is a policy that all people in Maryland have to pay for by law when paying for car insurance. Also, if the vehicle that struck you is a company vehicle you may be able to go after the company directly.
7. Why do I need to hire an attorney after my car accident?
As you can see from the questions and answers above, a Maryland car accident can be a very complex situation. Although it's your right to handle it alone, hiring an experienced car accident attorney could be a huge relief during an extremely stressful time.
Plus, it's a fact that people who hire attorneys end up with better financial outcomes. The Insurance Research Council found that accident victims with lawyers receive an average of 3.5 times more than those without lawyers to represent them.
Have a Legal Question About a Car Accident? We Have Answers
When you need to learn more about your rights, the attorneys at Zirkin and Schmerling Law can help. Contact us or call us at 410-753-4611 to set up an appointment with one of our experienced car accident lawyers today.