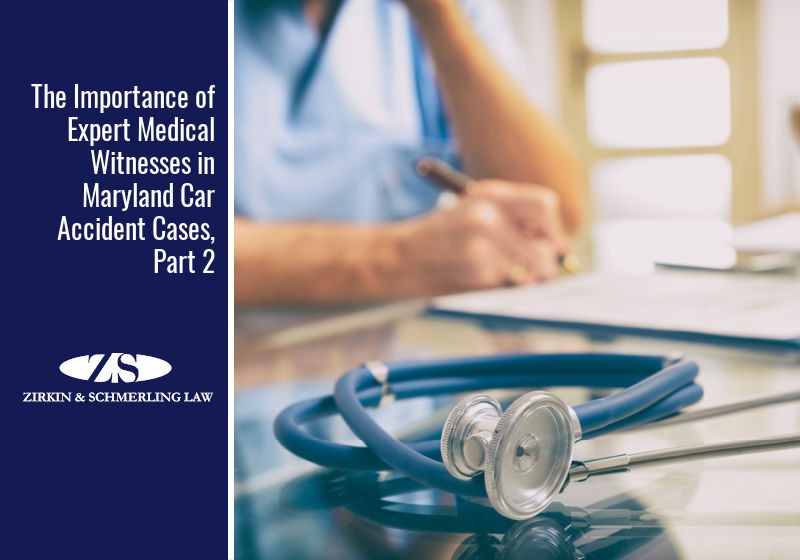 In Part 1 of this blog series, we discussed why it's so important to connect with an experienced car accident attorney who can help you find expert witnesses to support your side. These experts bolster your case and increase your odds of high-value compensation. In this post, we discuss medical witnesses in more depth.
An Expert Witness is an Important Piece in Receiving a Good Verdict
An expert medical witness could be much more valuable to your case than an eyewitness. There are two issues in every car accident:
Who is at fault; and
What is the value of the case
In most car accident cases, the issue before the judge or jury is not who is at fault.  Usually it is straight forward enough to tell who is at fault.  More often car accident cases go to trial because the defendant's insurance company is not offering fair value for the victim's injuries.
An expert witness in a case of clear liability is an essential part of getting a judge or jury to offer fair value for the car accident. Typically, the kind of medical expert that is used for a car accident would be one or more of the following:
Medical Doctor
Chiropractor
Doctor of Osteopathic
Orthopedic Surgeon
Neurosurgeon
Neurologist,
Physical Therapist
Ear, Nose, and Throat doctor
Psychologist
Psychiatrist
Physician Assistant
Ophthalmologist
Podiatrist
Therapist
These medical professionals can convey to the judge or jury what injuries you received from the crash, what medical care was necessary and causally related to the crash, what medical bills were fair, reasonable, and related to the crash, and what, if any, future medical treatment is needed, and if there is a permanent injury from the crash.  All of this information is crucial for the judge or jury to determine the fair value for the car accident.
So, let's say you were in a car accident that involved an injury to your back. And maybe you had lots of pre-existing back pain, but now your need a back surgery. How do we know if the need for back surgery is related to this crash or your prior back issues? Most often in a case like that we ask a neurosurgeon to review all of the previous medical records, perform a physical exam on the injured victim, read any previous MRI's before the crash and the MRI's after the crash, and determine within a reasonable degree of medical certainty if the crash caused the need for surgery. In a case like this the expert is crucial in explaining to the judge or jury what injuries are from the crash and the injuries that pre-dated the crash.
Expert Costs
To hire a proper expert can be very expensive. Keep in mind that for a doctor to be spending time in court that is time they can't spend in the community running healing patients.  Some experts can charge $10,000-$20,000 for one day in court.  It is important that when hiring an attorney, you use a firm that has the financial resources to be able to spend these funds on your behalf.  Keep in mind that a good Maryland personal injury lawyer will spend this money out of their pocket and will only get reimbursed if you win your case.
These are just a few examples of how an expert witness can help maximize your personal injury settlement. Your Maryland car accident attorney from Zirkin & Schmerling Law can help you secure the expert testimony you'll need to best support your case for high-value compensation.
Have a Legal Question? We Have Answers
When you need to learn more about your rights, the attorneys at Zirkin & Schmerling Law can help. Contact us or call us at (410) 753-4611 to set up an appointment with one of our experienced car accident lawyers today.