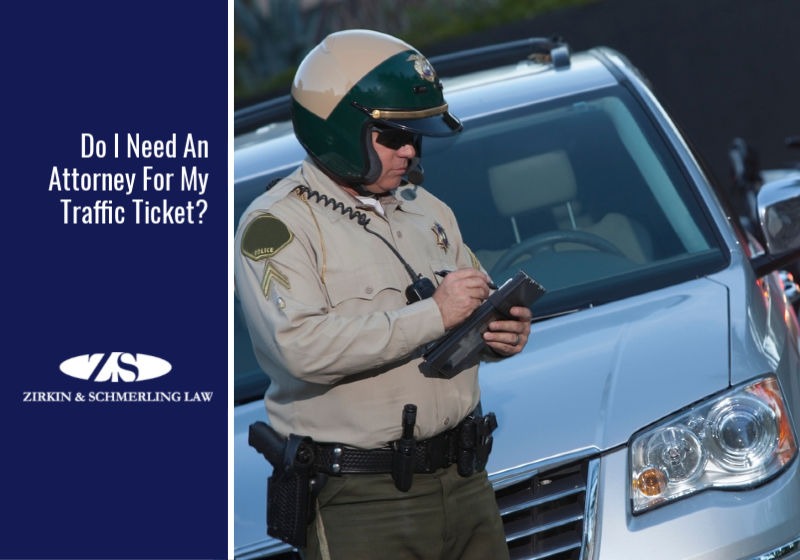 There are two types of traffic tickets in Maryland: fineable-only tickets and jailable tickets. As the terms imply, one results only in fines and one can lead to jail time as well as fines. If you're facing incarceration, you should absolutely contact a Traffic Violations Defense Attorney as quickly as possible.
But don't assume a fineable-only ticket is no big deal. Even when you're just facing fines, you may still need an attorney to prevent your penalties from getting worse and putting your job, family, and future at risk.
If You Have Received a Traffic Ticket that are Fineable only, You Need an Attorney
First, take a look at your ticket and you'll see that it lists the fine for your offense. For a speeding offense, for example, you'll see a fine of anywhere from $90 to $530 depending on your violation. What the ticket doesn't say is that you will receive points on your driver's license too if you pay the ticket without appearing in court.
In Maryland, you can be assessed at least one point on your license for any moving violation that doesn't contribute to an accident. Certain violations bring a two-point penalty, like following too closely, driving with an improper license, or speeding by more than ten miles per hour. In fact, there are dozens of finable offenses that can add two to five points on your license – and if you get too many, your license could be suspended or revoked.
However, the assessment of points isn't automatic. Appearing in court is the only way to avoid points being added to your driving record. You will need to go in front of a judge and plead your case.
This is where an attorney can be a big help. Points on your license can impact us all in a number of ways. For example, if you need a clean driving record in order to drive for work, your lawyer can help you make a good case to the judge.
Here's Why Hiring an Attorney Helps You Save Money
Hiring an attorney for your traffic ticket is a smart, proactive, and cost-effective approach. An attorney can help prevent additional hassle and save you money in the long run, especially if you have existing legal matters like a pending lawsuit.
Your attorney may be able to help you:
Avoid a rise in your car insurance rates
Prevent points on your license that would cause a suspension or revocation
Prevent feeling that you've been put in a position to consider illegally driving on a suspended or revoked license and getting charged with new more serious traffic charges.
Continue driving to work as usual, so you don't lose your job
Keep driving as a trucker, delivery driver, or rideshare driver for Uber or Lyft
Continue attending classes for your education
Drive for children's activities and important family errands
Maintain your commitment to your child custody/visitation agreement
Continue living a normal life.
A Lawyer Looks Out For Your Civil Liability
Did you receive a ticket due to your involvement in a car accident? If so, a lawyer could be a huge help to you.
A traffic ticket can create a situation where you appear civilly liable for an accident. This means someone could sue you in court and point to your traffic ticket – which is a matter of public record – as evidence that you were at fault for the accident.
Handle your traffic ticket wrong, and you could end up losing a lawsuit and owing someone a lot
of money. Look for a lawyer who handles both traffic tickets and car accident lawsuits. They'll know how to handle this situation and help protect your future.
Have a Legal Question About a Traffic Ticket? We Have Answers
If you need help with a traffic ticket, the attorneys at Zirkin and Schmerling Law can help. Contact us or call us at 410-753-4611 to set up an appointment with one of our traffic violations defense lawyers today.
Video Transcript
Hi. My name is Eric Atas. I'm head of the criminal defense department here at Zirkin and Schmerling Law. Purpose of this video is to answer the question, "Do I need an attorney for my traffic ticket?" Now, there are two types of traffic tickets, ones that are jailable and ones that are finable. If you're facing incarceration, you should absolutely take that case seriously and contact an attorney immediately to best prepare.
But there are also finable only offenses, and in your finable only case, it is very likely that you will still need an attorney. Let me explain. First of all, even though the maximum penalty is a fine, not printed on your ticket is that there are typically points associated with your traffic ticket. If you're not mindful of this and you accumulate too many points, your license can either be suspended or revoked. Additionally, any amount of points can increase the price of your car insurance.
There are many reasons that you might be getting traffic tickets. For example, you may have been in a car accident that also creates civil liability, and if you handle your traffic ticket wrong, it can make it more difficult for you to be successful in the civil case. There are a variety of things that an attorney considers. Our firm does not charge for consultations. Please give us a call at (410) 356-4455 and we can discuss whether you should be considering having a private attorney represent you for your traffic offense.