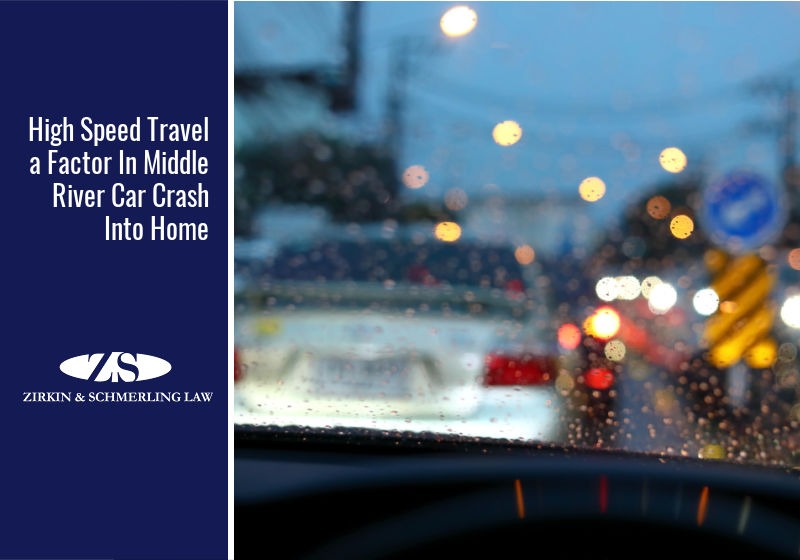 Speeding and distraction are common causes of accidents that result in property damage and bodily injuries. If your home or other property is damaged, it can be a frustrating and even scary situation, especially if you don't have the money to cover the cost of repairs. Of course, these material items can be fixed and replaced. Sometimes these crashes cause permanent injuries, which by definition means that the victim will never be fully back to the way they were before the crash. Generally, Maryland drivers that crash into someone's home or other property are responsible for paying for the damages, but it depends on the individual circumstances.
Accidents that result in a vehicle running into someone else's property are not as common as other types of car accidents, but when they do occur, they can be devastating. Just this month, a family's home in Baltimore County went up in flames due to an explosion that resulted from a car crash. The car was said to have been traveling at high speeds when it crashed into the garage, which housed gas cans that caused the explosion. The fire destroyed most of the home, but luckily, no one was inside at the time.
No matter how minor or severe the property damage may be after a car accident, the negligent driver will typically be the one held accountable and responsible for paying for repairs. However, in some cases, there could be other potentially liable parties, and the money that goes towards repairs may not necessarily come from the driver. It depends on the situation and insurance policy coverages.
If you have bodily injuries after a car accident, you should get in touch with an experienced Maryland attorney. They can evaluate your case and help you determine liability so you can get the compensation you need to cover the cost of repairs, injuries, or other damages.
What Causes Vehicles to Crash Into Property?
Accidents that result in property damage can occur for various reasons. The factors that can cause a car crash include:
Speeding
Distracted driving
Low visibility or lack of street lighting
Bad weather
Drowsy driving
Driving under the influence of drugs or alcohol
Heavy traffic
Mechanical error
Who is Liable for Injuries After a Car Crash?
After a car crash, authorities and other experts will gather evidence to determine how the accident occurred. In most cases, the driver of the vehicle will likely be the one held liable for reasons such as speeding, distraction, alcohol, or other negligent actions. However, it is also possible that other parties could be held responsible depending on how the accident occurred.
Potentially liable parties other than the driver can include:
The car owner: In some cases, it is possible for the owner of the car to be held liable for an accident, such as when the driver is underage or if the driver was borrowing someone else's car or driving in the course of his employment for a company.
The vehicle manufacturer: If the driver lost control of the vehicle due to a faulty car part or system, it could be traced back to the manufacturer. If car manufacturers are aware of an issue, they are responsible for sending out recalls so that car owners can have the issue resolved. If they fail to do so, it is possible for them to be held liable for the accident.
The mechanic: Mechanics and repair shops also have a responsibility to address safety issues when a driver brings their car in for repairs. If a driver later loses control of their vehicle because a mechanic failed to properly fix a problem, they could also be held responsible.
What if the Responsible Party Does Not Have Insurance Coverage?
Maryland requires all drivers to carry insurance coverage in case an accident occurs. The minimum coverages are $30,000 for bodily injury per person, $60,000 for all bodily injuries for everyone injured in the crash, and $15,000 for property damage. If a driver does not have this coverage or if the coverage is not enough, you can look into other potentially liable parties to get compensation from.
If none of the liable parties have coverage, or if the coverage is still not enough, you will likely have to look into your own uninsured/underinsured motorists coverage with your own car insurance company.
If you sustain injuries after a car crash, your best route is to first consult with an experienced Maryland car accident attorney. They can review your case and guide you through the process to determine the best course of action.
Have a Legal Question? We Have Answers
Crashes that result in permanent injuries can be devastating… In these situations, it is often necessary to work with an attorney to ensure all liable parties are held responsible so you can get the full amount of compensation you deserve.
At Zirkin & Schmerling Law, we have years of experience helping the victims of accidents win their cases and get the money they need to cover damages from property loss, injuries, and more. We are dedicated to serving each of our clients to the best of our abilities to ensure the best possible outcome.
Contact us or call us at (410) 753-4611 to set up an appointment with one of our experienced accident lawyers today.