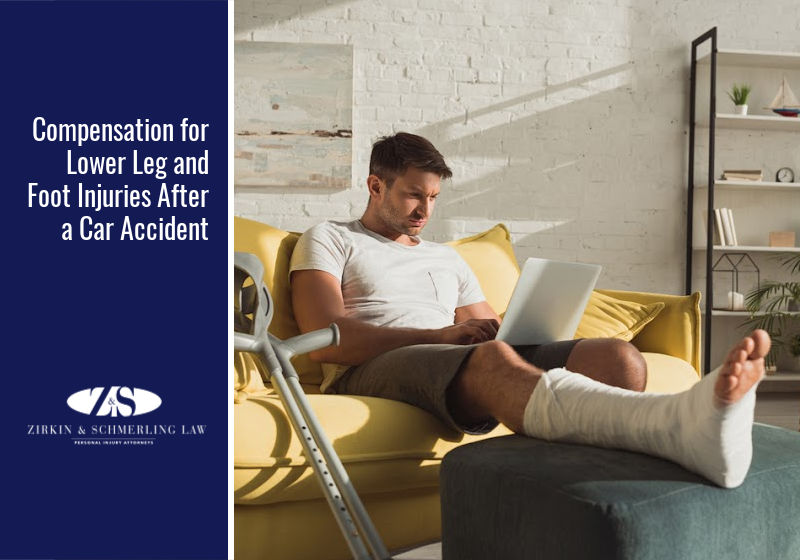 Lower extremity injuries, such as lower leg and foot injuries, are prevalent among car accident victims. These types of injuries are especially common in frontal and side collisions.
While some leg and foot injuries after car accidents are minor and not very noticeable, others can be quite severe and even life-threatening. Part of your leg could be crushed and need to be amputated, for example, or if the injury is severe and there is an extreme loss of blood, it could result in death.
Treatment for leg and foot injuries, whether minor or severe, can also get expensive. As such, it's crucial for injured victims to work with an attorney when they file a personal injury claim. With an attorney assisting you, you are more likely to get the compensation you need and deserve to help pay for medical expenses and other potential damages.
If you or a loved one injured your lower leg or foot in a Maryland car accident, reach out to Zirkin & Schmerling Law for help with your case.
Common Types of Lower Leg and Foot Injuries That Result From Car Accidents
Your legs and feet are essentially the primary mobility support for your body. They are how you get around. As a result, sustaining a leg or foot injury can be debilitating and even traumatizing for some people.
Unfortunately, there are so many ways that the lower legs or feet can become injured after a car accident, which can include:
Severe bruising
Lacerations
Ruptured tendons
Dislocated joints
Meniscus tears
ACL injuries
Sprains and strains
Muscle tears
Amputations
Signs and Symptoms of Lower Leg and Foot Injuries
Some leg and foot injuries after an accident are obvious. For example, if you have lacerations and bleeding, you have obviously injured yourself and should seek immediate medical attention.
However, many leg and foot injuries are not immediately apparent, so it's important to recognize potential signs and symptoms that could indicate an injury that needs treatment.
Potential symptoms can include the following:
Pain or weakness in the leg
Instability or limited mobility in the leg or foot
Popping or clicking sounds when you walk
The feeling of pins and needles or numbness
Leg and foot stiffness
Burning or sharp pain, especially when you put weight on your leg or foot
Treatment for Lower Leg and Foot Injuries
Treatment for lower extremity injuries can vary greatly. Just as there are many kinds of leg and foot injuries you can suffer from, there are also many different treatment options depending on the exact injury sustained and how bad it is.
For broken bones, you may require:
Surgery
A cast or brace
Anti-inflammatory meds
Steroid injections
For ligament or tendon injuries, you could need:
Compression bandages
A brace
Rest, ice, and elevation
Surgery
For nerve damage in the legs or feet, you may need:
Nerve decompression
Surgery
Electrical stimulation
Steroid injections
Other injuries may also require different kinds of surgery, braces, stitches, medications, and assistive devices. Again, specific treatment can vary depending on what area was injured and how severe the injury is. If the limb cannot be repaired, it may even need to be amputated.
Recovering Compensation for Lower Leg and Foot Injuries After a Car Accident
If you were injured in an accident due to someone else's negligence, you have a right to file a claim against them or their insurance to recover compensation for the damages you have suffered. And while there is no guarantee of any certain amount, working with an attorney usually results in higher settlement amounts.
The damages you can recover compensation for after a lower leg or foot injury include:
Medical expenses
Future medical costs
Loss of income
Reduced earning capacity
Emotional distress
Permanent impairment or disfigurement
Property damage (car damage)
Loss of consortium
Reduced quality of life
If your leg or foot injury leaves you permanently impaired or disfigured, such as having part of your leg removed or amputated, you are also eligible for a higher settlement. Again, while there is no guarantee of any set amount, the more your injury impacts your life, the more money you deserve, and thus, the more you may be compensated.
However, it's important to understand that insurance companies will often do whatever they can to avoid paying high settlements. Therefore it is crucial to work with an attorney. A personal injury attorney can defend your rights, help you provide evidence, and ensure the insurance companies award you the full and fair amount you deserve.
Have a Legal Question About a Personal Injury? We Have Answers.
If you sustain a lower leg or foot injury after a car accident in Maryland, the team at Zirkin & Schmerling can help you navigate your claim. Our compassionate team has experience handling a wide variety of Maryland car accident cases, and we are dedicated to ensuring every one of our clients gets the full and fair settlement they deserve. Contact us or call us at 410-753-4611 to set up an appointment with one of our personal injury attorneys today.