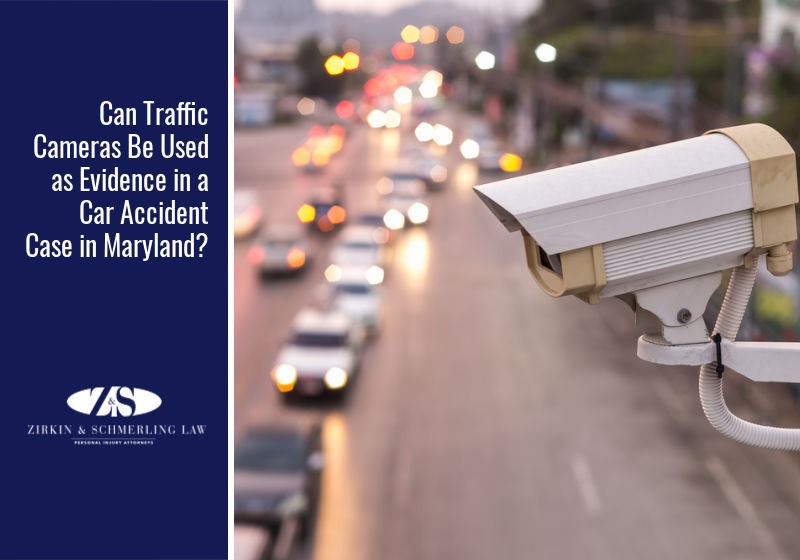 Red light traffic cameras have become increasingly popular across the U.S. as local municipalities and authorities seek to stay on top of transportation and driver safety. However, not only do these cameras capture red light data, but they can also capture other things that could prove useful in a car accident case.
The question is, can traffic cameras be used as evidence in Maryland car accident cases?
And the simple answer is yes, they can. Obtaining traffic camera footage, however, is not always easy.
So let's take a closer look at the use of traffic cams in Maryland to understand their use, how they can benefit car accident cases, and how to request footage from them.
How Are Traffic Cameras Used In Maryland?
The primary use of traffic cameras or red light cameras is to assist local transportation authorities and law enforcement. They are mainly used to capture data like speed or license plates to identify a car that has run a red light.
If a person is caught running a red light by a traffic cam, the image captured of their license plate tells local authorities who to send the citation to, and these citations usually carry a fine.
However, some traffic cams may capture more than just a single image of a license plate. While most traffic cams are reported to capture only static images that are triggered by specific motions, like running a red light, it is possible that some traffic cams might run 24/7 and capture live footage.
For example, some major intersections are equipped with cameras that capture real-time video footage. If an accident occurs at one of those intersections, it is possible that the live footage could be used as evidence to prove what happened for legal purposes.
However, most traffic cameras that capture live footage do not store and hold that footage for more than a couple of weeks. Some data may even be erased after only ten days. Ifthe footage is needed for a car accident case, it must be obtained as quickly as possible.
How Can Traffic Camera Footage Help in a Maryland Car Accident Case?
With any car accident case, the more evidence you have to prove what happened, the better. If you file a claim stating that another driver acted negligently and caused the accident that harmed you, but that driver denies fault, you will need to provide evidence that proves that what you are saying is true.
Video evidence—like that which can come from traffic camera footage—is incredibly helpful because it provides clear and impartial evidence that is often irrefutable.
Traffic cam footage is also helpful when it comes to determining fault in a Maryland car accident because Maryland is a pure contributory negligence state. This means that if a person contributed even just 1% to an accident, they would be barred from recovering compensation.
Ifanother party is trying to claim that you are partially responsible, camera footage could help prove without a doubt that you are not, making it possible for you to still recover damages.
How to Request Video Footage From MDOT Cameras
The Maryland Department of Transportation (MDOT) is in charge of traffic cameras. They are the ones that install them throughout the state. Unfortunately, reaching out to them to obtain traffic camera footage is not easy.
In most cases, you will need to work with an attorney who can help you submit a Freedom of Information Act request. In some cases, you may even need to submit a subpoena. And even then, there is no guarantee that they will still have the footage you are looking for.
Again, some places only store footage for ten days, but others may hold onto footage for up to 30 days. It is important to make your request as quickly as possible. There is also the chance that the camera didn't even capture what you are looking for. If the camera wasn't installed at a major intersection, it is unlikely that it captured live video footage.
Have a Legal Question? We Have Answers.
If you think that traffic camera footage could help with your Maryland car accident case, you will need to work with an attorney. Most civilians cannot easily request access to traffic camera footage on their own.
And even if you don't need traffic cam footage, it's still wise to work with an attorney, as they can help you navigate your claim and obtain other evidence to ensure you get the compensation you deserve.
At Zirkin and Schmerling Law, we can help you submit requests for traffic cam footage and will do what it takes to hold the right party accountable. Contact us or call us at 410-753-4611 to set up an appointment with one of our personal injury attorneys today.