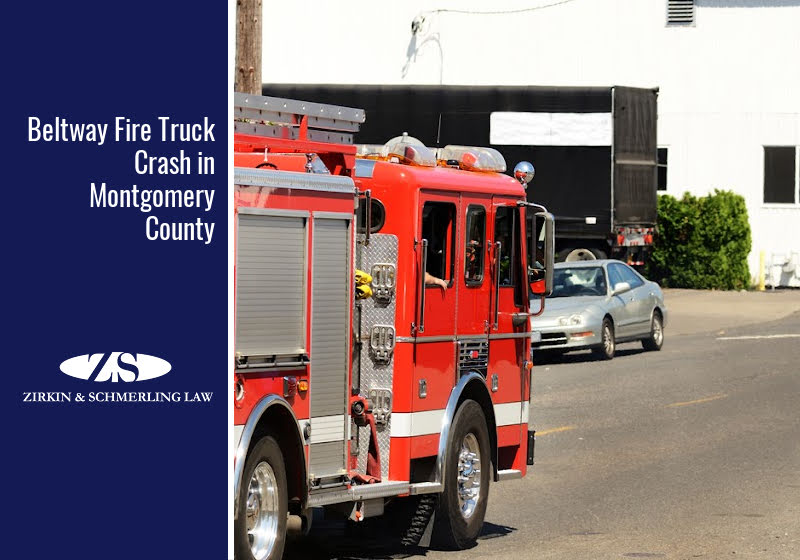 On Sunday, January 2nd, the Capital Beltway in Montgomery County was shut down by authorities because of an emergency vehicle accident. A driver crashed into a fire truck that was responding to a minor crash.
Fortunately, no one was seriously injured in the incident, but the accident raises questions regarding how drivers should practice safe navigation around emergency vehicles and what they should do after experiencing a crash with an emergency responder.
In this blog, you'll learn about driving safely around emergency vehicles, common causes of emergency vehicle accidents, and what to do after crashing into an emergency vehicle.
The Crash at the Capital Beltway
On the morning of January 2, 2022, a fire truck responded to a call regarding a minor collision on the outer loop of the Capital Beltway. Shortly after 8:00 am, a driver collided with the fire truck that was parked on the side of the road. As a result, the outer loop of the Capital Beltway was closed for almost an hour. The driver of the car that crashed into the fire truck was trapped at the scene, but he was eventually rescued by first responders.
The chief spokesperson for the Montgomery County Fire and Rescue, Peter Piringer, noted that drivers need to slow down and move over in order to avoid accidents with emergency responders. Although the accident at the Capital Beltway didn't lead to serious injuries, many first responders are injured and killed every year due to driver negligence. Whether you're driving in Maryland or anywhere else, you need to always be on the lookout for first responders on the road or parked on the side of the road. Failing to do so can have life-threatening consequences.
Common Causes of Emergency Vehicle Accidents
There are many causes and contributing factors that can lead to emergency vehicle crashes. The cause of the crash is typically attributed to either the emergency vehicle driver or another driver involved in the incident. Car accidents often occur because of driver negligence or improper training.
Although emergency vehicle drivers are allowed to break certain driving protocols while on their way to an emergency, they still need to abide by certain rules and precautions on the road. Sometimes emergency vehicle drivers are unaware of critical rules and how to safely navigate around traffic. On occasion emergency vehicle car accidents occur because emergency vehicle drivers fail to drive cautiously or come to a complete stop when going through intersections. In some cases emergency vehicle responders will rush through intersections, resulting in them hitting other vehicles or even pedestrians.
Also first responders work long hours and have a tough and stressful job. This can lead to having trouble focusing on the road or staying awake. Sleep-deprived drivers are dangerous on the road because fatigue affects our ability to make decisions. Bad driving decisions can lead to a serious or even fatal crash.
Car crashes with emergency vehicles commonly occur because drivers fail to practice safe driving around vehicles parked on the side of the road. Under the Maryland Move Over Law, drivers are required to significantly slow down or change lanes when they approach an emergency vehicle stopped on the side of the road. First responders face the risk of injury and death when drivers fail to move over or proceed with caution.
Safe Driving Around First Responders
Practicing cautious driving around emergency vehicles is critical for your safety and the safety of others. It's important to note that first responder vehicles have the right of way when they're on their way to an emergency. If you see a first responder vehicle on the road, you need to move over to the right side of the road or change lanes. Never stop in the middle of the road. You need to avoid using the same lane as the emergency vehicle so that they can proceed without your vehicle hindering their path.
You should also note that there are often multiple emergency vehicles on the road responding to the same incident. After pulling over, make sure to check the road in case another emergency vehicle is about to pass. Many wrecks occur because drivers re-enter the road prematurely and fail to see oncoming emergency vehicles.
What To Do After an Emergency Response Vehicle Accident
After experiencing an accident with an emergency vehicle, you need to seek medical attention and answer the police's questions at the scene. If the wreck was caused by the negligence of the emergency vehicle driver, you can seek compensation for damage to your vehicle and personal injuries sustained in the wreck. Those filing a civil personal injury lawsuit can recover damages for medical bills, pain and suffering, emotional trauma, lost wages, and more.
Hire Maryland Car Accident Attorneys
If you were injured because of the negligence of another driver, you need to seek compensation. Many people think that they have no legal recourse after experiencing a wreck with an emergency vehicle, but that isn't the case. If your wreck was caused by the negligence of an emergency vehicle driver, you have every right to seek damages. For expert personal injury attorneys you can trust, contact Zirkin & Schmerling. We have years of assisting Maryland residents with car accident injuries, and we'll work for you in and out of court to reach the best financial outcome for your injuries. Call our office at 410-753-4611 or schedule a free case consultation by clicking here.