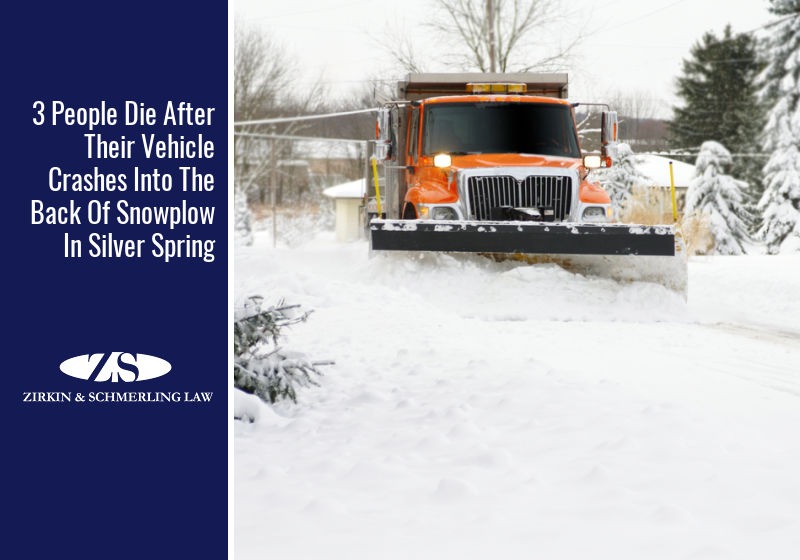 According to recent news reports, four individuals in an SUV were involved in an accident with a snowplow in Silver Spring, MD, early in January. Three of the victims were killed, and one was seriously injured. While investigations are still underway to determine exactly what happened, initial reports say that the SUV was traveling north on Columbia Pike on a Monday evening when it crashed into the back of a snowplow.
The driver of the snowplow was unharmed and remained at the scene. The crash occurred following a snowstorm that dumped 7 inches of snow around parts of Montgomery county, which created many other problems for drivers throughout the region.
Accidents like this are unfortunately common this time of year in Maryland, as drivers and snowplows navigate poor road conditions due to inclement weather. Snowplows are necessary for this region, but their size and dangerous nature can cause severe damage when involved in an accident with a passenger vehicle.
If you are injured in an accident with a snowplow, contact the personal injury experts at Zirkin & Schmerling Law.
Determining Fault After Snowplow Accidents in Maryland
Cases involving snowplows can be tricky. As an injured victim, you may feel that you deserve compensation for your pain and suffering and to help pay your medical bills. Unfortunately, you cannot file a personal injury claim or a lawsuit without proving that another party was negligent. In some situations, the snowplow driver may not be the only possible liable party, which can complicate the case even more.
Potentially liable parties can include:
The Snowplow Driver
If the driver of the snowplow acted negligently, you might be able to file a claim or lawsuit against the driver and/or the owner of the snow plow.. Some drivers are hired by local governments to maintain the roads. Unfortunately, local municipalities have strict limitations when it comes to going after their government employees. It can still be done, but it's usually more complicated.
In other situations, the driver may have been contracted or hired by a company or own and operate the plow themself. If this is the case, it will be easier to file a claim or even a lawsuit against them for compensation.
The Snowplow Company
If a private company owns the snowplow, you may even be able to file a lawsuit or claim against them, or their insurance provider. Though private companies do have protections, they can still be held liable if one of their drivers or snowplows caused an accident.
The Company That Hired the Snowplow
Sometimes businesses will hire snowplows to clear their property, such as an office building parking lot. If you are injured by the snowplow, you could potentially go after the company that hired them.
The Snowplow Mechanic
If a mechanical failure was the cause of the accident, you might be able to go after the mechanic or repair shop that services the snowplow. It can be a little more challenging proving that a mechanic's negligence led to an accident, but it is not impossible. If a repair shop or mechanic provided poor service and did not properly address an issue with the snowplow, they could be held liable.
Maryland Contributory Negligence
Determining if a passenger vehicle driver or the snowplow was at fault after an accident can be challenging. Often, drivers will point fingers at the snowplow so they can file a claim or a lawsuit to recover damages. However, there are situations where the passenger vehicle driver could be fully or even partially liable.
Unfortunately, due to Maryland's contributory negligence laws, if a driver is found to have been even 1% at fault for causing the accident, they will not be eligible to receive compensation. For this reason, it is crucial for drivers to work with an attorney to ensure the proper party is held liable. Snowplow drivers or companies may also try to deflect blame, but if they were the one responsible, they should be held accountable and responsible for paying the injured victim the compensation they deserve.
Have a Legal Question? We Have Answers
If you were involved in an accident with a snowplow and have questions or concerns about your rights, the attorneys at Zirkin & Schmerling Law can help. We have years of experience advocating for the rights of our clients and are dedicated to helping them seek justice and get the compensation they deserve to help pay for their medical bills and other damages.
Contact us or call us at (410) 753-4611 to set up an appointment with one of our experienced accident lawyers today.