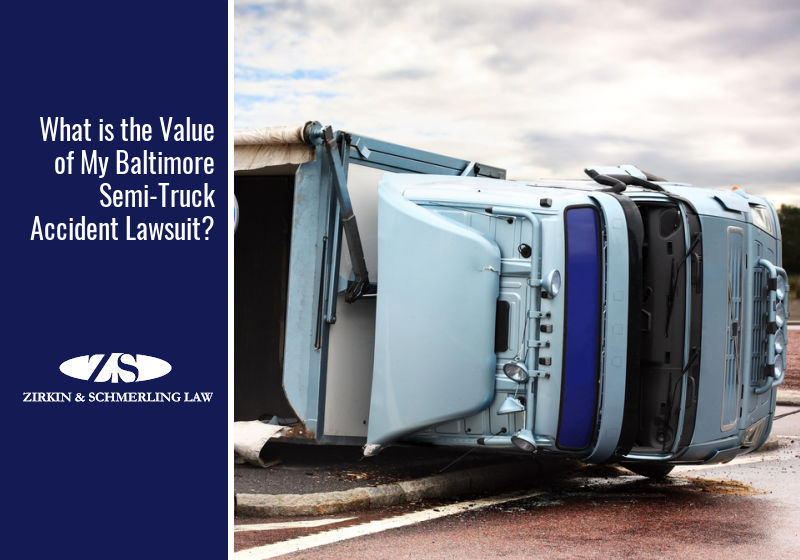 Semi-truck accidents are some of the most devastating accidents on the road. Due to the speeds, weights, and forces involved, you could be left with severe injuries after one of these crashes.
This might make you wonder about the value of your truck accident lawsuit. Would it be worth it to sue? Would it cover the costs of your medical bills, destroyed car, and the days of work you missed? Could it ease your emotional suffering?
It's difficult to pre-determine the exact value of a truck crash and no particular outcome can ever be guaranteed. However, an attorney can do a calculation that involves researching the accident, evaluating the circumstances, and assigning an approximate monetary value.
Calculating Economic and Non-Economic Damages
To evaluate your case, a truck accident attorney starts by looking at the basic facts of the accident. This includes the location, time of day, number of vehicles in the crash, who was injured, the severity of bodily injuries and property damage, and the various parties involved.
Trucking accidents typically involve multiple parties, including the trucker, one or more other drivers, the trucking company, your insurance company, other drivers' insurance companies, and the trucking company's insurance carrier. There will also be reports from the authorities including the police and medical personnel, and there may be witnesses who saw what happened but were not directly involved.
Your attorney will understand how to sort through the complexities of the case. They'll look at the extent of each driver's insurance coverage. Typically, a trucking company will have at least five million dollars in insurance coverage to take care of victim's injuries. These damages fall into two categories: economic and non-economic.
Economic damages include past medical bills, future medical bills, past lost wages, future lost wages, and the cost of your car repairs or replacement. There is no limit and no cap on the amount a judge or jury can award for economic damages.
Non-economic damages involve other, less tangible costs such as the quality of life, disfigurement, and pain and suffering. In Maryland, these damages are capped at a little less than $900,000. This cap on non-economic damages goes up automatically each year by a very small percentage per Maryland law. When you add the economic damages with the non-economic damages that is the total value of the case.
Did a Truck Driver Neglect Their Duty?
Truck drivers are required to follow rules that are set forth in the Federal Motor Carrier Safety Regulations (FMCSR). This includes requirements for the weight of their truck, length of working shifts, physical standards, insurance coverage, and the truck driver's licenses and certifications.
The failure to comply with even one of these rules may be enough evidence to indicate that the driver neglected their FMCSR duties and knowingly endangered others on the road. If you hire an attorney who has a thorough knowledge of Maryland trucking laws, they can help you prove your case.
Accident Highlights Truck Hazards
A recent crash on Prices Distillery Road near Urbana showed just how horrific one of these crashes can be. Although the details of the crash are still under investigation, a roofing truck that may have been speeding overturned in a multi-vehicle crash in late February 2020.
The truck, a heavy-duty work vehicle equipped with a large boom arm, swung around in the crash and trapped several people deep within the accident debris. It took almost an hour to free them and send them to a nearby hospital, where all survived with what rescue personnel called "heavy entrapment" injuries.
What would you do if you were in a crash like this? Your best bet would be to call an experienced truck accident attorney who knows how to handle cases like these in Maryland. Your attorney can help you establish the value of your case and start the road to recovery.
Have a Legal Question About a Truck Accident? We Have Answers
When you need to learn more about your rights, the attorneys at Zirkin and Schmerling Law can help. Contact us or call us at 410-753-4611 to set up an appointment with one of our experienced semi-truck accident lawyers today.