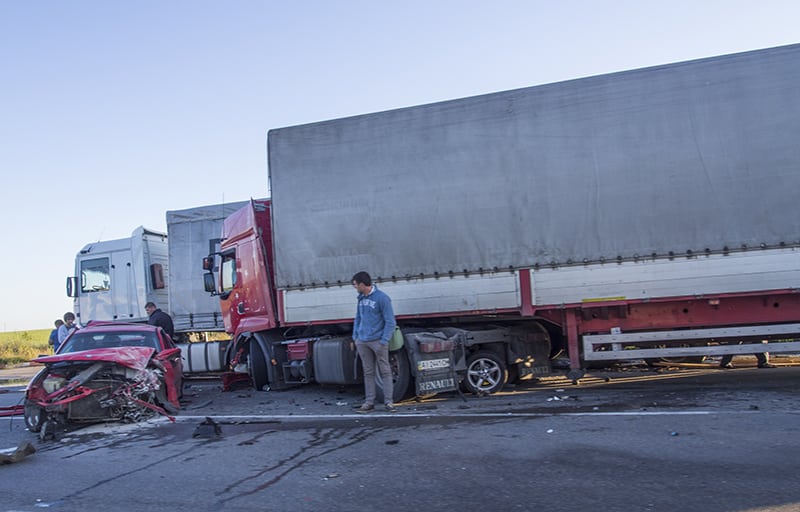 If you have recently been in an accident that involved a commercial truck, then you are probably wondering just where to start. Negotiating with insurance companies and juggling hefty medical bills is extremely taxing, especially when you are also coping with serious physical injuries and mental trauma. Thankfully, the experienced truck accident attorneys at Zirkin and Schmerling Law are here to help. In this comprehensive Truck Accident FAQ, we've compiled answers to some of the most pressing questions that victims bring to us after a crash.
What Should I Do Right After the Accident?
In the chaos and confusion of a major truck accident, it can be difficult to remember exactly how to proceed. However, there are a few things that you need to remember in the immediate aftermath of an accident. First, be sure to collect names, contact information, and insurance information from every party involved in the accident. It's always a good idea to note the license plate number, make, and model of every vehicle. Also keep in mind that some truck companies are self insured, meaning that they do not have an insurance company. If that is the case it is really important that you make sure to take down the name of the trucking company. If you have the chance, talk to potential witnesses and take a few photos of the accident scene.
Maryland law requires that you wait for the police to arrive before leaving the scene. The attending officers will write up a police report based on evidence found at the scene, so be sure to take down their names and badge numbers so that you can secure a copy for yourself later.
In the weeks following, keep careful track of any injuries or emotional trauma that you experience as a result of the accident. For a more detailed checklist that examines these Truck Accident FAQ questions in depth, please read our in-depth article entitled "What To Do If I am in a Truck Accident in Maryland."
If you feel like you need some legal help, contact our Truck Accident Law attorney to schedule a free case evaluation today.
FREE CASE EVALUATION
Do Truck Drivers Need To Obey Special Rules?
Yes, and no. Most truck accidents are caused by drivers who break the rules everyone in Maryland needs to follow, whether by speeding, using drugs or alcohol, or disregarding traffic signs and right-of-way rules. However, most truck drivers are also subject to a special set of rules known as the Federal Motor Carrier Safety Regulations (FMCSR). These rules demand that truck drivers acquire the proper license, restrict their truck's weight and size, limit the length of their daily shifts, and carry an insurance policy that meets certain requirements. Failure to comply with these requirements can entail even more severe consequences.
Who Will Assume Responsibility For the Accident?
Depending on the circumstances of the accident, various people may share the blame. Assuming that you were not at fault, the truck driver will likely assume responsibility for the accident. But other parties may also share responsibility for the accident, including the truck's maintenance and cargo loading teams, the trucking company by which the driver was employed, and the manufacturer of the truck and its parts. Since trucks are commercial vehicles, many parties share responsibility for keeping them safe and in good working condition.
Will The Truck Driver's Insurance Company Pay My Bills?
Since every case is different, it can be quite difficult to estimate the value of a truck accident without a thorough and comprehensive evaluation of damages and liability. An experienced Maryland truck accident attorney can examine the facts of your case and determine whether a lawsuit against the driver's company or insurance company is likely to be successful.
How Can I Contact An Attorney?
While we know that no check can erase the suffering and trauma caused by a truck accident, financial compensation can help you recover quickly and get your life back on track. If you have additional questions beyond those addressed in this Truck Accident FAQ, please call us at 410-753-4611, or make an appointment online, to schedule your free consultation. We never earn a profit unless we win your case.