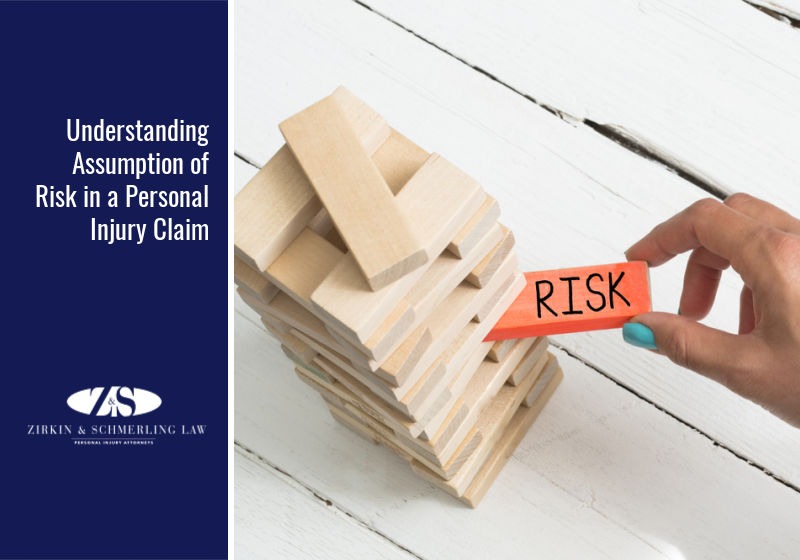 Someone who loves adrenaline and adventure is likely to take more risks in life. Risk-takers may enjoy thrill-seeking activities; motorsports, contact sports, roller coasters, theme parks, and so much more. When a person is injured during a high-risk activity, the legal aftermath can be complicated. It can be much more difficult to get compensation after a personal injury if you were participating in one of these activities. Because of this, it's important to understand assumption of risk when filing a personal injury claim.
Working with a personal injury attorney is an essential part of the process, as most people will struggle to navigate the complicated legal reality that is the personal injury claim process after a risky decision.
What is the Assumption of Risk?
Assumption of risk is a legal doctrine that defendants claim when they want to argue that an injury was not their fault, as the person who was injured knew that their injury was a reasonable risk.
Essentially, the defendant argues: If a plaintiff in a personal injury claim knowingly and willingly put themselves at risk, then the plaintiff is responsible for their injuries, not the defendant.
Sometimes, this doctrine is appropriately used, and Maryland courts will side with the defendant. For example, let's say that you were injured when you foolishly and unnecessarily exposed yourself to a high level of risk by sneaking into an off-limits construction site.
In this instance, Maryland courts will apply the assumption of risk doctrine and place the blame on you. They would not hold the plaintiff responsible if they gave you a reasonable warning and put up appropriate safeguards to keep you from accessing the dangerous area.
How Can Defendant's Use Assumption of Risk to Avoid Paying Compensation?
In Maryland, an insurance company who argues that the plaintiff operated with an assumption of risk must prove three things:
The plaintiff knew the risk of danger
The plaintiff appreciated the risk
The plaintiff voluntarily exposed themselves to it
Contributory Negligence
Only a handful of states use the contributory negligence standard when determining fault for personal injury lawsuits.
The rule of contributory negligence states that a defendant cannot be considered liable for damages if the plaintiff caused even 1% of the injuries to themselves through their own actions.
This is an intimidating rule for personal injury victims, and you will want legal advice to determine if the defendant will be able to make this claim successfully, or if you can fight it.
What Is a Personal Injury Claim?
A personal injury claim is a legal term for any injury to a person's body, emotions, or mind. This is in contrast to a property damage claim, in which a person's property is damaged.
Typically, a personal injury claim is brought to the courts when a plaintiff argues that their pain, suffering, losses, and expenses are the result of another person's negligent or delinquent actions.
Do Maryland Courts Side with Plaintiffs in Personal Injury Claims?
Maryland courts will side with personal injury claims when their lawyer can demonstrate that another party's negligence, delinquency, or recklessness caused their injuries.
The personal injury claim process sometimes will finish and settle out of court. Other times you will have to file a lawsuit, documenting your injuries and losses, and arguing before the court that you were not responsible for what happened to you.
When your lawyer can demonstrate this, you can receive compensation for things such as:
Medical bills
Loss of income
Loss of future wages
Property damage
Emotional suffering
Psychological damage (such as PTSD)
Scarring
Disability
Funeral and burial expenses
Other out-of-pocket expenses
Can You Sue for Personal Injury if You Signed a Waiver?
If you were injured after signing a waiver, you may think that you are out of luck when it comes to seeking compensation.
Signing a waiver is an acceptance of risk. You are stating that you know that you are participating in an activity that carries inherent risk and potential hazards to your health and safety.
However, signing that waiver does not automatically eliminate your ability to sue. In some situations, you may be able to bring a claim against a defendant by demonstrating one of the following to be true:
You were not appropriately informed of the type of risk you were assuming
You were exposed to a different risk than you expected
Something in the waiver was incorrect or unclear
Zirkin & Schmerling: We Help Maryland Victims File Personal Injury Claims
Filing a personal injury claim in Maryland is not easy. We know that you need support, guidance, and expert knowledge to get through the difficult days, weeks, months, and even years after you are injured.
At Zirkin & Schmerling, our goal is to make sure that you can let go of the worries about how you're going to get back on your feet or cover your expenses while you are recovering. Your only focus after being injured should be to get yourself better.
We provide our personal injury lawsuit clients with compassionate, meaningful legal advice to help get them the compensation they deserve.
If you have experienced a personal injury, call (410) 753-4611. You can also contact us online for a free case assessment. You deserve the best legal representation in Maryland, and we are here to provide you with exactly what you need!