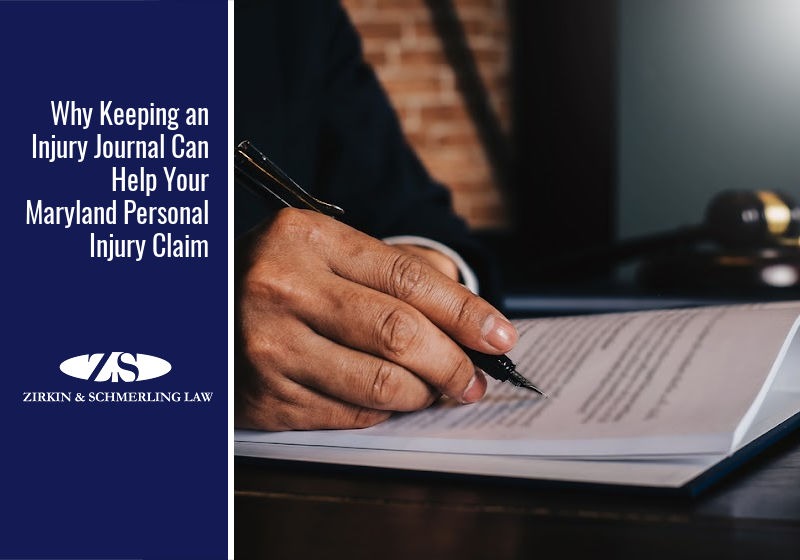 If you are injured in an accident, you deserve to be compensated for the damages you have suffered, especially if the accident results from someone else's negligence. Damages can include medical expenses from injuries, loss of wages while recovering, and physical and emotional pain & suffering.
Unfortunately, there is no easy way to calculate upfront how much a person deserves. This is why evidence is crucial in personal injury cases, as it can help prove the extent of a victim's damages to ensure they are adequately compensated.
However, despite proof of things like medical expenses, car damage, and who was at fault, victims are still often awarded reduced settlement amounts that do not fully account for all they have suffered. But this is where an injury journal can come into play.
With an injury journal, a victim can provide more thorough evidence of their injury and all they have suffered. Thus, it can help raise the amount they are awarded in their settlement. However, it's important to fully understand what an injury journal is and how to properly use it to avoid it having a negative impact on your Maryland personal injury case.
If you are injured in an accident and need help filing a personal injury claim or have questions about keeping an injury journal, our Maryland car accident attorneys can assist you. At Zirkin & Schmerling Law, we have years of experience handling various types of personal injury cases and know what it takes to ensure our clients get the compensation they deserve.
What is a Personal Injury Journal?
A personal injury journal is a first-hand account of the accident, your injuries, and how they have affected your life. For legal purposes, it is viewed as a record of your damages that can help prove the extent of your pain & suffering. It can be used by your attorney to help better support you through your case, and it can be used by insurers or the court to better understand how much you deserve to be compensated.
Overall, the goal of an injury journal is to document as much as possible about the accident and how it has affected your day-to-day life to ensure you get the highest settlement possible. It is not uncommon for insurers to offer reduced settlements when there is insufficient evidence of damages, so the more information you can provide them, the better the outcome will be.
However, not everything is ideal for writing about in an injury journal. While you do want to write as much as possible to prove how much you are suffering, there are things that could be used against you. Insurers are always looking for ways to deny claims or reduce settlement amounts, which means they will try to use certain things against you if that information is readily given.
What to Write in Your Personal Injury Journal
If you are keeping an injury journal, DO write about:
The accident: Immediately following the accident, you should write down as many details as you can remember. This can help prove what happened and who was at fault, which can affect the amount of compensation you receive. Details can include:
What happened right before the accident
Where the accident happened
The time of day
Weather and road conditions
What caused the accident
Any other relevant information related to the accident
What happened at the scene after the accident happened
Witnesses that saw what happened
Medical appointments and treatments: Medical evidence of your injuries is crucial to getting awarded for damages. So make sure you thoroughly document your appointments and prescribed treatments. This can include days, times, and locations of appointments, distance traveled, and medical costs you paid.
Pain and other symptoms: The pain and suffering you experience are especially important to document because these are things that do not have a tangible value. So to get adequately compensated for them, they need to be thoroughly documented. You should write about pain and any other symptoms related to the injury that you experience throughout the day, from the moment you wake to the time you go to bed. You can describe the pain, the level of pain, where the pain is experienced in your body, and anything that triggers the pain.
The effect on your daily life: In addition to describing your pain, you will also want to describe how it has affected your daily life and activities. This can include how it has kept you from work, how it disrupts your sleep, how it affects your ability to perform daily tasks, and how it affects your relationships. It can also include talking about how the accident and your injuries have affected your mental health and wellbeing.
Information You Should Avoid Writing About in an Injury Journal
When keeping an injury journal, there are also things you should avoid writing about as they could negatively affect your claim. This includes:
False or exaggerated statements. If you lie or exaggerate about anything, it could be seen as a form of fraud and can harm your case
Admissions of fault or responsibility for what happened
Personal information not related to your claim or the accident
Admitting to not following doctor's orders
Private information about others in your life
What your attorney is talking to you about
Understand That Your Injury Journal Could Become Public Knowledge
Injury journals, unlike private, personal journals, do not always stay private. In fact, your injury journal could likely become public knowledge so it can be used as official evidence in your personal injury claim. This means that insurance companies and the court will be able to read what your journal contains.
This should not deter you from keeping an injury journal, however. So long as the information you document is truthful and only relevant to your case, you should not worry about privacy. If you are still uncertain about what is okay and what is not okay to write about, consult with your personal injury attorney.
Have a Legal Question? We Have Answers
If you are interested in keeping an injury journal to improve your chances of getting the settlement you deserve after being injured in an accident, our team can assist you. Not only can we advise you on what to write about in your injury journal, but we can help guide you through every aspect of your personal injury claim to ensure you get the compensation you deserve.
At Zirkin & Schmerling Law, we have years of experience helping the injured victims of car accidents. Contact us or call us at (410) 753-4611 to set up an appointment with one of our experienced lawyers today.