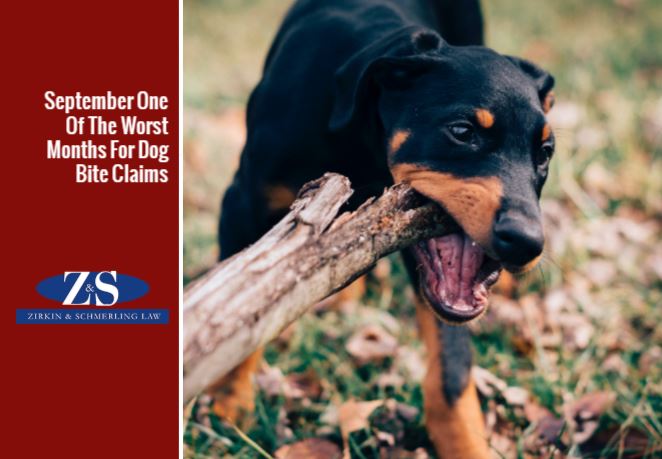 The dog days of summer are the worst time for dog bites in Maryland.
At Zirkin & Schmerling, we've noticed September is one of the worst months for dog bites in our state. It's not just a summer statistic, either. In 2018, 3,280 dog bite injury claims were settled by just one insurance company alone. Maryland is in the top half of the U.S. in terms of year-round dog bite frequency. The most common sufferers of dog attacks are delivery drivers, older adults and young children ages five to nine.
Dog Bites Child in Anne Arundel County
This becomes a top-of-mind topic after reading a recent news story I saw in the Baltimore Sun about a dog bite incident near Kilmory Court and Stillmeadows Drive in Severn, just south of Baltimore. The Sun reported that a young child was bitten by a pit bull and required treatment for injuries at a local hospital. Unfortunately, a situation like this aren't unusual. According to the nonprofit dog bite education organization DogsBite.org, about 4.5 million dog bites occur in the U.S. annually.
A staggering 365,000 of those who suffer dog bites need emergency hospitalization and 27,000 require reconstructive surgery.
Why are dog bites so common? I'm sure part of the answer lies in our love for animals. Overall pet ownership is on the rise and 38% of all households in America now own at least one dog. That's the highest percentage since the American Veterinary Medical Association began measuring pet ownership over 35 years ago. That is one reason why despite leash laws the frequency of dog bites continues to rise in Maryland.

Dog bite injuries like the one sustained in Severn, Maryland can have a life-altering impact on the victim- especially one so young.
A study by the National Institutes of Health (NIH) finds that young children are more likely to need extensive hospitalization and facial reconstructive surgery because their short stature puts them right in front of a dog's eyes, nose … and jaws.
The researchers note dog bite victims and their families face a "tremendous financial and psychosocial burden" in the aftermath of a dog attack. I point out this important finding because many children who sustain dog bite injuries develop a deep and lifelong fear of dogs. Their families also face a struggle to pay mounting medical bills.
Most Biting Dogs are Friends, Not Strangers
Here's another fact you should know: In 89% of the cases studied by the NIH, the dog is known to the victim. These aren't attacks by strange dogs on city streets; they happen right in the households of friends, family and neighbors.
Because dog bites can happen so close to home, use these tips for dog bite:
Always use caution before petting someone's dog or allowing people to pet your dog.
Supervise children closely around dogs, particularly the most vulnerable children who are under age 10.
Be aware of bite warning signs shown by dogs, like body stiffness, staring eyes, growling, snapping and avoidance.
If you are a dog owner, invest in dog training services, see the vet regularly and provide safe physical/mental stimulation for your dog so it doesn't feel a need to bite.
Under Maryland dog bite laws, a homeowner has a legal duty to control their animal and restrain any dangerous dog on the premises. Dog owners are also liable for injuries caused by a dog "running at large." Other parties, like pet sitters and landlords, can also be held liable for a dog bites, in some cases.
But these laws can be interpreted in various ways, and a dog bite victim often faces a frustrating battle to hold the right person responsible. After reporting a dog bite, the victim may be shocked to discover that the dog's owner hasn't been charged with any crime and they'll need legal assistance to pursue a civil court case.
Have a Legal Question About Dog Bites in Baltimore? We Have Answers.
If you have suffered injury from a dog bite, the attorneys at Zirkin and Schmerling Law are experts at answering all your questions and stay up-to-date on dog bite news and Maryland dog bite laws including the recent revision to state code that has caused confusion for the citizens of Maryland. We can help you hold the right person responsible for your injuries and file suit for damages.Contact us or call us at 410-753-4611 to set up an appointment with one of our dog bite attorneys today.