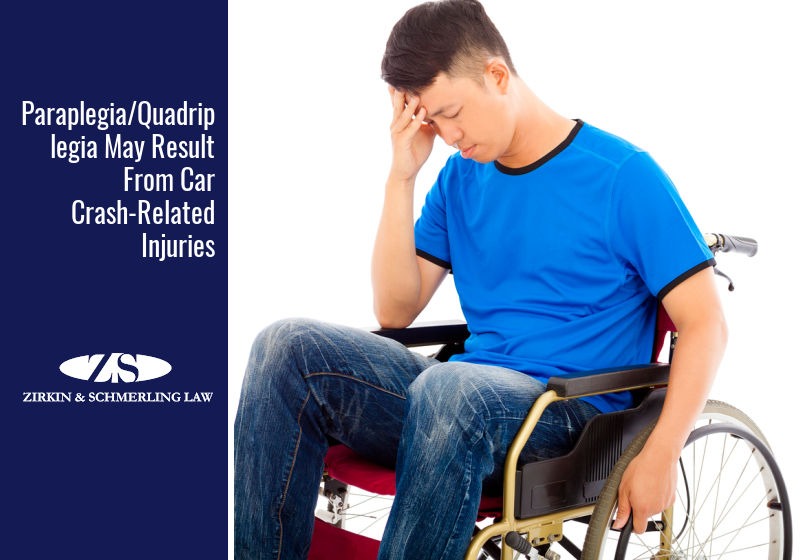 Imagine suffering such a catastrophic injury in a car accident that you lose the use of your legs or being paralyzed from the neck down. Nearly 1 in 50 people are living with the daily effects of paralysis and of those, spinal cord injury is the second-most-common cause.
At Zirkin & Schmerling Law, we have worked with individuals and families who are dealing with the traumatic impact of sudden crash-related paraplegia vs quadriplegia. These are life-altering injuries that create mobility challenges, cause financial strain, and change family dynamics.
In a split second, a negligent driver can crash into you or a loved one and cause so much pain and suffering, changing the course of your life forever. But with the help of a car accident lawyer, you can seek compensation for your losses and move forward with your life.
Paraplegia or Quadriplegia From a Car Wreck
Paraplegia is a term that describes the loss of function in the lower limbs and trunk. Although some paraplegia arises from diseases like scoliosis and spina bifida, other cases come from traumatic injury during car accidents, sports injuries, and gun violence.
People living with paraplegia often have a total loss of sensation in, and use of, their feet, knees, legs, pelvis, and lower trunk. Some people have temporary or permanent sensations of tingling or pain below the waist, or even struggle with involuntary movements despite being unable to feel or control their lower body.
Quadriplegia refers to the condition of losing sensation and mobility in one's arms and legs, including the torso, meaning there is a partial or total loss of function below the neck. This is an even more severe loss of bodily control than paraplegia.
Those with trauma-related quadriplegia commonly have unseen damage deep within the body that may include loss of bodily system and organ function. This can have long-lasting impacts on someone physically, emotionally, and interpersonally.
It's important to know that the divisions between paraplegia and quadriplegia aren't always as clear-cut as it may seem. For example, in some cases, a person may have some amount of sensation and mobility in their arms, but can't control their fingers or thumbs.
Each person's level of paralysis depends on exactly how they were injured and how much recovery they have experienced. Some people with paralysis need a lifetime of in-home nursing care and mobility support in order to do even the most basic tasks like bathing and eating.
How to Seek High-Value Compensation After Paraplegia or Quadriplegia
When paraplegia or quadriplegia is the result of a catastrophic car accident, the victim must cope with severe pain, suffering, and feelings of loss and stress about the future. Plus, their family is left reeling and may struggle to adjust to a new reality that involves constant post-injury medical care.
Someone with paraplegia or quadriplegia often faces expensive medical bills, even as their employment options are suddenly reduced. A beloved job they've always been passionate about may no longer be possible.
After paralysis in a car accident, a person's lifetime ability to generate income is strongly impacted. According to the Christopher Reeve Foundation, a nonprofit dedicated to educating the world about paralysis:
Across the board, people who live with paralysis tend to make lower incomes than those without paralysis.
About 28% of all households that include a person who is paralyzed make less than $15,000 per year.
15.5% of people living with paralysis are employed, versus 63.1% who are not living with a disability.
41.8% of those living with paralysis are unable to work at all.
At Zirkin & Schmerling Law, we're here to help you understand your options after a paralyzing car accident. We can help you seek the compensation you'll need to adjust to your paraplegia or quadriplegia and get your bills paid.
A life-altering injury deserves the highest level of attention to detail from an excellent personal injury lawyer. The team at Zirkin & Schmerling Law can help you pursue a high-value claim that allows you to stop worrying about the financial side of your situation and focus on your health.
Have a Legal Question? We Have Answers
When you need to learn more about your rights, the attorneys at Zirkin & Schmerling Law can help. Contact us or call us at (410) 753-4611 to set up an appointment with one of our experienced car accident lawyers today.