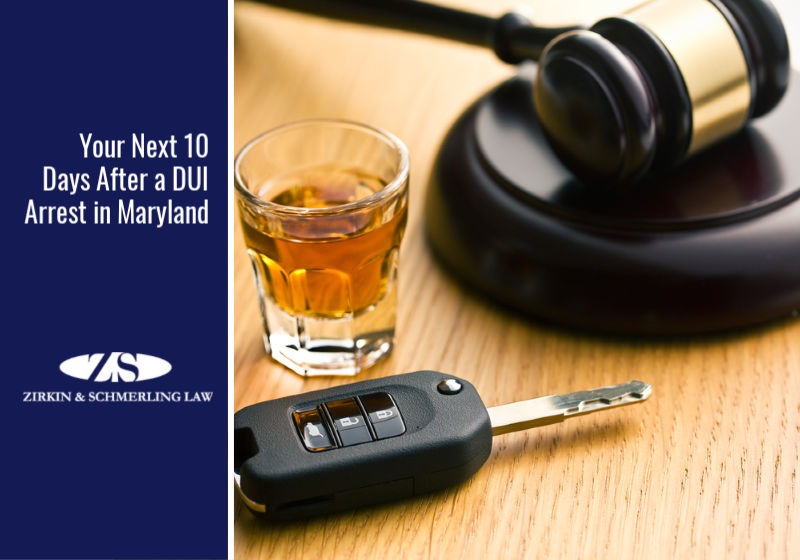 Did you know the 10 days after a Maryland DUI are critically important to your future? Buried within the paperwork you'll receive, there's a notification about a 10-day period that impacts your ability to keep your driving privileges.
Miss this crucial window of time, and you may face a more drawn-out process with harsher penalties for a DUI or DWI. So let's take a closer look at how the state of Maryland handles these arrests and why the 10-day period is so important.
After a DUI Arrest, the Clock Starts Ticking
A Maryland DUI arrest means you're facing tough penalties including jail time, steep fines, and the suspension of your driver's license. At the time of your arrest, a police officer will take your driver's license and hand you a piece of paper that serves as your temporary license for 45 days. Then you'll be booked into a local detention facility and will either remain there or bail out.
From there, every Maryland DUI case has two parts: an administrative hearing and a criminal penalty phase. The administrative hearing determines the status of your driving privileges. You might end up with a suspended license, a restricted license, or a full reinstatement of your license, depending on factors like your blood-alcohol content (BAC) at the time of your arrest and whether you have a prior DUI.
Now, look closely at the paperwork you received from the police officer. You'll see that in the state of Maryland, you have a right to a hearing with an administrative law judge to extend your 45-day temporary driver's license. But, to extend the 45 day temporary time period, you must request a hearing within 10 days.
The clock starts ticking at the moment of your arrest. If you fail to take action within 10 days, the Maryland Motor Vehicle Administration (MVA) can deny an extension of your driving privileges, affecting your ability to work, take your kids to school, and anything else that requires driving.
Maryland Has Harsh DUI Laws
In terms of criminal penalties, here's what you're facing for a first-time DUI in Maryland:
$1,000 fine
Up to 1 year in jail
12 points on your license
6-month license revocation
The penalties are worse for additional offenses. For a second-time DUI, you could receive a $2,000 fine, up to 2 years in jail, and a full year of having your driver's license revoked.
So, why are Maryland's DUI laws so strict? Safety experts might say that our state's laws are strict because they work. Maryland is 27th in the nation for DUIs, near the middle of the pack. Harsh laws may have something to do with it.
During a period from 2014-2018, DUI arrests actually went down 20% in our state. Maryland Governor Larry Hogan attributes this to Noah's Law, enacted in 2016, which established the Maryland Ignition Interlock Program as a way to keep drunk drivers off the road.
After two DUI convictions in five years, Maryland residents face a mandatory license suspension, a mandatory minimum jail sentence, and an enrollment in the Ignition Interlock Program. The program installs a device on your car that requires a breath-blown BAC reading below the legal limit before your car will start.
Getting Legal Help With Your Maryland DUI
This is a crossroads in your life when each decision you make can alter the course of your future. You'll need an experienced Maryland DUI attorney for several reasons.
You don't want to miss the 10 day period to preserve your driving privileges.
You're facing serious criminal consequences and your attorney's expertise could make the difference between having your freedom and staying in jail.
A caring and knowledgeable attorney helps limit the impact of your DUI on your life.
Not every attorney has the extensive DUI experience and training it takes to get the best outcome possible. You need an attorney who takes a positive, professional, and proactive approach to DUIs. For example, a smart attorney will recommend an alcohol treatment program that benefits you and your family, while also making a favorable impression on the judge.
The right attorney will also stand up for you in court and ensure the police officer who arrested you followed every detail of the law. Did they have reasonable suspicion to stop you? Did they have probable cause for the arrest? Were you detained improperly?
These questions are extremely important. Your future is at stake. Contact Zirkin & Schmerling Law as soon as possible after a DUI.
Have a Legal Question About Your DUI? We Have Answers
For issues involving DUI arrests, the attorneys at Zirkin and Schmerling Law can help. Contact us or call us at 410-753-4611 to set up an appointment with one of our attorneys today.