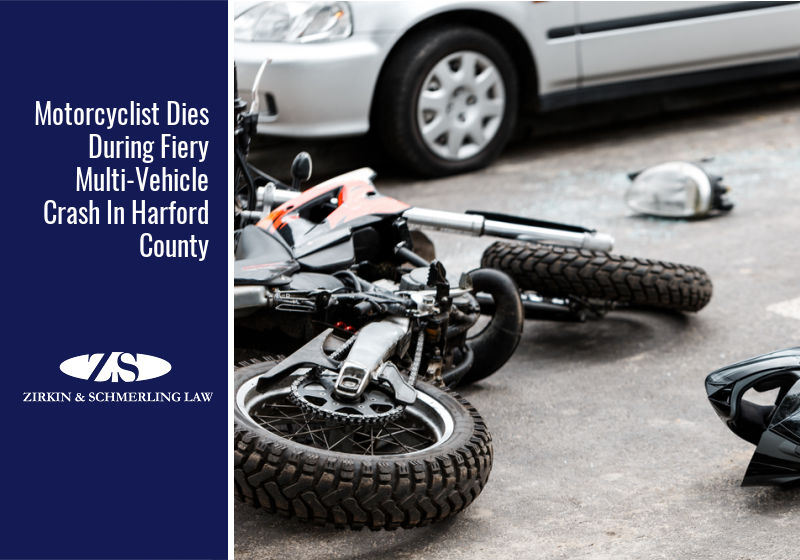 On March 19, 2022, a tragic accident occurred on Route 22 in Aberdeen. A Maryland multi-vehicle accident involving three vehicles claimed the life of a 31-year-old motorcyclist. The sad incident illustrates how it's critically important to drive cautiously and avoid collisions with motorcyclists who are more vulnerable to injuries in collisions.
The multi-car accident also raises the question of who is at fault in wrecks involving more than two vehicles. In this blog, we discuss the tragic accident that occurred in Aberdeen, common types of motorcycle injuries, and how authorities and insurance companies determine fault in multi-car accidents. 
Deadly Multi-Vehicle Accident in Aberdeen, Maryland
At around 10 a.m. on March 19, state troopers responded to a call involving multiple wrecked vehicles on Route 22 near Technology Drive. Motorcyclist Zackary Michael Victor Perrone was traveling westbound on Route 22 when a Honda Pilot driver traveling east drifted into Perrone's lane, crashing into his motorcycle head-on.
Immediately after the two vehicles wrecked, a Hyundai that was traveling behind Perrone crashed into the motorcycle and Honda Pilot. When the Hyundai collided with two other vehicles, Perrone was thrown from his motorcycle onto the Hyundai. Tragically, Perrone died at the scene. The police have not filed charges against either surviving driver.
Common Types of Motorcycle Injuries
The crash in Aberdeen shows how dangerous the road can be for motorcyclists. Unlike other passenger vehicles, motorcyclists' bodies are exposed, and they're highly vulnerable to sustaining serious or life-threatening injuries in the event of a crash. A few common types of injuries that motorcyclists sustain in Maryland wrecks include:
Abrasions
Facial injuries
Spinal cord damage
Broken eye sockets
Amputations
Burns
If you experience an accident, you need to take immediate steps for your health. You should call 911 and receive any necessary medical treatment at the scene. Even if it doesn't seem like you have serious injuries, you could suffer from delayed symptoms. You should seek medical treatment as soon as you can after your accident in case you've suffered invisible injuries.
Receiving immediate medical attention is also critical in the event that you need to file a personal injury claim. If you delay and don't receive proper medical treatment shortly after your wreck, your insurance company or the other drivers' insurance company may argue that your injuries are not serious. Additionally, if you suffered from invisible injuries that are not diagnosed until weeks or months after your accident, insurance companies may try to make the case that the accident didn't cause your injuries, and they'll try to avoid paying for your medical expenses. You need to seek medical attention as soon as possible after your wreck to ensure your safety and your claim.
When receiving medical treatment, you should keep a record of your bills and medical treatments, and you should write down the conversations that you have with your doctors. Additionally, you should keep a journal that tracks how you feel from day to day. You should record how you feel physically, any limitations you have, and how your injuries have impacted you emotionally. You can use these different records as evidence if you need to file a personal injury claim.
Determining Fault in Maryland Multi-Vehicle Accidents
The tragic incident in Aberdeen brings up the question of who is at fault in a multi-car accident. Often, there are multiple drivers at fault for multi-car accidents, and there's usually a primary and secondary impact. Primary impact refers to the first collision that took place, while secondary impact refers to additional vehicles colliding with wrecked cars. In the Aberdeen case, the Honda Pilot caused the primary impact by drifting into the motorcyclist's lane and hitting them head-on. The Hyundai then caused a secondary impact by wrecking into the two vehicles.
Those who have suffered from multi-car wrecks may be able to recover compensation for vehicle damages, medical bills, and more from multiple drivers involved in the accident. For example, if the motorcyclist may be able able to recover damages from both the Honda and the Hyundai drivers.
One important factor to consider when considering a claim in a multi-car accident is contributory negligence. Maryland is one of four states in America with contributory negligence rules. What this means is that a driver cannot recover compensation from another driver if they're found to be partially responsible for the accident.
For example, if the Hyundai driver files a claim against the Honda driver, their role in the wreck will determine if they can recover damages. If authorities and insurance companies determine that the Honda was solely at fault for the wreck, the Hyundai driver may be able to collect compensation for vehicle damages, medical bills, and more. If the authorities and insurance companies determine that the Hyundai was partially responsible for the accident, the Hyundai driver cannot recover compensation.
Contact a Maryland Motorcycle Accident Attorney
If you're a motorcyclist or another driver injured in a wreck, you may be able to recover damages from the at-fault driver. You could recover compensation for vehicle damages, medical bills, lost wages, loss of future earnings, pain and suffering, and more. In order to recover compensation, you'll need to be able to prove that the other driver or multiple drivers were at fault for your injuries.
Motorcycle and car accident attorneys can help you gather evidence to support your claim, and they'll represent you so that you don't need to interact with other drivers involved in the accident and their insurance companies. The attorneys at Zirkin & Schmerling Law have years of experience assisting Maryland residents with car and motorcycle accident claims. If you need legal assistance after a wreck, call us at 410-753-4611, or you can schedule a free, no-risk case consultation here.