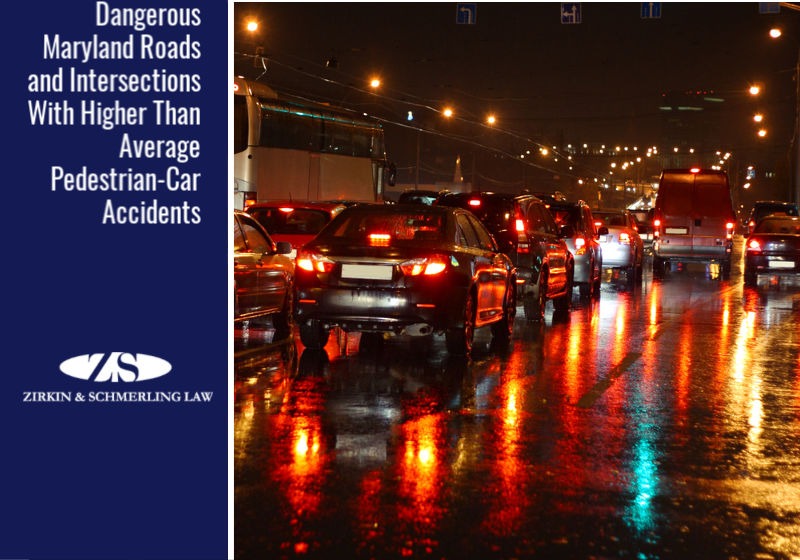 Fail to stop for a pedestrian and you could get a $1,000 fine under the new pedestrian safety law now in effect in Maryland.
The penalty has risen from $500 to $1,000 and lawmakers hope the hefty fine will make people think twice before putting pedestrians in danger.
Under SB460, the Pedestrian Safety Bill, all fines paid by drivers who fail to follow the pedestrian safety law will be gathered into a fund that goes toward traffic enforcement, education and calming devices. The goal is to provide safer streets for pedestrians and drivers alike.
It's easy to see why lawmakers in Maryland pushed so hard to get SB460 passed. Out of all traffic fatalities in our state, pedestrian deaths account for a staggering 20%. Almost 3,000 pedestrians are injured every year in Maryland and the highest-risk group for injuries or fatalities is children under age 15. Often pedestrian injuries and fatalities are the result of hit-and-run auto accidents.
For instance, a fatal pedestrian crash occurred in Calvert County in October 2019. The pedestrian was an adult female who was pronounced dead at the scene. Even though local police knew 33-year-old Joseph F. Migliaccio was driving a 2015 black Ford truck east on Dares Beach Road near Terrace Drive when he struck the pedestrian, they were still looking for witnesses to the accident.
Use Caution Near These Dangerous Roads and Intersections
According to the Maryland State Highway Administration (SHA), certain roadways and intersections are known for having a higher-than-average number of pedestrian-car accidents. In general, beware of shopping areas with high foot traffic, school zones and state highways near suburbs where people walk long distances between home and work.
When the Capital News Service studied Maryland State Police pedestrian accident reports, they found that certain areas have had large clusters of pedestrian accidents in recent years. For example, in the areas north of Washington in Wheaton/Glenmont, there has been a high volume of pedestrian accidents along University Boulevard and Georgia Avenue. Nearby, there has also been a cluster of incidents along University Boulevard near Langley Park.
There are also large clusters of pedestrian accidents south of Baltimore near Brooklyn Park, Ferndale, and Glen Burnie along Crain Highway/Ritchie Highway. Other dangerous areas for pedestrians in greater Baltimore include Essex along the Baltimore Beltway and numerous state highways that cross through Roseville, Overlea, Parkville, Towson, Pikesville, Randallstown and Catonsville.
Clarifying Pedestrian Safety Driving Laws in Maryland
Many Maryland drivers wonder what the laws are for pedestrian safety. Drivers are often unsure whether they have to yield to pedestrians at various traffic stops. To clarify, under Maryland law:
A vehicle driver must come to a complete stop when a pedestrian is moving across the roadway in a crosswalk.
A driver may not pass another vehicle that is stopped for a pedestrian in a crosswalk.
A vehicle facing a green signal, including any vehicle turning right or left, must yield the right-of-way to any pedestrian in a crosswalk.
A vehicle approaching a red signal/arrow must stop at the stop line before proceeding across a crosswalk.
A driver must exercise due care to avoid colliding with a pedestrian, even when the pedestrian is jaywalking or moving in an unsafe manner.
If you're injured in a driver-pedestrian accident, don't assume you're automatically at fault. And don't give up hope. You can still stand up for your rights with the help of a personal injury attorney. Your attorney can help you understand the language of pedestrian laws, including terms like "right of way" and "due care." An attorney can help you find the best outcome possible after the stress and trauma of a pedestrian-vehicle accident.
Have a Legal Question About Accidents Involving Pedestrians in Maryland? We Have Answers.
If you have suffered an injury in a pedestrian-car accident, the attorneys at Zirkin and Schmerling Law can answer all of your questions and help you understand Maryland's personal injury laws. We can help you hold the right person responsible for your injuries and file suit for damages. Call us at 410-753-4611 to set up an appointment with one of our car accident attorneys today.