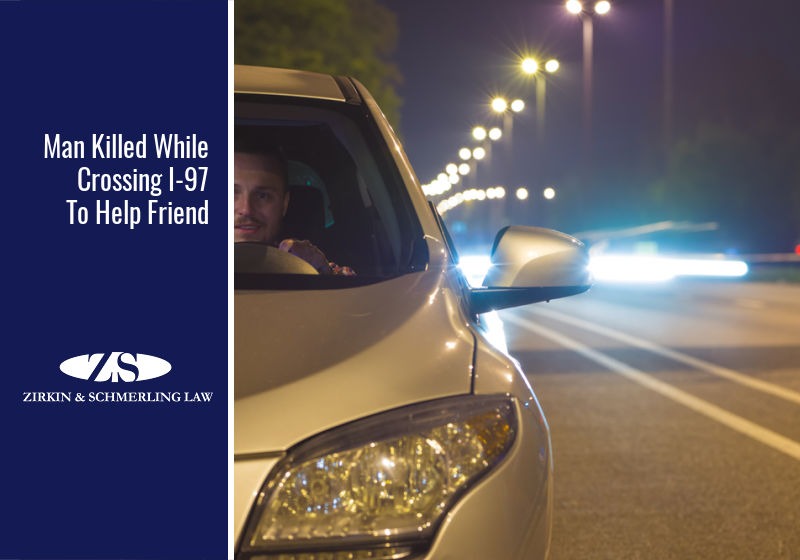 It is dangerous to be on the road at night both as a pedestrian and a driver. Human eyes are much less efficient in the dark, and it can be difficult to see movement on the road. According to research, auto accidents are three times more likely to occur at night. In addition to poor visibility, you are also more likely to encounter inebriated drivers on the road at night. Coupling both of these conditions together creates the perfect storm for auto accidents involving pedestrians. Unfortunately, one such accident took place not long ago and proved to be fatal for the victim.
At 11:45 pm on March 4th, 2022, Maryland State Police responded to a car accident involving a pedestrian. A man stopped his car on the shoulder of I-97 after seeing his friend parked in the left lane of the interstate with no car lights turned on. The man exited his vehicle and attempted to cross the road to check on his friend before a third vehicle swerved to miss the parked vehicle and hit the pedestrian. The man was pronounced dead at the scene, and the driver of the vehicle who struck him was released after police began a preliminary investigation. The driver of the parked vehicle has been arrested for driving under the influence.
Fatal accidents involving pedestrians are far too common and can be emotionally and financially devastating for the families of the victims. What can you do as a pedestrian to ensure your safety?
Motorists Must Use Caution At Night
Generally, human eyesight is much poorer in our peripherals than when looking straight ahead. This is particularly dangerous for pedestrians because rarely is someone directly in front of you at a crosswalk. Rather, they are in your peripheral vision as they start across the road. It is very likely that a driver may not see someone walking or bicycling across a crosswalk until it's too late and they are directly in front of the vehicle.
While this is already a dangerous scenario in daylight, the danger only magnifies at night. Drivers are far more likely to be focused only on what's directly ahead of them and disregard their peripheral vision. At a greater distance, a pedestrian may be difficult for the driver to see because of visibility and distance. At a closer distance, a pedestrian may be more visible but will be out of the driver's cone of vision. Headlights are important, but will not necessarily improve your peripheral vision in dark conditions.
Maryland does not follow contributory negligence laws, so it is possible that a pedestrian may be partially blamed for the accident along with the driver. If this happens, the pedestrian will not be able to recover damages from the guilty driver.
This is why it is critical to speak with a car accident or personal injury attorney as soon as possible after an accident. You will need to prove the driver's negligence to a judge to file an injury claim or lawsuit, and that will be hard to accomplish without the help of an experienced attorney. Some examples of negligent driving include:
Drivers failing to yield the right-of-way to a pedestrian that has a cross signal
Distracted driving
Reckless driving
Drunk or impaired driving
Contact an Attorney Right Away
After a car accident, your primary focus should be on your health and safety. Call 911 first and foremost, and ensure that they send first responders to treat any injuries you might have. After you are safe and your injuries have been taken care of, you should seek help from an attorney right away. An experienced attorney will help you gather any evidence you need to prove driver negligence and support your claim or lawsuit.
Car accidents involving a pedestrian can be traumatizing and difficult to navigate. At Zirkin & Schmerling Law, we have years of experience helping pedestrians who are injured by negligent drivers. Contact us or call us at (410) 753-4611 to set up an appointment with one of our experienced accident lawyers today.