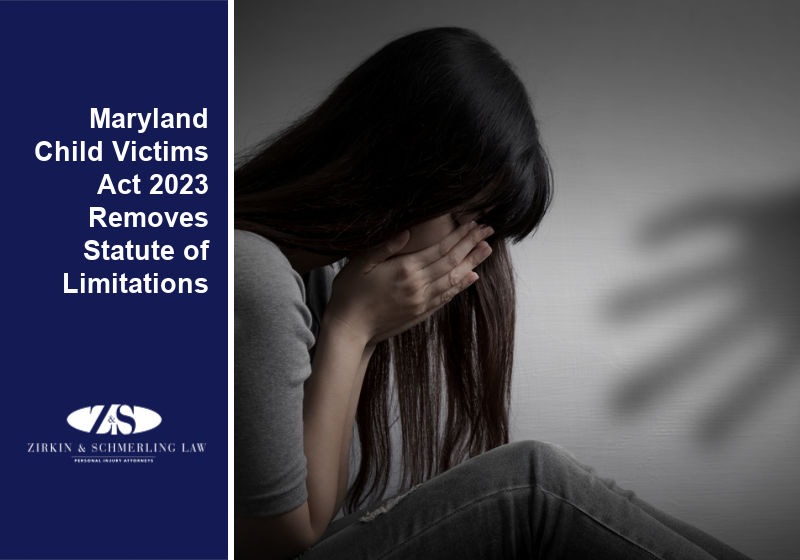 The Maryland General Assembly recently passed into law "The Child Victims Act of 2023" which takes the unprecedented step of allowing time-barred lawsuits for any sex offense against a minor. The new law presents huge opportunities for victims to sue their state and local governments for millions of dollars. Some have estimated that this law will cost state and local governments hundreds of millions of dollars, if not more.
What is Senate Bill 686?
The Child Victims Act of 2023, or Senate Bill 686, applies retroactively to any claim that has passed the Maryland statute of limitations. This means that older allegations of child sex abuse may now be the cause of lawsuits. The "retroactive" part of this bill declares that any alleged offense that occurred at any time in the past is now eligible for a civil lawsuit. The only stipulation is that the victim is alive. However, in its current state, the General Assembly specifically left out that defendants would need to be living, meaning these cases can go to court even if the defendant is deceased! Through this law, the General Assembly attempts to eliminate all statutes of limitations for lawsuits for childhood sex offenses both prospectively and retroactively.
Are There Limitations to Who Can Be Sued?
Although much of the attention in the media on this matter has been focused on the Catholic Church, that organization represents only a tiny fraction of those who may be sued under the legislation. In fact, the new law will permit taxpayer-funded lawsuits against every County, Municipality, School Board, and the State of Maryland for any and all historical offenses, as long as the victim is living. If an alleged offense occurred in the 1980s, or even as far back as the 1940s, according to the new law, you may now sue the Municipality, School Board, County, or State for up to $890,000 per occurrence. The law specifically states that suits can be filed against the government in these matters regardless of any historical damage caps, notice provisions, or "any other law."
Examples of Eligible Child Abuse Occurrences
If a minor was abused at any time in a state or county facility, including any juvenile facility, local jail, state prison, mental health facility, public school, or group home, they will now be eligible to sue the government for $890,000 per claimant for any "occurrence." For example, in the 1980s, it was reported that several juvenile offenders at the Cheltenham facility in Prince George's County were sexually assaulted and several others were engaged in other sexual activities. With this new law, all of these individuals may now sue the State of Maryland. And over the decades, it was reported that there were multiple incidents of sexual abuse at the Charles Hickey School of the Department of Juvenile Services. Any of those individuals may now be eligible to file a civil lawsuit against the State of Maryland for any instances of child abuse.
Another example of a potential civil suit would be against the state for minors incarcerated in local jails or state prisons. From the 1950s through the 1970s, it was, unfortunately, a practice of the State to regularly incarcerate minors in the adult system, even for less serious offenses. We recognize today that this is a bad penal system practice and that separating adults from minors is the best practice. This new law opens up the state and local governments to civil litigation for any juvenile inmate from any time who alleges that he or she was a victim of a sexual offense while incarcerated. Again, these lawsuits against the government were authorized by the General Assembly this year for abuse that occurred at any point in time historically, as long as the victim is still living. The General Assembly has authorized tax-payer payments for victims that could climb as high as hundreds of millions of dollars for any past child sexual abuse.
Contact a Maryland Child Sex Abuse Attorney
If you have been a victim of a childhood sex offense at a government facility, including any juvenile facility, school, or prison, you may have a civil lawsuit against the government regardless of when that abuse occurred. If you have been sexually abused in foster care, by a coach in a Department of Parks and Recreation, by a juvenile or corrections officer, or in police custody, you may have a civil lawsuit against the government regardless of when that abuse occurred or any other existing law at that time.
To guarantee that you receive the compensation you deserve, employing the services of an experienced child sex abuse lawyer is in your best interest. Here at Zirkin & Schmerling Law, our Maryland personal injury attorneys care about helping injured or abused people. We have compassion for your situation and pride ourselves on working closely with our clients to pursue the best possible outcome.Contact us online or call us at (410) 753-4611 to set up an appointment with one of our experienced personal injury lawyers today.