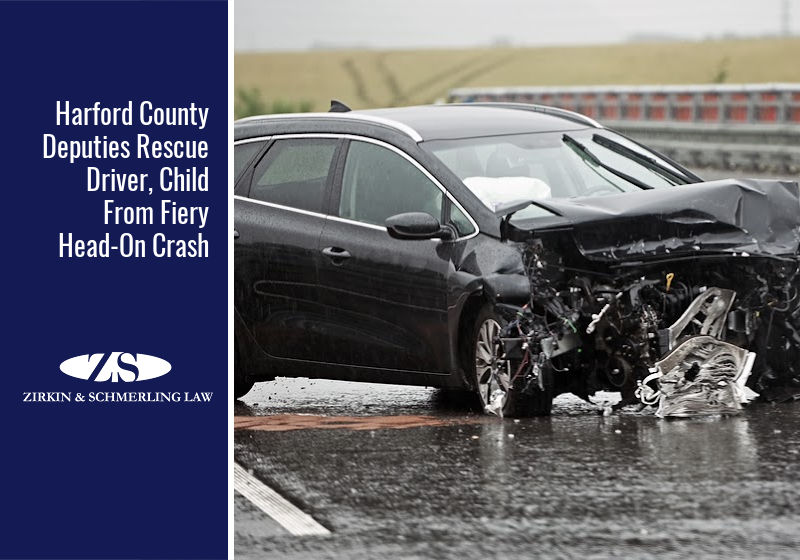 A truck and minivan struck each other and a child was in a head-on collision at about noon on February 16, 2022. This occurred in the area of Route 7 near Brass Mill Road in Harford County. Fortuitously, three Harford County deputies happened to be driving past as the accident happened and immediately rushed into action. The minivan was on fire, but the driver was only semi-conscious and too dazed from the accident to react.
The deputies managed to remove him from the vehicle before realizing that his young son was in the backseat. They quickly removed the toddler, despite the fact that he was momentarily twisted in a seatbelt. Moments after their quick reactions and rescue, the minivan was completely on fire. According to a report on CBS Baltimore, the sheriff's office subsequently reported that the father and son were expected to "be okay."
If reading this news story made your heart stop for a second, you are not alone. There is nothing stronger than the worry a parent has for his or her child, and although this particular head-on collision did not end in tragedy, many do. Between 2015 and 2019, Harford County, Maryland experienced an average of 3,304 crashes each year. As you can imagine, many of those vehicles had children passengers.
The average number of children injured in Maryland motor vehicle accidents each year between 2015-2019:
Under 5 years old: 1,254
Ages 5-9: 1,166
Ages 10-11 435
Ages 12-13 409
Ages 14-15 461
Ages 16-17 664
An injured child's rights:
If a child is injured in an accident, he or she has the same rights as an adult when it comes to pursuing compensation from the negligent party. In Maryland, a minor is anyone under 18, and minors are protected by the law so that their money isn't squandered.
What this means is that if the insurance company pays a settlement that is relatively minor, under $5,000 after attorney fees have been paid, the parent can receive the money. Obviously, the money is to be used for the child's benefit.
However, in larger settlements, or cases where there is no settlement and a lawsuit is filed, a trust is created for the child with a court-appointed guardian or trustee. The guardian (in most cases, this is the parent) has to request any withdrawals from the court, and the court ensures that the child's best interests are served and that the money is used appropriately.
What happens in a lawsuit?
The guardian (in most cases, this is the parent) of the child has to prove that the other driver was negligent. An experienced lawyer will be able to navigate the court process for you; it is extremely complicated.
Your attorney will have to prove that the other driver had a duty to drive in a reasonable manner, that he or she breached that duty, and that your child's injuries were a direct result of the other driver's negligence.
Your attorney will also need to prove that you were not at fault in any way. Maryland's contributory negligence law will bar you from receiving compensation if you were even 1% responsible, although there are one or two exceptions that your attorney can explore, such as the "last clear chance doctrine."
Head-on collisions:
The accident described above was a dreaded head-on collision. In 2019 alone, 12,785 people died as a result of frontal impact accidents, and these types of crashes made up 57% of all fatal accidents in the United States. These accidents can cause serious injuries such as head trauma, organ damage, paralysis, and spinal cord injuries.
If you or your child has suffered from an injury due to a frontal impact collision or any other type of motor vehicle crash, our team at Zirkin & Schmerling Law can fight for your rights to get you the compensation you need while you focus on caring for your child and yourself.
Whether the injuries were to you or your child (or both), we will fight to get you compensation to pay for such things as:
Medical bills, including future expenses
Rehabilitation and physical therapy
Any lost wages for you due to your own injuries or because you were caring for an injured child
Pain and suffering
Emotional distress
Disfigurement
Physical impairment or disability
Assisted devices, such as a wheelchair or hospital bed
Modifications to your vehicle (such as a wheelchair lift) or your home
Home nursing care
Loss of enjoyment of life
Loss of future earning capacity
Having a seriously injured child is a nightmare that is impossible to wake up from. The nightmare can be even worse if the insurance company offers you a low settlement that doesn't even begin to cover all of your child's expenses. We will fight for you.
Get a free case consultation today. Call 410-753-4611. Or contact us online.