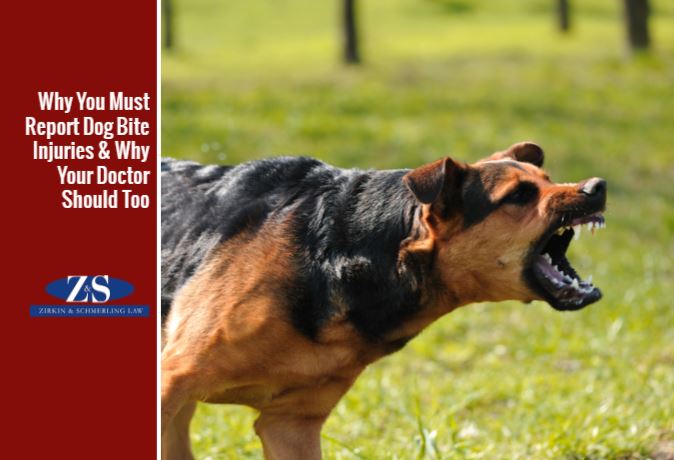 In the aftermath of a dog bite attack, we suggest a few actions you should take immediately to protect your safety and legal interests:
get medical treatment
document the incident and your injuries
contact the dog's owner for background on the dog and get their insurance information (do not speak with their insurance representative)
After you do all that, we also tell you to contact local police and report the dog bite incident. Which states require doctors to report dog bites? There are several states that require them to report it and if it happens in Baltimore County, it's a requirement.
The county's Animal Laws and Policies state, "If an animal bites someone, the owner and the bite victim must report the injury to the Police Department."
We also tell you to report the dog bite to local animal control.
In the city of Baltimore, the Health Department's Office of Animal Control operates 24 hours a day, seven days a week, receiving an average of 65 calls each day and about 22,000 complaints annually through the city's 311 call system, including:
Animal Attack – Against Human
Animal Attack – Against Another Animal
Aggressive Animal
Failure to Restrain
Animal in Danger/Injured/Abused/Neglected
State, county and city codes, rules and regulations protect the health and safety of Maryland's human and animal residents.
Any person with the knowledge that an animal has bitten or scratched a person must report the bite promptly to Animal Control. In addition, medical personnel also have a duty to report to Animal Control whenever they treat a patient for animal bites.
What's the number one best reason to report a dog bite? Rabies Prevention.
Rabies is caused by a virus that attacks the nervous system usually spread to humans through the bite of an infected animal. In Maryland, mammals including dogs, bats, ferrets raccoons, skunks, foxes, cats, groundhogs, farm animals -and people- can get rabies if they are not vaccinated.
Report a dog bite to help other potential victims
Once you report you were bitten by a dog there is now a record showing that the dangerous dog was aggressive. This record shows that the owner of the dog is aware of the dog's viciousness. This helps future victims prove liability against the dog owner. It also keeps the dog owner from being able to claim that his dog would never be aggressive. By filing a report you protect other potential victims.
Doctor's Duty to Report
While your doctor has a duty to report a dog bite to Animal Control, she must also protect your personal privacy. Principle IV of the American Medical Association's Code of Medical Ethics states, "[a] physician shall safeguard patient confidences and privacy within the constraints of the law."
Exceptions to safeguarding patient privacy usually happen under certain circumstances like when a crime takes place. In cases where patient confidentiality must be breached, the code advises the physician should notify the patient and disclose to law enforcement authorities the minimal amount of information required.
Aftermath of a Dog Bite Report
Many worry what will happen to the dog after reporting a dog bite to the proper authorities. After all, your own dog could bite you, too – causing serious injury or worse, death. In Maryland, different counties have different rules for dealing with biting dogs in the aftermath of an attack.
What's more, the dog could also have been injured in the incident. You or the dog owner will likely want to know how to care for a dog recovering from an injury. Our friends at Your Dog Advisor just published an updated comprehensive guide, How to Care For Dogs Recovering From Surgery or an Injury. It is completely free and you can find it here.
Have a Legal Question About Dog Bite Incidents in Baltimore? We Have Answers.
If you have suffered injury from a dog bite in Baltimore or anywhere in Maryland, the attorneys at Zirkin and Schmerling Law are experts at answering all your questions and guiding you through challenging process of dog bite law in the state. We can help you find out if you can hold a dog's owner or a landlord responsible for your injuries and file suit for damages. Contact us or call us at 410-753-4611 to set up an appointment with one of our dog bite attorneys today.