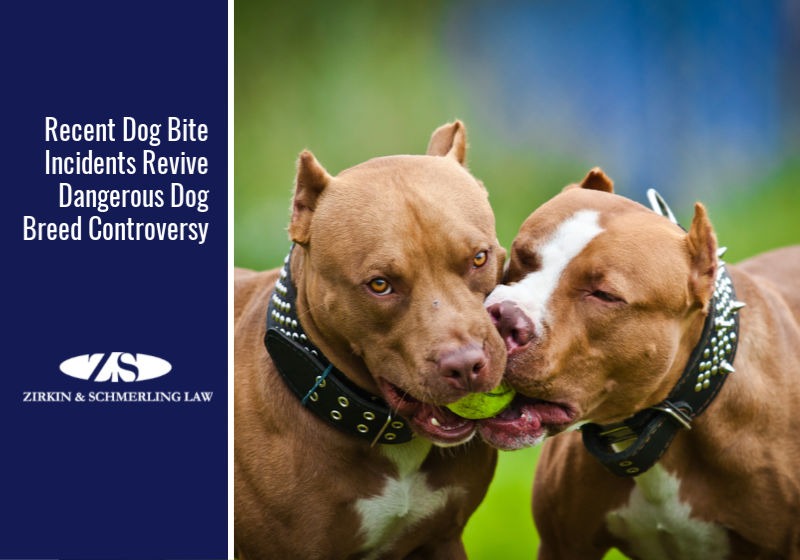 Certain breeds of dogs can cause severe damage when they attack.
A detailed research study of a 14-year period between 2005 and 2018 reveals 76% of death-causing dog bites come from pitbull attacks and rottweilers. These two breeds, originally bred for dog fighting, have jaws that tend to lock down on a person and do deep physical damage.
Of course, any type of dog can bite and the attacks aren't always fatal. In terms of sheer numbers, chows, german shepherds and labrador retrievers join pit bulls and rottweilers in the top five dogs for overall dog attacks with injuries to humans. Even small dogs like chihuahuas and dachshunds can do plenty of damage when they bite.
The topic of dog breeds and dog bites can be a controversial one. Many dog owners feel their pets are unfairly stigmatized. For example, homeowner's insurance companies routinely charge more to cover certain dogs – including pit bulls, rottweilers and 12 other breeds – and will sometimes deny coverage based solely on breed ownership.
Amid all the controversy we have to remember people who suffer an injury such as a pittbull attack can have serious wounds and long periods of recovery. It can cost hundreds of thousands of dollars to treat injuries from a severe dog attack, including medications, reconstructive plastic surgery, orthopedic surgery, psychological treatment, skin grafting and ongoing tissue and scar treatments.
Maryland Woman Critically Injured by a Pit Bull
In early November 2019, a woman in Prince George's County was critically wounded in a pitbull attack by two pit bulls while walking in her neighborhood. Bystanders heard her crying for help and called police, who killed one dog and chased the other away with gunfire. A helicopter tracked the running dog and police captured it soon thereafter.
Both dogs were taken to an animal shelter, where they were identified as American pit bull terriers. So far, police have been unable to clarify exactly who owns the dogs. Neighbors indicated they seemed to belong to the owners of a nearby house, which was searched and revealed a third dog caged in the basement.
The woman received emergency hospital treatment for critical dog bite wounds. Her case has revived controversy over the county's 22-year ban on pit bulls. Just a month prior, in October 2019, the council was considering a measure to repeal the ban and they plan to continue discussing it.
Loose Dogs Injure Two Men in District Heights
In October 2019, a 72-year-old man and 52-year-old man were severely injured when two loose dogs mauled them in a frenzied attack in District Heights. According to witnesses, the dogs chewed and disfigured the men's necks, eyes, arms and ears. One neighbor said the dogs weren't just biting the men, they were "eating them."
A passing motorist even tried to ram their car into one of the dogs to stop the attack, but the dog rolled on the ground, jumped up and continued mauling one of the men. A police officer used a dog pole to subdue one of the animals, which strangled itself to death on the pole. The other dog attempted to attack the officers repeatedly and was fatally shot.
Police located the home of the dogs' owner nearby. Upon approaching the house they discovered and captured a third loose dog that belonged to the same person. He claimed he didn't realize the three dogs had escaped from his back yard.
Animal Control identified two of the dogs as American bulldogs and the other as a pit bull terrier. Both types are classified as pit bull breeds by dog experts. The men injured in the attack survived their injuries but their exact conditions have not been made public.
After a Dog Attack, Take Action
We hope you never experience a dog attack like the ones described above. If you or a family member is ever attacked, you can take action through the legal system in Maryland.
In Maryland, those who suffer injury from a dog attack can sue for medical bills even if their insurance is covering the cost. You can also sue for emotional damage and bills related to your psychological counseling, as well as the lost income you experienced when you couldn't work after the attack.
Being bitten or mauled by a dog is an extremely traumatic event that disrupts your entire life. If you've been injured, contact a Maryland dog bite lawyer as soon as possible. As citizens of Maryland, we must come together to hold negligent dog owners responsible for these vicious attacks.
Have a Legal Question About Dog Bites In Maryland? We Have Answers.
If you have suffered injury from a dog attack in Maryland, the attorneys at Zirkin and Schmerling Law are leaders in dog bite litigation. We can answer all your questions, guide you through the challenging process of Maryland dog bite law and help you hold the right person responsible for your injuries by filing suit for damages. Call us at 410-753-4611 to set up an appointment with one of our dog bite attorneys today.