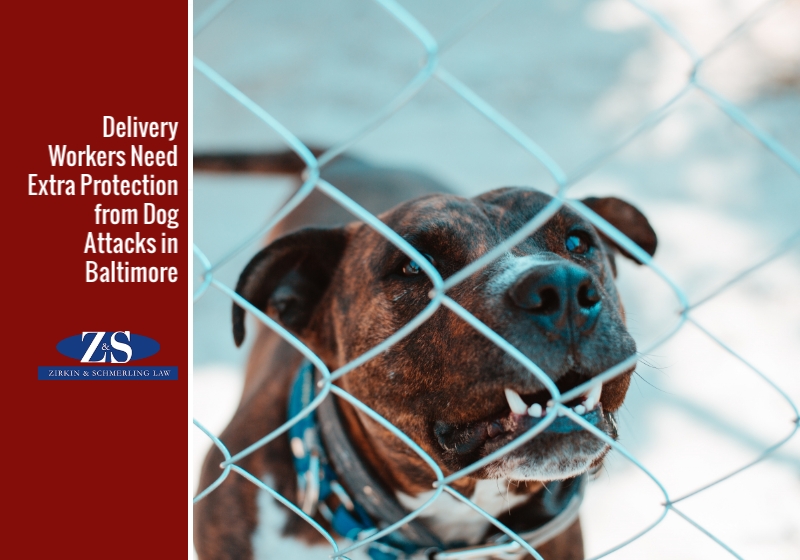 Do you know that in the U.S., an estimated 90 million dogs live with us humans as pets? That's a lot of man's best friends, although any one of them is capable of biting us. Nationwide, the Centers for Disease Control and Prevention report a yearly average of 4.7 million dog bites. That's also a lot of dog bites.
Every year in April, the National Dog Bite Prevention Week® Coalition puts on an event called National Dog Bite Prevention Week. With high profile members ranging from animal activists like American Humane, dog trainer extraordinaire Victoria Stilwell and the American Veterinary Medical Association to the Insurance Information Institute and the United States Postal Service, these seven days are devoted to educating people about how to avoid a dog bite, because the majority of them are preventable.
We think no one should know how to prevent a dog bite more than mail carriers and delivery people … especially in Baltimore.
In 2018, mail carriers were attacked 31 times by dogs on their routes in Baltimore, adding to a total of 5,714 postal worker attacks across the country, according to the most recent statistics from the U.S. Postal Service. Baltimore ranks 15th on the list of worst cities for dog attacks in the nation, the same as Denver and Kansas City. Houston takes the lead for dog bites with 75 while the state of Texas has four cities listed in the top 10.

Could our obsession with online shopping be a contributor?
It's possible. There's no denying online retail sales are booming, and with it comes a preference for home delivery over running to a department store on our lunch hours. Increased online sales means more home deliveries, which have increased for postal workers at least, to 1.5 billion in the last nine years. Even though drone delivery services are now a thing, it's not happening in the United States just yet. Which means potentially painful encounters between delivery workers and dogs are unlikely to go away anytime soon.
From the perspective of mail carriers and other delivery persons, preventative measures go a long way in keeping them safer. Measures like:
receiving professional training on preventing dog attacks
dog owners informing them of their pets, then making a note of it on a mobile delivery scanner
using a package scheduling pickup app, which also notes whether dogs live at a delivery address
homeowners putting their dogs in another room before opening the door for a delivery
parents making sure their kids do not to take a package or mail directly from delivery workers or mail carriers when a dog is near
However, dog bites do happen.
From a Dog's Perspective
With 38% of American homes counting at least one dog as part of the family, it's good to know that, much like people, dogs react to stressful situations by protecting themselves, their babies and their owners. Depending on what a dog perceives at any given moment, it can trigger a biting response. Sometimes it's an act of play, nipping or biting during roughhousing with a child or another dog or a neighbor or their human. If the dog is startled or scared, doesn't feel well or feels threatened – like watching a delivery person handing over a package or a mail carrier giving mail to their owner- biting behavior may ensue. And it could hurt bad.
"There's a myth we often hear at the Postal Service: Don't worry, my dog won't bite," says Linda DeCarlo, U.S. Postal Service Safety Director. "Even good dogs have bad days."
$39,017 – Average Cost of Dog Bite Insurance Claims in 2018
The American Veterinary Medical Association says nearly 350,000 people were treated at American hospital emergency rooms for non-fatal dog-related injuries in 2017. However, some dog bite wounds are tragic.
In 2012, a mail carrier was attacked by a dog while delivering mail in Delaware. The dog mauled his legs, arm and stomach before a woman driving by pulled him into her car. The 55-year-old died several days later of cardiac arrest as a result of his wounds.
In 2018, insurers paid $675 million in liability claims related to dog bites, according to the Insurance Information Institute. Right here in Baltimore, a mail carrier was offered a $15,000 settlement after he was bitten by a dog. As a result of representing him in court, Z&S won our client $103,000.00 for his injury.
Have a Legal Question About Dog Bites? We Have Answers
If you're a postal worker or a delivery person working in Baltimore and you have suffered injury from a dog bite, the attorneys at Zirkin & Schmerling Law are experts at answering all your questions and guiding you through challenging process of Maryland dog bite law. We can help you find out if you can hold a dog's owner or a landlord responsible for your injuries and file suit for damages. Contact us or call us at 410-753-4611 to set up an appointment with one of our dog bite attorneys today.V