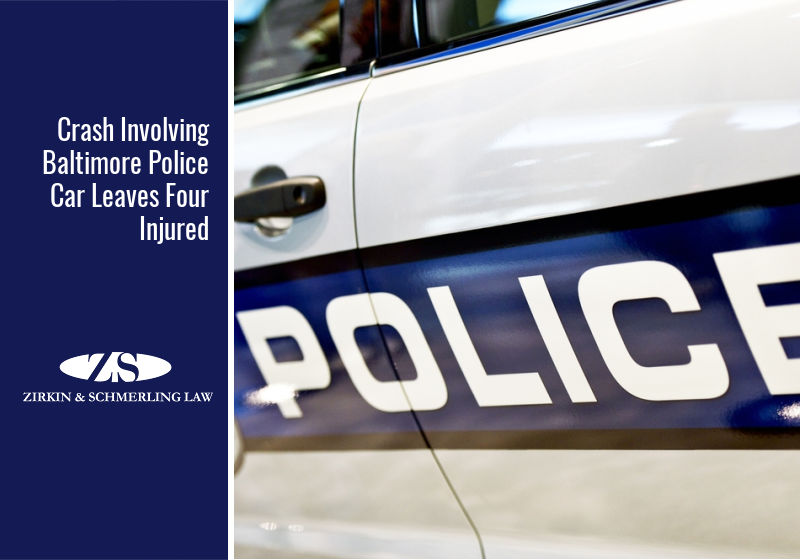 At 11:30 a.m. on Sunday, March 20th, four people were taken to the hospital in Baltimore as a result of a car crash involving a police cruiser. The accident is still under investigation, but it appears a police officer was responding to a call for backup when it collided with another vehicle on Poplar Grove Street in West Baltimore's Franklintown Road Neighborhood.
Police did not immediately respond to inquiries about the nature of the call the officer was responding to. Everyone involved sustained non-life-threatening injuries, but this incident begs the question, can you file a claim for an accident involving a police car?
Can You File a Claim for a Crash Involving a Police Car?
Thousands upon thousands of innocent people have been injured by reckless police chases since 1979 including elderly and teenage drivers and young children. If you have been injured by a crash involving a police officer, you must take swift action in order to ensure you get the compensation you deserve. This is a huge reason why contacting an experienced Maryland attorney as soon as possible is of utmost importance.
Though Maryland's statute of limitations allows victims three years to pursue legal action in personal injury cases, that time window is shortened to just one year if you are suing the state or local government. However, there are specific laws that regulate the legal responsibility of these entities. If a police officer was responding to an emergency when the accident took place, they are protected under the immunity provided by Maryland code 5-639.
If you or a loved one were injured in a car accident involving a police car, speak with an experienced attorney at Zirkin & Schmirling right away to get the help you need and appropriately file a claim.
What Damages Can I Recover for a Car Accident Claim in Maryland?
There are strict damage caps on the amount of money you can recover in cases involving police officers or a government entity. Under the Maryland Tort Claims Act, no police officer or government employee can be held liable for damages exceeding the amount of $400,000 due to injuries sustained in a single accident, and $800,000 for the total claim. Unfortunately, this damage cap prevents many victims from receiving the same amount of compensation they would in a normal car accident case.
If you were injured in a Maryland car accident due to a negligent driver, you can sue for compensation for money lost due to:
Medical bills
Loss of wages
Loss of future wages
Property damage
Pain and suffering
Loss of enjoyment of life
Mental anguish
In some cases, punitive damages are awarded at the court's discretion if the defendant exhibited extreme negligence in order to set an example for future drivers. Cases like this usually involve a defendant who was driving while under the influence.
Contact an Attorney Right Away
After a car accident, your primary focus should be on your health and safety. Call 911 first and foremost, and ensure that they send first responders to treat any injuries you might have. After you are safe and your injuries have been taken care of, you should seek help from an attorney right away. An experienced Maryland personal injury attorney will help you gather any evidence you need to prove driver negligence and support your claim or lawsuit.
Car accidents can be traumatizing and difficult to navigate. At Zirkin & Schmerling Law, we have years of experience helping those who are injured by negligent drivers. Contact us or call us at (410) 753-4611 to set up an appointment with one of our experienced accident lawyers today.