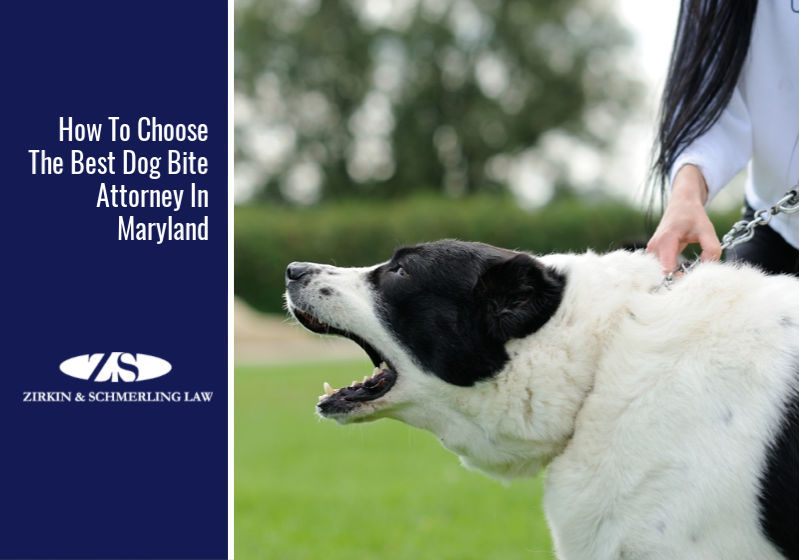 Every year, there are more than 9,500 hospitalizations and 1,000 intensive care unit visits due to dog bites. Because these injuries can be severe, hospitalizations tend to be longer and up to 2.5 times more expensive than the average visit. The average cost of hospital treatment for a dog bite case is approximately $18,000! That is a significant cost to a family, and the injuries from a dog bite can be lifelong damages. It is critical that you have an advocate on your side to insure that you receive appropriate compensation for your injuries.
After a Dog Bite, Who Is Responsible?
You may be surprised to learn that Maryland dog bite law doesn't always hold dog owners liable for their dog's vicious behavior. Certain circumstances must be proven in order for the owner to be held legally and financially responsible for a dog attack. It can be distressing for an innocent victim of a dog bite to learn that it is possible that the dog owner and their insurance company may walk away from any responsibility after a dog attack depending on the circumstances.
You may be able to establish liability if you can prove that the owner showed disregard for local laws or otherwise failed to protect innocent people from their dog. In addition, if the owner knew or should reasonably have known that their dog was dangerous for any reason – including a history of aggression – then they are liable for damage caused by their dog's actions. If the owner of a dog permits the dog to run "at large" and the dog subsequently causes injury, the dog owner will be held strictly liable for those injuries.
It is also important to understand that an individual who is 'harboring' a dangerous animal will be held equally responsible as if they are the dog owner.
The dog owner or harborer of the dog aren't the only individuals who may be held responsible for your injuries. Other people may have responsibility depending on the specific facts if the case.
Other responsible parties may include:
A pet sitter or caretaker. This may include doggy daycare, a pet sitter or a kennel.
The parents of a minor dog owner. If the dog owner resides with his parents or leaves the dog with his parents, a claim could be filed against the parents of the dog owner.
Property owners. A claim can be filed against the owners of the property or land who allowed the animal to be present under certain situations.
A landlord can be held liable for being aware of unsafe situations and not attempting to correct the issue prior to the dog attack.
Who Pays For Injuries?
In many dog bite situations, individuals who are involved may be neighbors, friends, or even family members. It is important to understand that the dog owner's homeowner's and renter's insurance policies are the real defendants in many of these cases and not the individuals themselves. What that means is that, although the dog owner will be the named party to the lawsuit, it is actually the insurance policy that will be responsible for the bills in many situations.
Maryland insurance claims average $30,500 per claim and the United States spends roughly $1 billiona year in medical costs from animal attacks. If the cost of your expenses exceeds a policy's limit, the dog's owner may be asked to pay the difference.
Keep in mind that, unlike an automobile accident, the owner of a dog is not required to disclose their coverage information to you. It will, however, be uncovered during the proceedings of a legal case. This is one reason why it's important to have a dog bite lawyer's help after a dog attack.
Remember, accepting payment from an insurance company can negate your ability to file a lawsuit later. Contact Zirkin & Schmerling Law before speaking with an insurance company. Do not sign anything and do not accept any reimbursement for your injuries before speaking with an attorney.
Choosing the Right Attorney for Your Dog Bite Case
Your choice of attorney could be the key difference between winning and losing your case. Dog bite claims are extremely complex and difficult to prove, so you'll need a Maryland dog bite attorney who has a proven track record for finding success with these cases.
We'd like to point out some important reasons why the dog bite attorneys at Zirkin & Schmerling Law are your best choice.
Bobby Zirkin is a former Senator who helped write Maryland's laws and he has personally handled hundreds of dog bite cases all across the state of Maryland. He knows exactly what it takes to handle a dog bite claim.
Zirkin & Schmerling Law has helped hundreds of Maryland dog bite victims to win millions of dollars in personal injury compensation.
Our clients, animal control officers, and other Maryland attorneys are our best sources of referrals. They understand that dog bite cases are complicated and require attorneys with specific experience in dog bite law.
You deserve Maryland's best legal representation. Choose an attorney who will help you win the compensation you deserve. After a dog bite, this is your opportunity to preserve your financial stability and protect your future, so make it count.
Have a Legal Question About a Dog Bite? We Have Answers
For issues involving a dog bite, the attorneys at Zirkin and Schmerling Law can help. Contact us or call us at 410-753-4611 to set up an appointment with one of our attorneys today.
Video transcript
How to choose the best dog bite attorney in Maryland. Every year, there are over 9,500 hospitalizations with over 1000 intensive care unit visits because of dog bite cases. These cases are complex and you should understand that the defendant is represented by the homeowner's insurance or the renter's insurance or landlords, depending on the facts of the case. And so the attorneys for the defense are extremely experienced and understand the law. So there are three basic things you should understand when hiring an attorney. First, you need an experienced attorney. We at Zirkin and Schmerling Law understand the law. As a former Senator, I helped to write the law here in Maryland and we have handled hundreds of cases every year for dog bite victims. You need an attorney that gets results. At Zirkin and Schmerling Law, we have won millions of dollars for our clients. And you need an attorney that has a good reputation for these specific cases. We get lots of referrals from other attorneys. Ask our clients, animal control officers and other attorneys. For all of the stated reasons, we here at Zirkin and Schmerling Law look forward to handling your dog bite case.