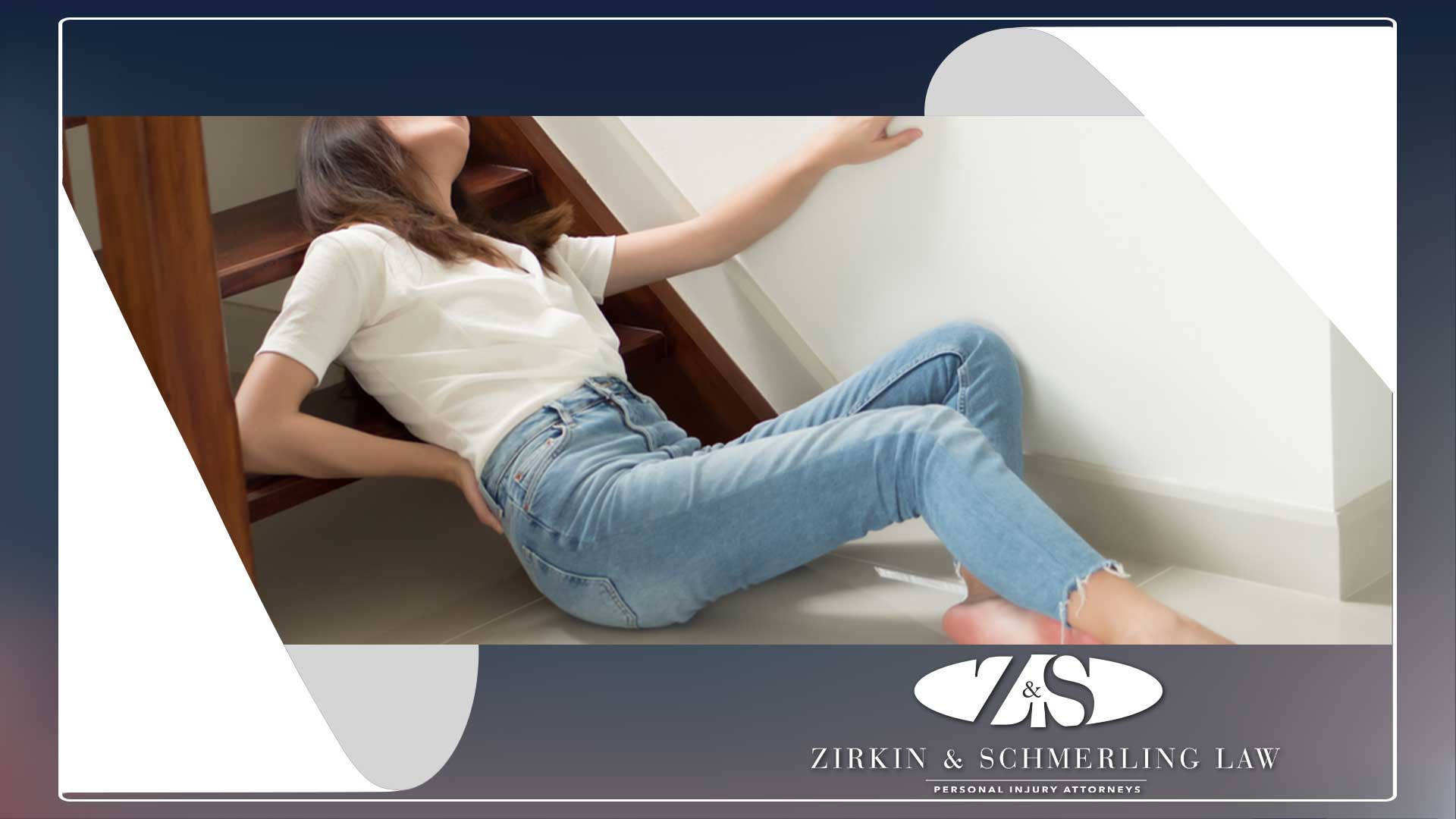 Slip and fall accidents on rental properties are surprisingly common. Some landlords allow unsafe conditions to persist, putting their tenants at risk.
About 12% of all falls in the U.S. involve slipping and falling on dangerous surfaces. Slip-and-fall injuries are also the #1 cause of emergency room visits.
Common Slip-and-Fall Accidents Involving Rental Properties
Stairway Accidents
Every year, more than 1 million people in the U.S. are injured in stairway accidents. To prevent these kinds of accidents, landlords should repair broken stairs, ensure nothing is blocking the stairways, and provide proper lighting and handrails.
Sidewalk and Walkway Accidents
Many slip-and-fall accidents happen on sidewalks tenants use to access parking lots and walkways to their rental units. A walkway might be icy, covered in debris, or crumbling from neglect.
Parking Lot Accidents
Is the parking lot owned by your landlord too? They could be responsible for your injury from a pothole, slippery surface, or other danger in the parking area.
Debris and Trash-Related Accidents
Clutter and debris are responsible for many slip-and-fall accidents. Landlords can be held accountable for tenant injuries after leaving dangerous debris around their rental properties.
Defective Equipment Accidents
Were you hurt on a defective escalator or elevator? Sometimes a landlord allows the equipment inside their building to fall into disrepair, risking injury to their tenants.
Spilled Substance Accidents
Landlords are expected to clean up spills as promptly as possible. They may be negligent if they allow a spilled substance to remain on the ground, like oil from a leaky piece of equipment or water from a broken ice machine.
Weather-Related Accidents
Although landlords get some leeway to clean up snow and ice, they can't allow it to remain on the ground forever. If you slipped on ice, slush, or snow, you may have a case against your landlord.
As a Tenant, Can I Sue My Landlord for Slip and Fall Injuries?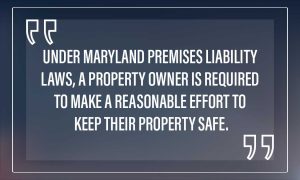 After suffering slip and fall injuries on a rental property, you can take action against the person or company responsible for its upkeep. Under Maryland premises liability laws, a property owner is required to make a reasonable effort to keep their property safe.
A common defense to a slip-and-fall claim is for the property owner to argue that they were not aware of the hazard. However, the law does not require an injured person to prove that the property owner knew about the hazard, just that they should have known about it through reasonable attentiveness to their property.
The landlord may try to object to your claim by insisting they inspect their properties routinely. Your lawyer can help you determine whether the evidence supports this objection or not. If the property owner was aware of a hazard and failed to fix it or warn you about it, you may have a valid premises liability case against them.
Can You Sue An Apartment for Negligence?
Proving negligence in a slip-and-fall case requires you to show that the landlord failed to provide reasonable safety on their property or warn you about a hazard. Suing for an injury in a common area, like a stairway or parking lot, is more likely to be successful than suing for an injury inside your rental unit.
Common areas are expected to be safe and free from hazards, but it's more difficult to show your level of contributory negligence for an injury occurring inside your home. Contributory negligence refers to your level of contribution to the accident. Maryland has a rather harsh contributory negligence law where someone who contributes to their own injuries, even in a minor way, may not recover any damages from a slip-and-fall accident.
Suing for a slip and fall is a challenging process made much easier with the help of a qualified slip and fall accident lawyer. You'll need to understand your options, including if there is insurance available to cover your accident compensation and what types of damages you can potentially claim.
Don't wait too long. Maryland Code 5-101 sets a limit of three years from the date of an accident to file suit against a property owner. Keep this deadline in mind and take action as soon as possible after your slip-and-fall occurs.
Can I Sue My Landlord for a Slip and Fall? Yes! Contact Zirkin & Schmerling Law Today.
With the help of the team at Zirkin & Schmerling Law, you can pursue a case against a landlord, property owner, or apartment complex owner. We're an experienced team of slip-and-fall accident lawyers and we take pride in working closely with our injured clients to stand up to negligent property owners.
Contact us online or call (410) 753-4611 to set up a slip-and-fall case review today.