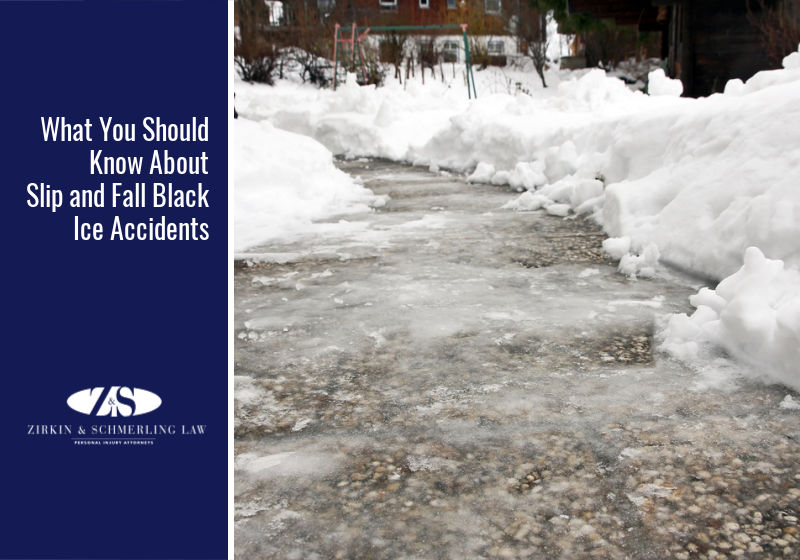 Slip and fall accidents can happen year-round, and they can happen just about anywhere— indoors or outdoors. However, winter weather often brings with it an increase in slip and fall accident cases, especially black ice accidents.
Black ice, in particular, can be a big problem this time of year. Slipping on black ice on hard ground can result in severe injuries, such as broken bones, back and hip injuries, and even traumatic brain injuries when the victim falls and hits their head.
The big question with slip and fall black ice accidents is, who is at fault?
If you slip and fall on black ice, you might assume that it is your own fault for not watching where you were going. And while this can be true, black ice accidents can sometimes be a matter of premises liability. This means you could hold the owner of the property where you fell responsible.
If you are injured in a slip and fall accident, the team at Zirkin & Schmerling can help you file your personal injury claim. Our Maryland slip and fall lawyers have experience handling these types of cases, and we know what it takes to ensure our clients get the fair settlement they deserve for their injuries.
What Is Black Ice?
Black ice gets its name from the way it blends in with the dark pavement on which it sits. In other words, black ice is incredibly clear, meaning it is very hard to see. Some even refer to it as invisible ice.
Black ice is also often described as being a very thin layer of smooth ice, which also makes it difficult to identify. Typically, you can very easily see the pavement below the black ice, which is why many people slip on it, as it doesn't look like there is any ice there.
Car accidents because of black ice happen all the time, but some of the worst black ice accidents happen when pedestrians slip and fall on this invisible ice.
Determining Fault for Slip and Fall Black Ice Accidents
When it comes to slip and fall cases, fault is based on premises liability and a property owner's duty of care. Property owners have a duty to ensure their premise is reasonably safe and free of hazards that could cause harm.
In the winter, this can include making sure the property is cleared of snow and ice. However, property owners are not expected to stand outside and clear their property 24/7. This is where the term "reasonable" comes into play.
To hold a property owner responsible for a slip and fall accident on their property, they must have known about the hazard and had a reasonable amount of time to deal with the issue. If someone slips right after the snow fell or the ice formed before the property owner even knew about the issue, and before they had time to clear the snow or ice away, then they likely won't be held liable.
Essentially, these three things must hold true for a slip and fall victim to hold the property owner at fault for the accident:
The property owner knew about the hazard or reasonably should have known about the hazard
The property owner had a reasonable amount of time to address the hazard
The property owner failed to address the hazard or warn people about it
Understandably, things can get tricky when it comes to winter weather hazards. A broken step that the property owner knows about and needs to fix is one thing, but snowfall and ice, which can fall or form at any time, are harder to stay on top of.
Some local cities or municipalities in Maryland might have different time frames in which they expect property owners to deal with snow and ice on their property. Some say they have 12 hours to take care of the issue, and some say it must be dealt with by 7 p.m. or within four hours of daylight after the winter storm.
Premises Liability Black Ice Accident Exceptions
The problem with black ice when it comes to premises liability is that it is often not visible, meaning it is not as likely that the property owner would see it and be aware of its presence. This then means that it can be harder to hold them responsible since they didn't know about the ice.
Still, though you can file a premises liability claim for black ice, it is not easy to do so. You will need to prove that the property owner knew about the black ice or should have known about it and that they failed to get rid of it in a reasonable amount of time. Proving this will require the help of a slip and fall lawyer who knows how to gather the evidence needed to support your claim.
What to Do After a Slip and Fall Accident on Black Ice?
If you slip and fall on black ice on someone else's property, your injuries should be your first priority. If you are badly hurt, seek emergency medical care right away. If, however, you do not need to be rushed to a hospital, gathering evidence at the scene of your slip and fall black ice accident can be incredibly beneficial to your case.
If you can, take photos or videos of the black ice and anything else relevant on the property to your slip and fall accident. You should also notify the property owner of your accident as soon as possible. If anyone saw you slip and fall or if they saw anyone else slip and fall on the same ice, get their contact information so they can be called upon to give a witness statement if needed.
You should also hang onto copies of any medical documents pertaining to the injuries you sustained from the slip and fall accident. These documents will serve as proof that you were injured, which will be necessary if you intend to hold the property owner accountable.
Beyond that, you should speak with a slip and fall lawyer as soon as you can. The longer you wait, the harder it will be to gather evidence or proof of the black ice and that the property owner knew about it. As soon as you get in touch with a lawyer, they can immediately start helping you gather the information you will need to win your black ice accident case.
Have a Legal Question? Our Slip and Fall Accident Lawyers Have Answers.
If you were injured in a slip and fall black ice accident, reach out to our team at Zirkin & Schmerling as soon as possible. We will help you navigate your claim and ensure sufficient evidence is provided to help you win a fair settlement for your injuries.
Contact us or call us at 410-753-4611 to set up an appointment with one of our slip and fall lawyers today.