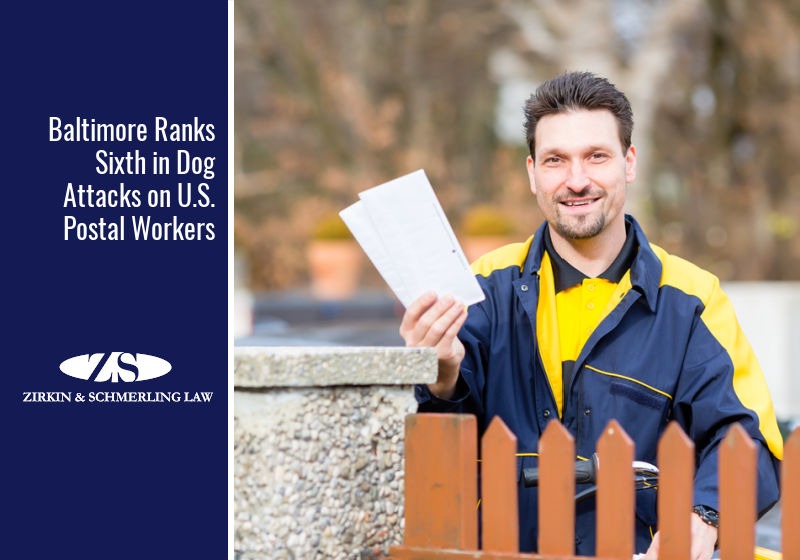 In Baltimore, attacks on U.S. postal workers by dogs are comparatively common. While this means that Baltimore postal workers should be especially cautious and aware when approaching homes or locations with dogs present, it also means that dog owners should be responsible and keep their dogs away from postal workers.
Dog bite injuries can be serious, causing significant and lasting damage — not to mention traumatizing effects and psychological damage. If you are the victim of a dog bite injury, it's important to know your legal rights and to seek compensation for your injuries. Since Maryland's dog bite laws are complex, it's also recommended to have an experienced Maryland dog bite injury attorney on your side as soon as possible.
Risk to Postal Workers
According to the USPS, more than 5,800 postal workers were attacked by dogs in the United States in 2020. Baltimore ranked sixth across the nation.
While dog owners should responsibly handle their dogs, the USPS has recommendations for keeping postal workers and animals safe. Dogs should be kept leashed, fenced in, or away from doors and entrance ways when letter carriers make their drop offs. Since most people know approximately when postal workers come by each day, it's especially important to keep dogs in control and prevent them from accessing carriers during those times.
Preventing Attacks
Mail should not be handed off directly to children, as dogs might view this as a threat. Postal carriers are trained not to startle dogs or to ever assume that one won't bite. Carriers should never attempt to feed or pet a dog.
USPS letter carriers have tools that remind them about dogs on their routes. Their handheld scanners contain dog-alert features, and they also have dog warning cards that can be given out to owners of properties with dogs.
Dog Bite Liability
Dog owners can be held liable if a U.S. postal worker is injured from a dog bite. Even for non-postal workers, dog bites can be common. In the United States, about 1,000 U.S. citizens require emergency care treatment due to a dog bite every day.
In the event of a dog attacking a U.S. postal worker, or any other person for that matter, the dog's owner can be held liable for the injuries and expenses that result.
After an injury occurs, many people don't have the time to fully research their rights and matters of responsibility pertaining to the injury. Even though helpless victims should be able to easily recover compensation from insurance companies following a dog bite injury, that is typically not the case. That's why it's important to look for a Maryland personal injury firm that understands and has experience with dog bite injuries.
Choosing a Personal Injury Attorney
An attack by a dog is a traumatizing experience, and injuries can cause serious damage and disability. The emotional, physical, and financial toll from a dog bite can be devastating.
Still, Maryland law does not necessarily make it easy for dog bite victims to receive fair compensation for their injuries. The law surrounding fault, negligence, and other important aspects of dog bite liability is complex.
At Zirkin & Schmerling, we want to hear about your case and to take the burden of proving liability and receiving compensation off of your shoulders. Choosing the right dog bite attorney is a key first step, and our experience and results demonstrate our expertise.
Contact us online for more information and fill out our form for a free case consultation. Or, give us a call at 410-753-4611 today.